THE biggest Asia Pacific Cities Summit and Mayors' Forum (2015APCS) on record opened in Brisbane on Sunday and continues through to Wednesday. It marks the 10th anniversary of the region's leading forum on city growth and development.
Brisbane Lord Mayor Graham Quirk welcomed a record 95 mayors and deputy mayors, and delegates from 135 cities around the world, with a combined constituency of more than 382 million people, in an official opening ceremony at Brisbane City Hall on Sunday.
A special reception for Brisbane's own sister cities took place prior to the launch, recognising representatives from Kobe, Abu Dhabi, Shenzhen, Chongqing, Hyderabad, Daejeon, Kaohsiung, and Auckland.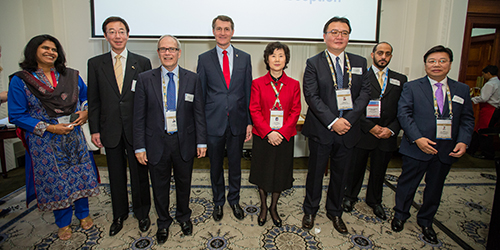 Following on at the Brisbane Convention and Exhibition Centre on Monday and Tuesday, 2015APCS is set to showcase a new wave of innovation and global development, headlined by the chairman of 2012 London Olympics Organising Committee, retired British athletics champion and dual Olympic gold medallist, Lord Sebastian Coe opening and keynoting the event.
APCS was established by Brisbane City Council in 1996, led by then Lord Mayor Jim Soorley, and is recognised as a platform for promoting and exchanging global best-practice for cities.
APCS has been attended by more than 8,000 delegates from more than 400 international cities since it began and the event provides an unrivalled opportunity to meet with key influencers and decision makers of the Asia Pacific in one place, at the same time.
As host, Brisbane continues to secure its reputation as a city of opportunity – fast becoming an international choice for business, investment, and major international events.
A record 95 mayors and deputy mayors from Australasia, Asia, the Middle East, Europe, and the Americas are attending this year, along with delegates from 135 cities, representing more than 382 million people.
Under the theme of 'Business and Leadership in the Asia Pacific', the new world city issues to be covered during the event's plenary and special sessions are:
• Global cities – cultivating cities of talent, creativity, and innovation.
• Future cities – developing cities and smart communities.
• Digital cities – the science and technology behind cities.
• Cities for people – clean, green, accessible, and inclusive cities.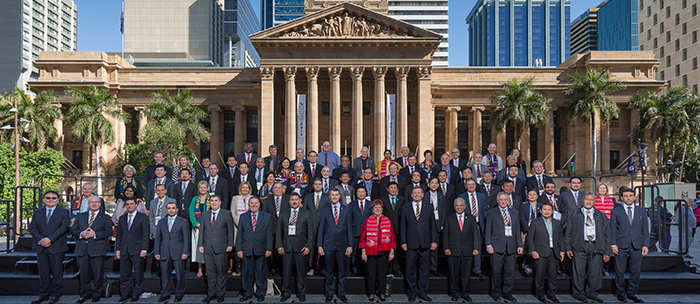 ends