Australia and China cooperate on food, mining, robotics, marine research
THE Australian Government has recommitted its support for collaborative research with China, extending a new round of funding for six Australia-China Joint Research Centres (JRC).
The focal areas of the shared research range across food production, agribusiness, mining, robotics, and marine science.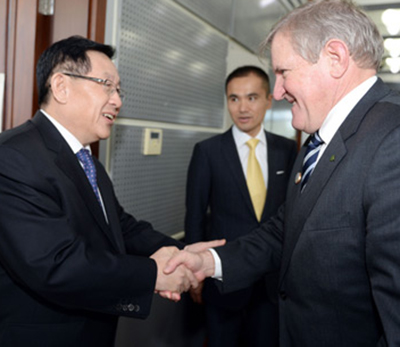 "Following my meeting with the Chinese Minister for Science and Technology, Dr Wan Gang, I'm pleased to announce the next round of Australia-China Joint Research Centres," Minister for Industry and Science Ian Macfarlane said last week.
"This round is expected to support six new centres which will be funded under the Australia-China Science and Research Fund. The Australian Government will provide up to $1 million over three years to the Australian consortia, with the Chinese Government supporting the Chinese teams' participation in these joint activities.
"The fund provides support for international research collaborations and realises the economic potential of the research sector by allowing Australian scientists and industry to engage with China.
"This round of Joint Research Centres will be focused on priority areas in agreement with the Chinese Government and will reflect our industry growth sectors and science and research priorities."
Applications are being called for in the priority areas of food and agribusiness; sustainable food production and processing; biosecurity; soil analysis, technologies and remediation; mining equipment, technology and services; sustainable use of sedimentary basins; sensing, automation, robotics and data analytics for resource extraction, processing and waste management; marine science; sustainable marine resource management; marine environments and marine ecosystems; and maritime engineering.
To ensure the research funded has a practical focus, centres applying for this round must have both an industry-based or other end user, in addition to a Chinese partner. The round is expected to open by August.
ends