Logan City wildlife events shine light on vulnerable greater glider
WILDLIFE QUEENSLAND is running a series of free events until June 20 aimed at engaging and educating Logan residents and the broader community about the vulnerable greater glider.
The series, which is being delivered by Logan City Council and hosted by Wildlife Queensland's Queensland Glider Network, includes three workshops and two nocturnal animal spotlighting events in the Logan region. A greater glider Zoom webinar will also be held on June 16.
Greater gliders are Australia's largest gliding mammals and are among Logan's most secretive and little-seen native species. These fluffy-eared, hollow-dwelling marsupials resemble their ringtail possum relatives but have a membrane, called a patagium, stretching from the wrist to the elbow, enabling them to glide up to 100m between trees.
The greater glider's size, slow movement, need for large tree hollows, and specialised diet of gum leaves, places these nationally vulnerable marsupials at risk from habitat loss, climate change and bushfires.
Wildlife Queensland projects manager Matt Cecil said the greater glider event series would provide a fascinating insight into this vulnerable gliding marsupial and the main risks to greater gliders in Logan.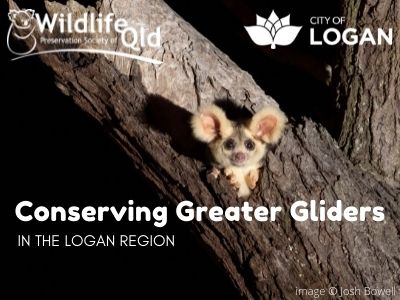 "We encourage all Logan residents with an interest in local wildlife to come along to these fantastic free events and learn about this amazing mammal and how you can help protect and conserve them," Mr Cecil said.
"Wildlife Queensland and the Queensland Glider Network are proud to be shining a light on greater glider conservation and awareness in the Logan area. This animal needs all the help we can provide to ensure its survival in the long term."
SCHEDULE OF EVENTS
Event / Link
Date / Time
Location
Greater Glider Workshop
Saturday, 29 May 3pm– 5pm
Underwood Park Hall, Priestdale, QLD
Nocturnal Animal Spotlighting with Wildlife Queensland (SOLD OUT)
Friday, 11 June
6pm– 9pm
City of Logan, QLD
Location information will be sent on registration.
Greater Glider Workshop
Saturday, 12 June
3pm–5pm
Chambers Flat Community Hall, Chambers Flat and Logan Reserve, 49-65 Kenny Road, Chambers Flat, QLD
Greater Gliders Webinar
Wed, 16 June
10:30-11:30am
Online – Zoom
Nocturnal Animal Spotlighting with Wildlife Queensland (SOLD OUT)
Friday, 18 June
6pm-9pm
City of Logan, QLD
Location information will be sent on registration.

Sat, 19 June
12pm –5pm
Greenbank Community Centre, Greenbank, QLD