Evolve skates ahead to win Premier of Qld's Exporter of the Year
EVOLVE Skateboards has won the Premier of Queensland's Exporter of the Year Award, as well as the E-Commerce award.
Taking out the coveted Regional Exporter award was Dynamics G-Ex, while the hotly contested Manufacturing Award went to Noonan Race Engineering.
The Agribusiness Export Award went to AGT Foods Australia, while EarthCheck won the Business Services category and, for the Creative Industries export sector, UAP won honours.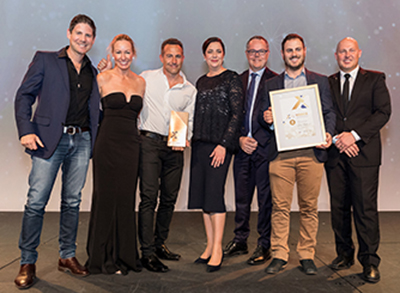 Digital Technologies exporter Opmantek Software won acclaim for the category and in Education and Training the award went to Cairns College of English and Business.
In the Environmental Solutions export sector it was Core Resources who prevailed, while in Health and Biotechnology LuinaBio won the acclaim.
In Queensland's strong Minerals and Energy export sector, Blast Movement Technologies won the honours while the Small Business export award went to Tooletries.
Exporter of the Year Evolve Skateboards is a Gold Coast-based designer, manufacturer and retailer of electric skateboards, which has grown rapidly since its launch in 2011. Evolve's products are sold in 30 different countries, through a network of distributors and locally-owned international offices, as well as online.
Presenting the awards were Queensland Premier and Minister for the Arts, Annastacia Palaszczuk, and Treasurer and Minister for Trade and Investment Curtis Pitt.
Export Council of Australia (ECA) chief executive officer Lisa McAuley said, "As a leading advocate for international trade, the ECA, in conjunction with Trade and Investment Queensland, were honoured to manage this state-wide competition where nominees secure their reputation on the world stage.
"Acknowledging exporters is vital in building awareness of new market opportunities available to business owners. We are seeing more and more new companies that are exporting their goods and services with excellent results and now is the time to focus on how we can help build on Queensland's trade capabilities and encourage more companies to look at the global opportunities that are opening up.
"These awards acknowledge the significant achievements that exporters have made to improving the State's economic activity and boosting jobs.
"Queensland's businesses have the innovation, expertise and professionalism to take on international markets, and it is important that we recognise their hard work and determination to succeed.
"Whether small or large, these businesses prove that they have what it takes to succeed on an increasingly competitive world stage," Ms McAuley said.
Annually exporters make a major contribution to the Queensland economy, with goods and services exports worth $62.6 billion according to the latest figures from the Department of Foreign Affairs and Trade.
The Premier of Queensland's Export Awards were recently staged at the Brisbane Convention and Exhibition Centre tonight.
2017 PREMIER OF QUEENSLAND EXPORT AWARD WINNERS
Queensland Awards Categories:
Dermot McManus Award for Innovation: Digga Australia.
Richard Joel Award for Emerging Exporter: AKIPS.
Tom Burns Award for Women in International Business: Megan Ziem, Grace Loves Lace.
Defence: TAE Aerospace.
Industry Award Categories:
Agribusiness: AGT Foods Australia.
Business Services: EarthCheck.
Creative Industries: UAP.
Digital Technologies: Opmantek Software.
E-Commerce: Evolve Skateboards.
Education & Training: Cairns College of English & Business.
Environmental Solutions: Core Resources.
Health & Biotechnology: LuinaBio.
Manufacturing: Noonan Race Engineering.
Minerals & Energy: Blast Movement Technologies.
Regional Exporter: Dynamics G-Ex.
Small Business: Tooletries.
Premier of Queensland's Exporter of the Year: Evolve Skateboards.