Resources on agenda during Australia Business Week in India
A SERIES of mining equipment, technology and services related seminars, meetings and events took place at Australia Business Week in India 2017 last week
Building on the first Australia Business Week in India in 2015, more than 150 business delegates took part this year. Australia's delegation met Indian businesses and officials in more than 75 sessions and site visits.
"India is the world's fastest growing major economy and our trade and investment ties with this important partner are becoming stronger each year," said Assistant Minister for Trade, Tourism and Investment, Keith Pitt, who led the mining services aspects of the trade mission. 
"By 2030, India is forecast to be the third largest economy in the world, and will also have one of the youngest populations," Mr Pitt said.
"The opportunities for Australian businesses are profound and I congratulate the large number of delegates for joining Australia Business Week in India 2017."
The business mission overall was led by Trade, Tourism and Investment Minister, Steven Ciobo. Australian Government Ministers planned to visit cities including New Delhi, Mumbai, Bangalore, Kolkata, Hyderabad and Bhopal, but some of those sessions were curtailed owing to localised flooding.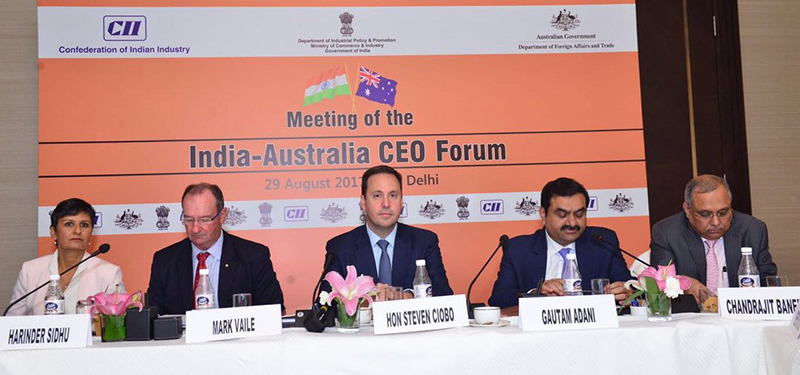 Mr Pitt said he focused on the energy and resources sector delegation across both New Delhi and Kolkata.
Mr Pitt said Australia was a major supplier of energy to India. Australia's exports of coal helped to underpin India's goal of energy security and Australian firms in the mining, equipment and technology services – known as the METS sector -- were also helping to improve the safety and efficiency of India's mines.
In 2016, India was Australia's fifth biggest export market for goods, the sixth for services exports, and total goods and services exports were worth $14.1 billion.
Mr Pitt said two-way trade had grown from about $609 million in 2004 to $20.7 billion in 2016.
"Two-way trade between Australia and India has grown rapidly but more can always be done to expand our trade and investment ties, particularly by bringing businesses together," he said.
"Australia Business Week in India 2017 will build on the success of the inaugural event in 2015, which created lasting relationships and generated millions of dollars of business."
https://australiashowcase.com.au/index.php/showcase-3
ends