Brisbane business leaders forge ahead in health and tech innovation
INNOVATIONS that can save lives, improve health, and strengthen the workforce have been highlighted at the 2022 Brisbane Lord Mayor's Business Awards (LMBAs), which were presented at a gala ceremony at Brisbane City Hall on October 21.
Nine companies – Audeara, Vaxxas, Save Our Supplies, Populous, Australian Spatial Analytics, Kiddo, DoubleTake Sports, The Princess Theatre and simPRO – were recognised for outstanding contributions to Brisbane's economy, across a wide range of fields and categories.
SimPRO also won the Optus Platinum Award as the peak business named from the field of 2022 category winners.
Three business people were recognised for outstanding contributions to Brisbane's economy: Andeara founder James Fielding, AIS Water CEO Elena Gosse and construction industry supplier Stoddart Group's founder and managing director, Jon Stoddart.
Brisbane Lord Mayor Adrian Schrinner said the awards demonstrated the courage and entrepreneurial spirit of Brisbane business owners.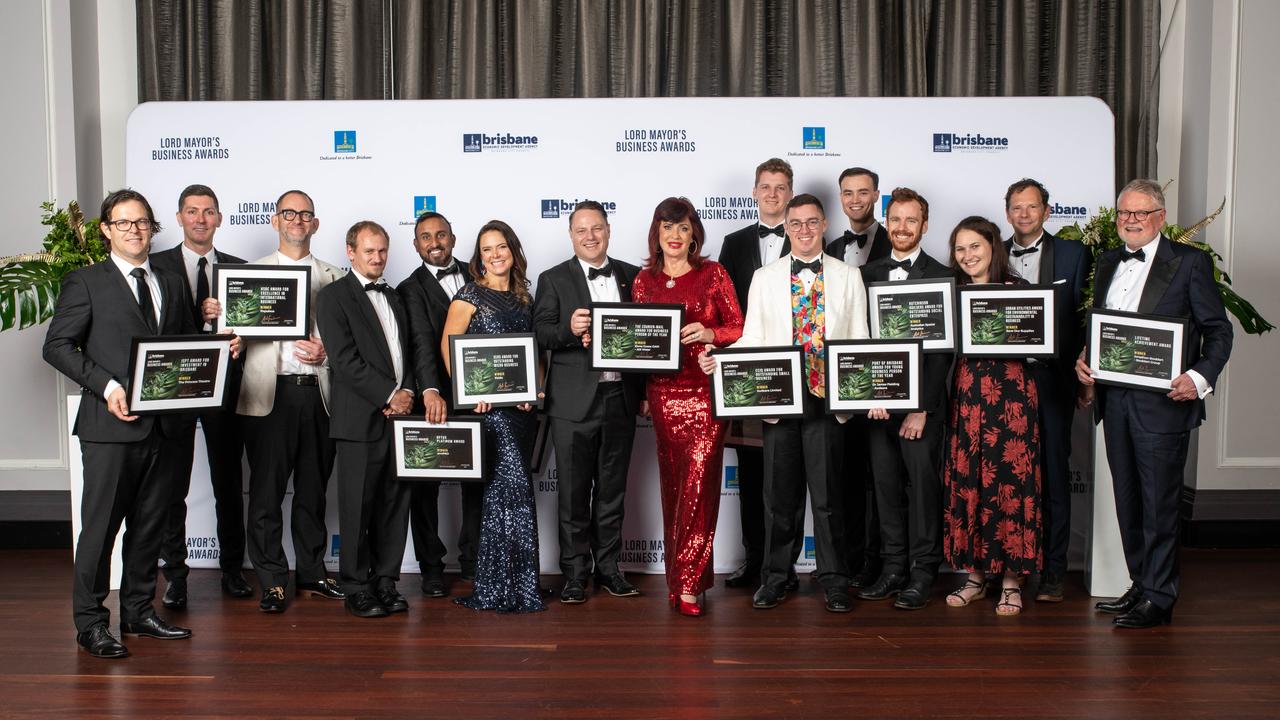 "Brisbane is Australia's most small-business-friendly city," Cr Schrinner said. "These talented people invest in our city, create jobs and help enhance Brisbane's global reputation for innovation.
"Our award winners each have a vision for the future, a passion for their cause and the courage to try and create a better world. It's that entrepreneurial spirit that's driving Brisbane forward and helping to grow our $181 billion economy."
Healthcare innovation was a prominent theme among this year's winners, reinforcing Brisbane's status as a world-leader in medical technology. Cr Schrinner said medical devices developed and manufactured in Brisbane were saving lives around the world.
"From needle-free patches to specialist headphones for the hearing impaired, Brisbane businesses are pioneering research and innovation that can help millions of people," Cr Schrinner said. "The global impact of some of these businesses could be enormous."
VAXXAS WINS ACCENTURE AUSTRALIA INNOVATION AWARD
The needle-free dispensary patches the Lord Mayor is talking about are from Vaxxas, a company that came out of the innovative work of University of Queensland-based biomedical engineer and scientist, Mark Kendall, who founded the company in 2011 to commercialise his patented 'nanopatch' invention.
Vaxxas won the Accenture Australia Award for Product Innovation and the company is now on a mission to revolutionise the way vaccines are delivered worldwide through its needleless skin-patch technology that is effective, as well as easy, to administer and transport.
The Vaxxas needle-free microarray patch (MAP) is applied briefly to the skin using a small applicator device and thousands of vaccine-coated micro-projections deliver the vaccine directly to immune cells just under the skin surface.
Vaxxas has been operating from the Brisbane-based Translational Research Institute (TRI) since 2014 but has recently firmed up a $8.2 million second round grant as part of the Australian Federal Government's Modern Manufacturing Initiative (MMI) to support the manufacturing scale-up at a new facility.
Also securing the support of the Queensland Government, the new Vaxxas Biomedical Facility is being constructed in riverside Northshore and is due to open in early 2023.
As well as relocating its existing workforce of more than 100 employees to the site, the new facility will support the creation of 29 new high-skillset jobs and the ongoing growth and development of the biotech and medtech sectors in the region, Vaxxas CEO David Hoey said.
Accenture Australia CEO, Rob Mahoney, presented the award to Vaxxas and also made special mention of one of the other finalists in the category, RedEye Apps for the company's work in developing technologies to help protect critical business, community and now natural infrastructure. RedEye was recognised for its new Bushfire Management Platform which combines powerful technologies including simulation, spatial data mapping, long-term forecast weather analytics and machine learning to protect communities, sacred sites, and natural areas against the disastrous effects of bushfires.
Other finalists in the category included Circonomy – formerly known as World's Biggest Garage Sale – and lightweight high energy lithium-sulphur and lithium-metal battery developer Li-S Energy.
AUDEARA HAILED AS CCIQ OUTSTANDING SMALL BUSINESS
Another Brisbane-headquartered leading light in the medtech innovation space, Audeara, received the CCIQ Outstanding Small Business Award for the company's life-changing audio technology which helps people with hearing impairments.
Audeara is fast-developing a global hearing health leader, specialising in innovative listening solutions for people with hearing challenges.
Audeara CEO James Fielding said the ASX-listed company's teams were passionate about redefining hearing health, with a focus on products that deliver world-class tailored listening experiences. Dr Fielding said Audeara came out of a vision and commitment to create a world in which hearing impairment rates reduce rather than expand and where all people are able to "use a personalised sound experience to bring joy and connection".
Audeara works with a team of industry leaders in audiology and engineering to develop products that connect people in meaningful ways to the experiences and people they love — whether that is watching a favourite TV show, FaceTiming family or listening to music.
Dr Fielding said products such as hearing headsets were carefully crafted to the needs of each individual, with precision detail and state-of-the-art technology, "to deliver a unique, personalised listening experience".
Chamber of Commerce and Industry Queensland (CCIQ) CEO Heidi Cooper said there was also a special mention in the category for Goodwill Projects, which pioneered Brisbane's farmers markets in 2006. Today Goodwill Projects co-ordinates 12 popular public markets across South East Queensland, as well as special events, designed to rejuvenate under-utilised spaces to provide appealing public markets and events.
Other finalists in the category were ethical active and leisurewear brand 'dk active' which designs and manufactures in Brisbane and is leading the way in sustainable circular fashion; and PeopleBench which is an innovative school workforce improvement company that has developed technology and processes to help schools build better equipped and motivated educational workforces.
JAMES FIELDING: PORT OF BRISBANE'S YOUNG BUSINESS PERSON OF THE YEAR
From a field that included, Ashe Reddy of Chess Mates, Hayley Brown of Vacayit and Nina Nguyen of Pakko, Audeara CEO James Fielding was named 2022 winner of the Port of Brisbane Young Business Person of the Year award.
Audeara's products are now available in more than 1300 hearing health clinics around Australia and international expansion plans are underway.
Audeara founder and CEO Dr Fielding said, "It's an incredible honour to be recognised at such a prestigious awards event, especially as the emphasis is on where we're going as much as what we've already accomplished.
"In the face of a particularly challenging year, these awards, and the event itself, serves as a great opportunity to take stock and connect with the community around us.
"For the team's hard work and positive impact to be appreciated in this way means a lot to us," Dr Fielding said.
Like prescription glasses, an Audeara tailored listening experience gives clarity and depth that cannot be achieved with generic headphones, Dr Fielding said. Audeara users experience clearer sound that 'preserves hearing health' while keeping users in touch with conversations and entertainment experiences around them.
"Audeara's technology and over-ear comfort means our headphones are also suitable for people using cochlear implants and hearing aids," he said. One of Audeara's advocates is ABC Radio National Late Night Live broadcaster, Philip Adams, who said he had been better able to listen directly to television without resorting to subtitles through using the tailored headphone sets.
SAVE OUR SUPPLIES WINS URBAN UTILITIES AWARD FOR ENVIRONMENTAL SUSTAINABILITY
Winner of the Urban Utilities Award for Environmental Sustainability in Business, Save Our Supplies (SOS) has salvaged millions of dollars in medical waste by shipping usable items to countries in need.
In fact, seven Brisbane hospitals have signed up to donating internationally through the SOS service. Incredibly, the business was created while founder, nurse Claire Lane, was living in a granny flat, raising a two-year-old child. SOS made a positive difference right away.
SOS is a not-for-profit charity that uses a 'circular approach' to improve the lives of thousands of disadvantaged people by providing them with free medical supplies. Australia's high standards of medical care mean that once packaging is opened and the contents are no longer sterile, the remaining unused, clean supplies cannot be used and are simply dumped. SOS achieves its goals by repurposing the clean waste generated by our hospitals that previously would have been dumped as landfill. It sorts and repurposes this waste into usable medical supplies. Not only does this help people in need, but it also helps "save the planet" at the same time.
"It is an honour to shine a light on local businesses that share our commitment to protecting and enhancing the natural environment ," Urban Utilities CEO Paul Arnold said, presenting the award to Ms Lane and the SOS team. "We applaud businesses whose focus extends beyond profit to include the impact they have on both people and the planet."
Mr Arnold also mentioned a recent innovation being introduced by Urban Utilities to utilise wastewater to generate hydro-electricity.
Other finalists in the category included Give Industries – a sustainable electrical contractor service that has so far donated more than $380,000 to assisting people in extreme poverty and energy poverty – Brisbane's iconic destination Howard Smith Wharves, which diverts more than 90 percent of its waste from landfill each year; and Winson Group which has transformed is Signet and Insignia packaging and identification businesses to help its clients and industries to reduce waste and lower energy consumption.
KIDDO NAMED XERO MICRO BUSINESS AWARD WINNER
LMBA winners adapting technology to improve lives include Kiddo, which has developed a smartphone app which supports more than 20,000 parents Australia-wide to find trusted care for their children.
Kiddo won Xero's Outstanding Micro Business Award, presented on the night by Xero state manager Andrew Hurst.
Kiddo is a platform that connects parents to fully verified, local babysitters, nannies and National Disability Insurance Scheme (NDIS) in-home carers for children.
Kiddo is headquartered in Brisbane and led by mother of two, founder Rebecca Dredge. It was through her own struggle to find a trusted babysitter that she knew there had to be a better way for parents to manage such situations. Kiddo uses the latest technology to provide parents with a safe and efficient way to find trusted care for their children.
Since launching in late 2019, Kiddo now has more than 20,000 active users and proudly continues to grow communities, build connections and give parents much needed support every day. Kiddo can be downloaded on app stores and its services are available throughout Australia.
Ms Dredge said there were now more than 6000 carers registered on the app and climbing. Receiving the Xero-sponsored award at Brisbane City Hall, Ms Dredge said she was proud to be included in such a fine group of micro-business finalists – including Styling Station Australia, The Brand Builders and Vast Yonder – and to head up a team developing "a mum-run business that pushes well above its weight".
Styling Station is a not-for profit sustainable fashion hub at Milton that helps women in need while providing and avenue for fashion brands to minimise textile waste; The Brand Builders delivers athlete brand education to sporting organisations and athletes across the globe, teaching them how to leverage their personal brands for commercial opportunities such as sponsorship; and Vast Yonder is an experiential creative agency that manages key festivals and projects across Brisbane and South East Queensland.
SIMPRO TAKES OUT BOTH ANZ AND OPTUS AWARDS
SimPRO, which took out the ANZ Award for High-Growth Business as well as the Optus Platinum Award for the overall business of the year, supports more than 200,000 users around the world with its project streamlining software.
Providing field service management software solutions to trade and specialty contracting industries is the basis of the simPRO business. Its verticals broadly include security professionals, plumbers, electricians, HVAC, solar, and data networking.
The simPRO cloud-based software systems streamline field service workflows to increase efficiency, improve cash flow and enable business growth. The company has more than 7,000 clients, 200,000 users and 480 employees over six global offices.
Executive chairman and CEO of simPRO, Sean Diljore said over the past year, simPRO had "seen tremendous global growth" when it acquired Clockshark, a US-based time sheeting and scheduling platform, and AroFlo, an Australian-based job management software provider, which grew its global employee team by 25 percent and opened two additional offices.
"We are a US$1 billion company now and we are still based in Brisbane," Mr Diljore said.
Today simPRO is operating beyond Australian shores in the US, UK, New Zealand and Singapore.
Mr Diljore paid tribute to simPRO's hard working teams and the way they constantly innovate and said it was "an honour to have been nominated alongside other successful Brisbane businesses in our category" Aginic Holdings, Explorate and Midnight Health.
Aginic is a niche digital services company that is at the forefront of dashboarding, big data analytics, business intelligence and 'cloud' movements. Explorate is a rapidly growing Brisbane-based technology company that has built an open and industry-leading operating system for global trade. Midnight Health is a digital healthcare start-up that enhances patient outcomes through technology, consolidating the fragmented health industry, simplifying experiences and improving accessibility.
AUSTRALIAN SPATIAL ANALYTICS WINS HUTCHINSON BUILDERS OUTSTRANDING SOCIAL ENTERPRISE CATEGORY
Australian Spatial Analytics, which took out the Hutchinson Builders Outstanding Social Enterprise category, is helping champion neurodiversity in the workplace by recruiting young people with autism into data careers where their talents can shine.
Australian Spatial Analytics (ASA) is a unique data services provider because its purpose is to use data to employ diversity. ASA is now one of Australia's largest and fastest-growing social enterprises in the technology field, adding value to corporations and governments by training and employing young autistic adults to process and analyse big data.
ASA CEO Geoffrey Smith said ASA focuses on the societal need to "digitise for diversity".
Spatial and data analytics are forward-looking sectors, and ASA believes neuro-diverse people should not only be a part of the digital ecosystem, but also can use distinct cognitive talents to add value. With more than 100 employees, 80 percent of whom live with a disability and reside in Brisbane, ASA is contributing significant social and economic impact to this great city.
Sponsor Hutchinson Builders director, Jack Hutchinson, also praised the other nominees – Multhana Property Services, Jigsaw Australia and Silver Memories – for their innovative, hard-working approaches to social enterprise and said it was "good to see so many job-focussed businesses nominated this year".
DOUBLE TAKE SPORTS HONOURED BY AUSTRALIA PACIFIC LNG AWARD FOR BUSINESS INNOVATION
A Coorparoo-based company that has streamlined and revolutionised the way live sports coverage is produced and aired, DoubleTake Sports, won this year's Australia Pacific LNG Award for Business Innovation.
Traditionally, production of a sports broadcast would happen at the stadium, court, or venue, with all equipment and crew onsite. DoubleTake Sports recognised that this was inefficient and costly, making high-quality production out of the reach of all but the elite leagues. So DoubleTake Sports innovated to meet surging demand for low-cost, high-quality sports content by becoming the first mover in remote production for sub-elite sports. Since then, DoubleTake has been engaged by Stan Sport, Seven, Nine, Kayo, News Corp. Australia, SBS and Fox Sports to build coverage of certain elite sports as well.
DoubleTake's revelation was that remote production required only the cameras to be at the venue. They produce the same onscreen product as major production teams with a far lighter environmental impact, and at a higher quality. This means more sports and leagues can access higher-quality production at a time when broadcast and digital revenue is critical to the health and vitality of all sports, and especially the uplift of sport for women and girls.
DoubleTake Sports pursued remote production with the endorsement of key sports partners and rights holders and has remotely produced hundreds of broadcasts nationwide since early 2021.
Other finalists in the category were social welfare enterprise Circonomy which tackles repurposing the many billions of dollars of returned and repaired tech goods across the Australian retail sector; Electric Mobility Solutions (EMoS) which has developed sustainable end-to-end solutions for the 'first and last mile' transport of goods and people in urban environments; and Skedulo which has developed a deskless productivity cloud solution, powered by AI and machine learning, to help organisations globally to manage and engage their staff who do not work in traditional office settings.
POPULOUS TAKES HSBC AWARD FOR EXCELLENCE IN INTERNATIONAL BUSINESS
The extraordinary global stadium and venue design work of Populous – which has driven export success for the Brisbane-based company over more than 20 years – win the highest accolade of the HSBC Excellence in International Business category.
Populous opened its Asia-Pacific headquarters in Brisbane in 1999 after winning the design contract for the Sydney Olympic Stadium. It was the catalyst for Populous to begin exporting creative and professional design services from Brisbane.
Today, the business has grown to 200 designers with offices throughout the Asia-Pacific region and its design success stories of 'places where people love to be together' have included Suncorp Stadium in Brisbane, Kai Tak Sports Park in Hong Kong, Yankee Stadium in New York City and Tottenham Hotspur Stadium in North London.
Populous is the largest employer of Queensland architects and designers involved in export, where every dollar earned in the Asia-Pacific creates jobs for Queenslanders. Populous' unique expertise is in designing iconic, city-shaping places that sit at the intersection of sports, entertainment, arts and culture.
HSBC state manager Gerry white said the calibre of the businesses challenging for the category was very high, including other finalists underground mining guidance systems innovator Applied Mining Technologies, specialist aquatic environmental consulting group Hydrobiology and jewellery manufacturer and retailer Michael Hill International.
THE PRINCESS THEATRE WINS ISPT AWARD FOR INVESTMENT IN BRISBANE
Winner of diverse property investor and developer ISPT's Award for Investment in Brisbane, The Princess Theatre is a heritage site transformation that extends Brisbane's appeal in the live entertainment market.
After laying largely dormant for more than 70 years, Queensland's oldest surviving and only 19th century theatre building, The Princess Theatre, has been given a new life as Brisbane's newest home to performing arts.
The magnificent state-heritage-listed building was acquired in early 2021 by the owners of The Tivoli, Steve and Dave Sleswick, and prominent local businessman, Steve Wilson, who collectively shared a vision to transform the theatre into Brisbane's newest home for music, entertainment and the arts.
Together, they overcame the extraordinary challenges posed by the COVID-19 pandemic on the live industry to complete a timeless restoration of 'The Princess' for future generations to enjoy.
Following a meticulous and faithful restoration, The Princess reopened to the public in 2021 as a state-of-the-art performance auditorium designed for a standing capacity of 900 people and a seated theatre capacity of 500. It also features four bars, a public cafe, private event spaces, a rehearsal room and an outdoor courtyard.
ISPT currently has a $22.2 billion portfolio that invests in and develops office, retail, industrial, educational, health and residential property across Australia. Other finalists for its 2022 investment category award were technology-enabled kitchens provider Chef Collective; social welfare enterprise Circonomy which tackles repurposing the many billions of dollars of returned and repaired tech goods across the Australian retail sector; and the Brisbane International Cruise Terminal, which is gearing up to become Australia's cruising capital. Brisbane International Cruise Terminal also received a 'special mention' in the category.
ELENA GOSSE NAMED THE COURIER-MAIL'S BUSINESS PERSON OF THE YEAR
Elena Gosse, CEO of AIS Water, was named the The Courier-Mail's Business Person of the Year, for growing her Brisbane innovation and manufacturing operations to export to 55 countries around the world. The award was presented on the night by The Courier Mail editor, Chris Jones.
In her award speech Ms Gosse paid tribute to other leading business people nominated in 2022, Cryptologic Technology Group founder and chairman, Jamie Wilson; Paypa Plane co-founder and CEO Simone Joyce; and Stoddart Group managing director Jon Stoddart.
AIS Water is an innovative, multi-award-winning manufacturer of water disinfection technology and anode material for swimming pools and future clean energy applications that has gone international from its Brisbane headquarters and manufacturing base. Under Ms Gosse's leadership, AIS Water constructed and opened its third Brisbane manufacturing facility in 2022 at a cost of $9 million.
AIS's reputation for excellence in the field is recognised worldwide, with its technology exported to over 55 countries. Ms Gosse is also well-known for giving back to her community by empowering other women to find their voice and embrace female leadership. Elena Gosse is also an in-demand public speaker and advocate against domestic and family violence. (See separate story on Elena Gosse.)
JON STODDART HONOURED WITH BRISBANE LIFETIME ACHIEVEMENT AWARD
The Brisbane Lord Mayor's Business Awards has only presented a Lifetime Achievement Award a handful of times in the past – and 2022 was one of those occasions when Stoddart Group managing director Jon Stoddart was honoured.
As Australia's largest supplier and installer of building products, Stoddart Group is an integral part of the national housing landscape, servicing more than 30,000 homes each year – about one quarter of all new homes built across Australia annually.
With a company mission all about creating solutions that deliver a better way to build, Jon Stoddart is passionate about helping builders deliver better performing, more environmentally responsible houses.
Under Mr Stoddart's leadership, this family-owned business has evolved from its humble beginnings to now turn over $400 million a year and employ more than 600 employees and 2,000-plus subcontractors, with 31 branches across the eastern and western seaboards of Australia.
"I am truly humbled to have received this award and accept it on behalf of my family and the amazing team at Stoddart Group, who work incredibly hard every day to provide our customers with solutions that deliver a better way to build," Mr Stoddart said.
Cr Schrinner said he hoped the recognition of all business that took part in the 2022 Lord Mayor's Business Awards would inspire even greater growth and investment in Brisbane.
"As we prepare for a decade of city-defining change in the lead up to the 2032 Olympic and Paralympic Games, I want local businesses to have every chance to thrive and succeed," he said.
"Together we will create long-lasting change and opportunities that will be enjoyed for generations."
| | |
| --- | --- |
| Category | Winner |
| CCIQ Award for Outstanding Small Business | Audeara Limited |
| Accenture Australia Award for Product Innovation | Vaxxas Pty Ltd |
| Urban Utilities Award for Environmental Sustainability in Business | Save Our Supplies Ltd |
| Hutchinson Builders Award for Outstanding Social Enterprise | Australian Spatial Analytics Ltd |
| Xero Award for Outstanding Micro Business | Kiddo |
| HSBC Award for Excellence in International Business | Populous |
| Australia Pacific LNG Award for Business Innovation | DoubleTake Sports Pty Ltd |
| ANZ Award for High-Growth Business | simPRO |
| ISPT Award for Investment in Brisbane | The Princess Theatre |
| Port of Brisbane Award for Young Business Person of the Year | Dr James Fielding – Founder, Audeara |
| The Courier-Mail Award for Business Person of the Year | Elena Gosse OAM – CEO, AIS Water |
| Lifetime Achievement Award | Jon Stoddart – MD of Stoddart Group |
| Optus Platinum Award | simPRO |
ends