Excel Robotics develops vital production machinery
EXCEL ROBOTICS may have started small, but the company has always had big ideas about developing Australian advanced manufacturing services that would drive success for its clients across the agriculture, automotive, petro-chemical and resources industries.
Dan Leech founded Excel Robotics in 2006 and has been its managing director – and sole owner – since its inception, having focussed on the automotive sector initially. His background in the steel industry then set him thinking about creating better and more specialised production machinery and that, naturally, led to the field of robotics.
"I started with one robot and one customer and a huge dream and desire to succeed," Mr Leech said. "Money was limited back then when I worked on my own so I made the decision that a fork lift would add more value to my company, rather than build an office – so that's what I did.
"I then proceeded to use my forklift seat as my temporary office to conduct invoicing and purchasing etc. Move on two years and I had saved enough money to build my own office. Then we took the unit on next door and put a powder coating plant in to give our customers a complete package.
"Another year on I had eight staff and generators running out the front to give us more power as we were so busy. We then moved into Wellard Street Bibra Lake with eight staff and a turnover of $1.2 million with 70 percent net profit.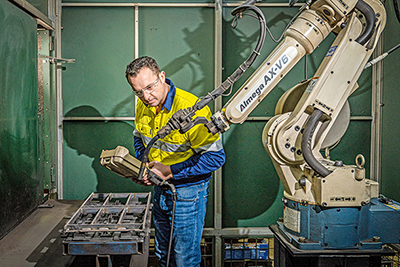 "Move forward five years and last financial year we turned over $6.7 million with a net profit of $1.275 million," Mr Leech said.
"We now employ 34 full time staff, have four accreditations with Lloyds Register, three safety awards, have four running robots, three saws, the largest plasma cutting, drilling and oxy cutting machine in Western Australia and have a predicted turnover in the next financial year of $9.5 million."
Key to success, Mr Leech said, was his concentration of face-to-face meetings with customers.
"As a small business operator being responsible for all facets of the business from production planning to administration, it was integral that time was always allocated to marketing and promotion," he said. "As part of my weekly job planning and scheduling, every Friday was put aside to close the workshop and hit the road to meet with potential new customers face to face, and in an industry that is still strongly influenced by old-school principles, this practice was always well received.
"I strongly believe this was a critical component in gaining trust and creating opportunities for customers to take a chance on a new supplier."
LOOKING WELL AHEAD
After making its name rapidly from a standing start in the automotive sector then into agriculture and mining, Excel Robotics' expertise and reputation opened doors in other industries.
Now Excel Robotics has its sights set on venturing into the oil and gas sector and the company is planning to expand eastward into locations such as Tomago and Gladstone.
The installation of the largest plasma cutting machine in Western Australia in the past year was a paradigm shift for Excel.
"The installation on the plasma (cutting technology) was a real turning point for us," Mr Leech said. "We also commissioned our biggest robot Number 4. This is a five-axis robot mounted on a 10-tonne horizontal gantry system.
"We use this mainly for 1554.5 high fatigue welding work. Our customers love seeing this technology in action. And we can weld continuously for up to 12 metres."
These new systems have clearly demonstrated that the use of robotics can make production not only more efficient and less costly, but far safer.
"One item in particular we used to have rotate 19 times and, with it weighing 2 tonne, it was a hazard," Mr Leech said. "Now that we use robotics we only have to rotate it four times. Plus, we get more continuous welding with less stop-starts and lower heat input and distortion."
Excel Robotics has always kept a look out for services it can economically extend to its production line.
"One of the earliest of these was powder coating to our services and more recently it has included rubber lining and plasma cutting," Mr Leech said. "This adds up to happy customers too."
Over the past few years, Excel Robotics has successfully achieved AS4801, ISO9001, ISO14001 and OHAS18001 accreditations with Lloyds Register Australia. This has helped to secure the top four global screening companies as customers.
REACTING TO MARKET CHANGE
Excel Robotics' diversity of capabilities and the way the company has continually developed new efficiencies in its manufacturing systems by utilising robotics is clearly paying off in the way it is able to transition between industry sectors.
"We are a strong believer in business diversity. Our biggest commodity at the moment is wool, then all the precious metals known to man," Mr Leech said.
"When one is up, often the other is down, so we still benefit."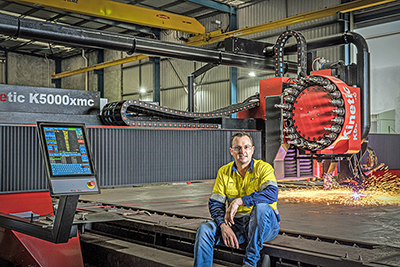 In fact, Excel Robotics has now become the largest supplier to the Australian and New Zealand wool industry of fabricated components – most notably its latest technology wool presses.
"The markets at the moment for us are very good," he said. "Also the price of wool is good at the moment combined with higher quality and demand from China as we are still riding a surge in wool press sales."
At the same time, the more demand rises for precious metals – and sometimes the lower price of a commodity can be a driver – the higher the demand for Excel's custom-made screens that it builds for mining customers.
"With roughly 70 percent increase in sales and 50 percent in profit last year, things are moving along just nicely," Mr Leech said. "We expect to double our turnover this year but not the profit as last year was an expansion year, as we call it.
"This happens every second year where we expand in one way or another, hence us spending more than other years."
And right from his early days, Dan Leech has kept an eye on the basics to ensure growth can happen.
"Cash flow is king and if you take your eye of the ball someone else with start kicking it for you," he said. Keeping an eye on the basics has driven Mr Leech to develop a long list of capable people to keep their eyes on the ball day-to-day in operations.
Mr Leech said the company has grown by between five and eight new full-time staff per year over the last three years and that is a carefully nurtured process.
He said Excel Robotics worked continuously with At Work Australia, South Fremantle Senior High School (SHS), Curtin University, Thornlie SHS and Rossmoyne SHS to give people the chance of gaining an apprenticeship "and come to our facilities to give the industry a try".
"We have seen all walks of life come through the doors, some staying for longer than others, and others starting apprenticeships in the trade," Mr Leech said. "We also take part in Indigenous employment and training."
The company has also helped to rehabilitate people back into the industry after imprisonment, addiction, or illness, Mr Leech said.
It shows how paramount the development of people is for success – even for a robotics company.
Excel Robotics has been recognised as a leader in staff development and that has brought a string of awards over recent years – especially highlighting the way the company develops with workplace health and safety paramount. In both 2018 and 2017 Excel Robotics won the IFAP Safe Way Achiever Award Gold Category, in 2017 it was awarded the WA Government Worksafe Gold Certificate of Achievement and previous to that won the 2015 WA Government Work Safety Award for Best Workplace Safety and Health practice.
Anything that hinders his staff development goals are a problem – so it's no wonder Mr Leech singles out one particular imposition on Australian companies that bothers him: payroll tax.
"Why should we be penalised for growing our companies?" he asked. "Abolish payroll tax!"
Such niggling impositions aside, Dan Leech and his team are accelerating by sticking to the company's foundations.
"We want Excel Robotics to continue to exceed our customers' expectations by constantly producing high quality fabrication in the safest, most efficient and professional manner possible," Mr Leech said. "We will continue to grow the company lawfully and carefully."
About Excel Robotics

Excel Robotics is best known for its development of highly specialised production machinery across the agriculture, automotive and resources industries – and the company's related capabilities in high quality welding, steel fabrication, powder coating, plasma cutting and rubber lining
Excel Robotics has grown to 39 staff over two shifts, led by Managing Director Dan Leech and Operations Manager Tom Poupouare, and is expected to turn over $9.5 million in the 2018-19 financial year.
Excel Robotics has won many awards over the years, most recently the Gold Safe Way Achiever Award for the 2018IFAP/CGU Safe Way Awards and the company is currently a finalist in the 2019 IFAP Safety Innovation Award.
Accreditations Excel holds include Quality Management ISO 9001:2015, Environmental Management ISO 14001:2015, Safety Accreditation AS/NZS 4801:2001, and Safety Accreditation OHSAS 18001:2007.