Innovation at core of Royal Freemasons aged care services
SET TO CELEBRATE its 150th anniversary in 2017, aged care services provider Royal Freemasons remains one of the most innovative and progressive organisations in Australia.
For more than a century, Royal Freemasons has innovated its facilities and services, collaborating with a range of industry partners and universities, to achieve its single mission, what it calls a "simple and principled aim" – to ensure its customers "live a secure, dignified and rewarding life".
Royal Freemasons operates nine aged care and retirement homes of its own across Victoria and is collaborating with others on aged care services, including Masonic Care Tasmania.
Royal Freemasons chief executive Felix Pintado  said the organisation worked in partnership with the National Ageing Research Institute to develop new ways to continue meeting customers' needs and aspirations as they transition through aged care.
Working with Deakin University, Royal Freemasons has in recent years improved staff skills base in mental health care and has also worked with La Trobe University on a project to up-skill staff in emotional intelligence (EI). This is all designed to contribute to a better customer experience.
Royal Freemasons has partnered with Alzheimer's Victoria to stage the first ever conference looking at 'intimacy as we age'.
Now expert staff members are involved in the State Government's Medicine Senior Reference Group and we are involved in an international skills exchange program with SIM University Singapore.
So renowned has Royal Freemasons become in the way it innovates and develops more sensitive and efficient aged care, the organisation regularly receive visitors from overseas – most recently from  Japan, Malaysia, China and Singapore. – who are keen to learn about the facilities designed and built in recent times and, as importantly, how they are operated.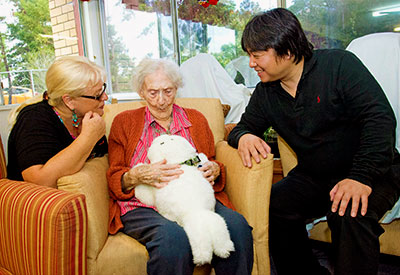 A good example of the standing with which Royal Freemasons is regarded was the extraordinary recent visit by Tokyo Institute of Technology fellow and professor Takanori Shibata. He has invented a remarkable robot – in the appearance of a seal – which is getting great results in assisting people with dementia.
Prof. Shibata visited Royal Freemasons' Copin Centre to personally reinforce how technology can play an important role in delivering a better quality of life for people in aged care. His robotic Paro seal was specifically developed as a therapeutic device to assist people managing dementia and has been successfully used worldwide to provide calming and caring of aged persons. The seal has been acclaimed by the Guinness Book of World Records as the best device ever developed for this work, helping dementia residents who have known behaviours such as agitation, wandering and aggression and who are resistive to standard intervention practices.
As a result of the visit, and through benefactors Aya and Keith Thornton, an initial eight Therapeutic Robot Seals have been purchased for Royal Freemasons our aged care customers who are managing dementia.
The robot reacts to the attention given by a person as if it was a child and has been shown to have very excellent therapeutic effects on the wellbeing of the individual. The initial rollout of the Paro seals has commenced and it will be continually monitored in order to evaluate and instigate further rollouts to other customers, to help improve their quality of life.
"I am proud to oversee a very special organisation caring for nearly 1600 older Australians," Mr Pintado said. "To meet demand, we are growing our services and recently added 215 aged care beds and 40 independent living units to our mix. \
"We want to offer people the very best of care and exceed their expectations. To ensure this, we have carefully aligned our services to meet the Federal Government's Living Longer Living Better Legislation.
"In recent times, we have built on a long-standing tradition of excellence by introducing a range of new, high quality and caring options. We are constantly endeavouring to exceed our customers' exacting standards and am confident that we have exceeded them at our new developments Streeton Park in Heidelberg and Coppin Suites at Coppin Centre."
ends