Rabobank: global and local factors driving record beef prices worldwide
A COMBINATION of global and localised factors is creating a "very tight" global beef cattle market – with strong demand and record high prices in many regions throughout the world – according to a new Rabobank report
This is coinciding with a fundamental shift in international market dynamics, Rabobank researchers found.
In its Q2 Beef Quarterly, Rabobank said so tight was the global beef market that localised disruptions – including droughts and increases in consumer demand in individual countries or regions – are now exerting a much more "dramatic impact" on global trade.
"Given the growth in demand (for beef) and global trade, pressures created in the system now mean that what may once have been considered slightly-abnormal seasonal conditions (for example) are now causing major shifts to markets," the report said.
Report co-author, Rabobank senior animal proteins analyst Angus Gidley-Baird said the local drivers that are fuelling high beef and cattle prices in individual countries – such as post-drought herd rebuilding in Australia and a re-opening food service sector in the US – will eventually correct and cause an adjustment in prices.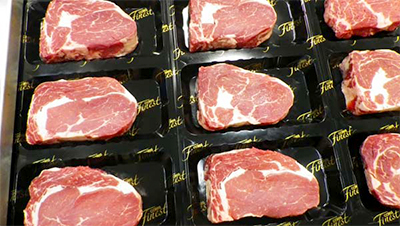 "However, with the tight global supply situation – underpinned by Chinese demand which is expected to remain firm – we believe the global market has seen a fundamental step up," he said.
Local drivers and not-so-local
The report said the main localised drivers around the world currently impacting the global beef market included strong demand-driven beef prices in the US, seasonal delays to the Brazilian cattle slaughter and reduced supply in Europe.
For the US, Mr Gidley-Baird said, the country's beef sector was squarely in a demand-driven market, with April 2021 wholesale prices 18.5 percent higher than the same time in 2019 (providing a comparison prior to 2020's COVID-driven supply disruptions and panic buying), while retail prices were 11.5 percent higher.
"This is the result of a number of factors,including renewed competition between food service and retail triggered by the reopening US economy, combined with grilling season, all-time high consumer incomes and strong exports," he said.
For Brazil, a delay in seasonal rainfall had seen lower cattle supplies available, forcing processors to push up cattle prices and keep supply flowing, particularly given the demand from the import-hungry Chinese market.
Across the EU, there were reduced cattle supplies – reflecting low profitability seen in the sector there last year due to the impacts of COVID.
"EU beef carcass prices have been firming since quarter four 2020, with the average EU beef carcass price currently up seven per cent on the same period last year," Mr Gidley-Baird said.
In China meanwhile, the report said, slow growth in domestic beef production – which has not been able to keep up with the local growth in consumption triggered by the substitution of beef for pork during the outbreak of African swine fever – had led to rising beef imports in past years.
"While part of the beef consumed was a substitute for pork and will shift back when pork production recovers, we expect strong Chinese beef demand to remain as new markets have been established," Mr Gidley-Baird said. "This will continue to drive Chinese beef imports from the global market."
Australia
The record low cattle supply in Australia has also been feeding into the tight global market, the report said, with successive years of drought and large livestock liquidation having resulted in the country's lowest beef cattle herd in 30 years.
Australian young cattle prices had jumped almost 30 percent year on year in February 2020 and since risen another 20 percent to February 2021, the report noted.
Mr Gidley-Baird said the cattle price increases had been significantly driven by improved seasonal conditions in 2020 which were carrying into the current year. These had seen intense buying competition by producers looking to restock properties and generate value out of increased pasture production.
"While lower volumes and higher prices make competing in the global market more difficult, the tight market situation is working in Australia's favour and creating less resistance to our high prices," he said.
"We believe that current cattle prices in Australia will ease as cattle numbers increase and producer demand dissipates. However, as the supply chain overcomes the disruption here and consumers adjust their price expectations, we believe the market will adjust and a new baseline will be established."
Pendulum swinging
In an indication that the Australian sector might be beginning to see producer demand for cattle ease, the balance of buyers in the weaner cattle market is starting to return to normal, the report said.
"The pendulum appears to be swinging, with a more normal balance beginning to return, with producers dropping back and feeders taking a more active share of the market, seeing a greater percentage of cattle heading to feedlots," Mr Gidley-Baird said.
"Compared with last year, when producers were the largest buyers in the ECYI (Eastern Young Cattle Indicator) weaner category for many months, the first three months of 2021 has seen them occupy on average 39 percent of the market, with (lot) feeders at 50 percent," he said.
Producers were, however, still paying premiums – of about six percent – above the market average.
"This continues to support cattle prices," Mr Gidley-Baird said.
Numbers tell the story
Australian cattle slaughter numbers remain very low, the report said, with the east coast cattle slaughter for April 2021 down 30 percent on the same period last year and 31 percent on the five-year average.
Beef exports also remained low, reflecting the lower production levels. April 2021 exports – of 72,502 tonnes shipped weight (swt) – were down 22 percent on the previous year and 11 percent on the five-year average.
Higher prices and a different product offering, with less cull cows in the system, had seen Australian exports shift focus slightly, the report said.
"The share of total Australian beef exports going to China dropped from 24 percent in 2019 to 17 percent year to date and the share going to the US declined from 20 percent to 15 percent in the same period. Meanwhile, volumes to Japan and South Korea lifted slightly for the first four months of 2021," Mr Gidley-Baird said.
ends
Email: This email address is being protected from spambots. You need JavaScript enabled to view it. Email: This email address is being protected from spambots. You need JavaScript enabled to view it.