Global cities summit launches in Brisbane today
FROM AUSTRALIA to Mongolia, city leaders, policymakers and businesses are preparing to create global opportunities and strengthen international networks as the Asia Pacific Cities Summit (APCS) launches its first full conference day in Brisbane this morning.
The three-day Summit — which will attract more than 600 key decision-makers and influencers from 74 cities — is a catalyst for enabling partnerships and knowledge sharing between cities and business to shape urban agendas and strengthen global trade and investment links.
Brisbane's Lord Mayor Adrian Schrinner said APCS wpould offer delegates an impressive line-up of internationally renowned speakers and curated sessions in line with the theme of 'Redefining Cities through Opportunities and Challenges'.
"The number of people attending this year's event – either in-person or virtually – is incredibly strong, particularly considering the wider challenges this country and the world is facing," Cr Schrinner said.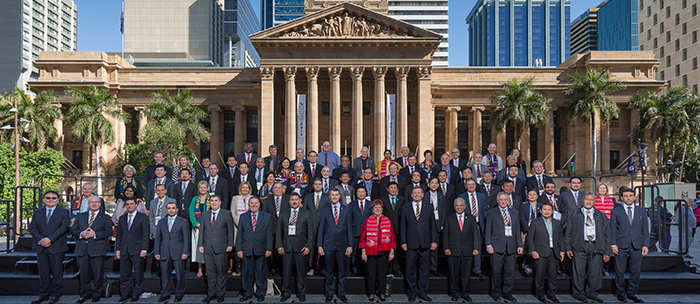 "2021APCS is a golden opportunity to focus on the benefits and start planning for the world's biggest sporting event, being held in Brisbane in 2032.
"Following the APCS Mayors' Forum on Wednesday, the 61st Governor of Maryland and former Director of Infrastructure for the London Olympic Delivery Authority, Simon Wright OBE, will deliver his keynote address today.
"There will also be a special showcase from key figures behind the successful London, Tokyo and Sydney Olympic and Paralympic Games, as well as a panel on aviation's role in reigniting tourism, events, art and entertainment with executives from Brisbane Airport, Auckland Airport and Air New Zealand."
On Friday, former Paralympian and gold medallist Kurt Fearnley AO will headline the morning session, following a project showcase on Brisbane Metro.
Cr Schrinner said running throughout the Summit will be the APCS Hybrid Exhibition, an interactive virtual space where sponsors and exhibitors will showcase their brand, services and products.
"APCS provides a platform for community leaders and local businesses to leverage the exposure of Brisbane 2032 and promote their capacity and capability to foreign businesses," Cr Schrinner said.
"By facilitating these invaluable connections and partnerships, we hope to build on the success of previous Summits held here in Brisbane and cement our status as a global city."
Since its inception, APCS has been held 12 times across six cities, alternating between Brisbane and an international host city every two years.
2021APCS is being held at the Brisbane Convention and Exhibition Centre and virtually.
ends