Ceramisphere technology goes global
By Mike Sullivan >>
CAN CERAMIC micro-encapsulation technology – a new materials process originally developed by the Australian Nuclear Science and Technology Organisation – change the world for the better?
Not only can it happen but New South Wales company Ceramisphere has been established to make it happen.
Ceramisphere has developed two quite different product lines that utilise ceramic micro-encapsulation technology.
Ceramisphere itself manufactures green, smart additives for paints and coatings that provide unrivalled corrosion protection. Ceramisphere Health – an offshoot company that operates specifically in the health and medical sector – is developing a new type of transdermal patch for pain relief and wound healing. Trials so far have given the company great confidence in the ability of this technology to have a successful impact on post shingles pain treatment and help fighting the opioid crisis.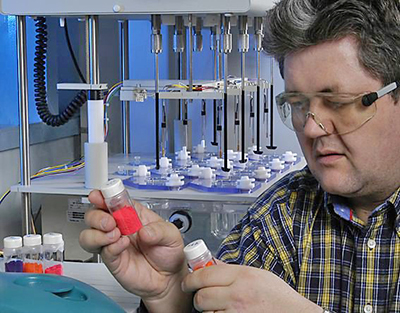 The year ahead is expected to be a busy, fruitful one of commercialisation and stepping up sales for Ceramisphere smart pigments, according to CEO and founder, Chris Barbé, although there are certainly major challenges to be met.
"Our target for Ceramisphere in 2019 is to increase the market penetration for our smart anticorrosion pigments (known by the registered trademark, Inhibispheres) in North America and Europe," Dr Barbé said.
"We will try to capitalise on the momentum created by our first sale in the USA and keep growing our pipeline through our network of nine distributors. We have more than 100 companies currently testing our products worldwide."
At the same time, Ceramisphere Health is looking to raise capital and conduct clinical trials with a view to fast-track progress through the US Food and Drug Administration (FDA).
"For Ceramisphere Health, we are looking to raise capital to take our ground breaking zero-waste nanocomposite patch technology through clinical trials," Dr Barbé said. "We should benefit from an accelerated pathway through the FDA and potentially reach commercialisation as early as 2023, which is extremely rapid for Healthcare.
"This makes it a very attractive proposition for potential investors."
INNOVATION PEDIGREE
Investors looking at Ceramisphere are likely to be heartened by the company's strong innovation pedigree and the way the company's teams 'keep finding a way' to commercialise.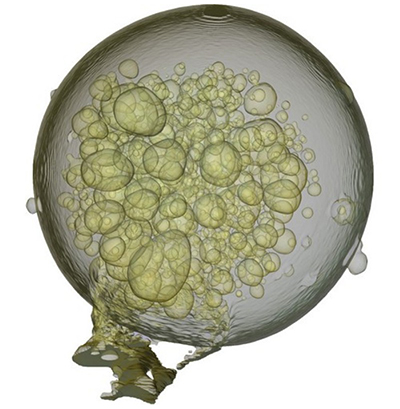 Dr Barbé likes to quote from inventor and electricity entrepreneur Thomas Edison, whenever the going gets tough: "Nearly every man who develops an idea works it up to the point where it looks impossible, and then he gets discouraged. That's not the place to become discouraged."
Ceramisphere was created in 2007 as a fully owned subsidiary of the Australian Nuclear Science and Technology Organisation (ANSTO), as a vehicle to spin-off ANSTO's novel ceramic micro-encapsulation technology. This first step to commercialisation was achieved in early 2010.
"Originally, we positioned ourselves as a micro-encapsulation company, with a service business model where the client brings a substance to encapsulate and we would develop the encapsulation process for them," Dr Barbé said. The initial plan was for Ceramisphere to license the technology back to the client to manufacture – or contract the manufacturing of – the final product.
"We worked with a wide range of companies, all around the world, for various applications ranging from the encapsulation of flavours for chewing gum, to enzyme for washing powder, biocide for aquaculture all the way to RNA (ribonucleic acid) therapy."
Dr Barbé founded Ceramisphere in 2007, working as the company's technical director, and he became increasingly concerned by the slow commercial take-up of the technology, wondering if another business model should be explored.
"The development of smart additives for paints and coatings started in 2007 as a collaboration with (aircraft manufacturer) Airbus," Dr Barbé said. "They were interested in developing a replacement for the toxic chromium primers currently used in aerospace to prevent corrosion.
"After several years, we realised that our microencapsulation business model was not applicable to the paint industry. Paint manufacturers, being formulators, were interested in buying microencapsulated additives but not volunteering substances to be encapsulated. Like good cooks, they want to buy their ingredients not grow them …
"So, we changed our business model and became a smart additive manufacturer. This entailed building a manufacturing facility in Mt Kuringai, north of Sydney, and setting up a sales and distribution network in Europe and North America."
"In 2014, when I took over as CEO we decided, being an SME with limited resources, to focus on two key areas where our patented technology presented some unique key competitive advantages: smart additives for paints and drug delivery for healthcare," he said.
"On the healthcare side, after a number of collaboration projects with large pharmaceutical companies, technically successful but which did not progress commercially, we decided to take our destiny in our own hands," Dr Barbé said. "We chose to push through the clinic a ground breaking transdermal patch technology that we have developed in collaboration with a small company in the Czech Republic.
"The preclinical data is extremely positive with 30 times more efficient patches, with no residual waste – in contrast to 50-95 percent of the drug typically remaining inside current commercial patches when you discard them. We are currently developing a pipeline of three patch products: One, an extended release lidocaine patch for post-shingles pain; two, a new fentanyl patch for post-surgical and cancer pain'; and three, a bioactive wound healing dressing with faster and better healing properties.
"To better focus our effort, we have recently spun off the new company, Ceramisphere Health, which is solely dedicated to developing those novel nano-solutions for skin delivery."
BREAKTHROUGHS
Two breakthroughs over the past year have been milestones for Ceramisphere.
The company made the first sale of its ground breaking Inhibispheres anticorrosion technology in North America in 2018. At Ceramisphere Health, positive preclinical data of the lidocaine patch confirmed superior efficiency and ease of disposal.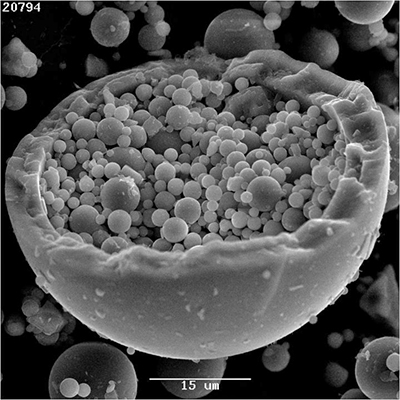 "We are constantly expanding a modifying our range of Inhibispheres products to better address our customer's needs," Dr Barbé said. "In response to some specific demand from customers working in aerospace applications, we have developed two new products which are being evaluated in Europe and the US.
"The Inhibispheres technology is a rupture technology for the paint and coating industry. This patented technology is unique and offers significant increases in efficiency, with 30 times less chemical used for a better corrosion protection."
Sustainability is part of Ceramisphere's DNA, Dr Barbé said. The Inhibispheres products are a natural extension of that philosophy, finding a more sustainable way to manufacture anticorrosion pigments. They provided a novel, eco-friendly alternative to toxic chemicals, such as Chromium VI and other metals, currently used for corrosion protection.
And there has been significant commercial progress across North American and European markets with the establishment in 2018 of nine distributors.
"These distributors are acting as our sales forces and will enable us to penetrate these markets more quickly," Dr Barbé said. "Our sales cycle is around 24 months. Lesson to be learned: patience … and the necessity to keep growing our pipeline."
Ceramisphere is also learning that even a new, sustainable – and in many ways revolutionary – product must keep 'showing up' and weave its way through to industry acceptance.
"The paint and coating industry is a crowded place with a lot of consolidation occurring both for paint manufacturers but also distributors and suppliers," Dr Barbé said. "This makes it harder for a small entrepreneurial company based in Australia to enter the global market.
"Large companies tend to be benchmarking new technologies rather than adopting them. We rely on early adopters, to demonstrate the commercial potential of this novel technology and with this concentration happening throughout the industry, their numbers are dwindling."
Nevertheless, recognition is coming Ceramisphere's way and sectors of the industry are taking note. For example, Ceramisphere received early acclaim from the Scandinavian Paint Association in Copenhagen, being named the Most Innovative Technology of 2018.
That sort of notice is appreciated by the hard-working teams at Ceramisphere who believe their products in development can genuinely change industry for the better.
"Our success is the result of close team work," Dr Barbé said. "Every member of the team from the junior chemist to the business development manager contributes to the success of the company.
"We have had a slow and gradual increase of staff numbers over the past year. As a mature start-up, our policy is always to 'hire slowly'. We are cautious but we are forging ahead.
"Our plan is to increase our sales into Europe and North America. Once we will have established our beachheads in these two markets, we will turn our eyes to Asia, which represents both a substantial opportunity – as the highest growth region for the paint industry – and a significant challenge both commercially and from an IP protection perspective."
While he admits the challenges are big for a small Aussie company, he believes the capability and the determination are there to see Ceramisphere succeed and become another great global company from Australia.
"To quote Thomas Edison again, 'The three great essentials to achieve anything worthwhile are: Hard Work, Stick-to-itiveness, and Common Sense'," Dr Barbé said.
"Our teams at Ceramisphere and Ceramisphere Health know all about vital ingredients – and they certainly have those three, in spades."
Ceramisphere Pty Ltd and Ceramisphere Health Pty Ltd
Best-known brands: Ceramisphere® Inhibispheres ®
Started in 2007 as an offshoot company of ANSTO, Ceramisphere companies operate in the 'paints and coatings', manufacturing and healthcare (human and animal) sectors. The businesses are led by founder and former technical director Chris Barbé – who became the CEO in 2014 – Ceramisphere today is what he refers to as a 'mature start-up' with a permanent staff of 12 people and a turnover of more than $600,000. The leadership team is CEO Chris Barbé, Chief Scientific Officer Dr Aparajita Khatri for Ceramisphere Health, and Business Development Manager Ron Cozijnsen for Ceramisphere .
ends