COVID has transformed workplaces says @Workspaces
By Leon Gettler >>
AUSTRALIAN workplaces have been transformed by COVID-19, according to @Workspaces founder and managing director, Jenny Folley.
Ms Folley said that as businesses were now bringing workers back to the office, behaviours had changed.
She said this was most evident in her business @Workspaces, where the behavior of both staff and clients have changed in a several clear ways.
First, now people have to sign in when they arrive at the workplace. This applies to both staff and clients.
All the workspaces at @Workspaces now have hand sanitizers. Hand shaking has been replaced by either a wave or an elbow rub.
People are also keeping a 1.5m distance between them.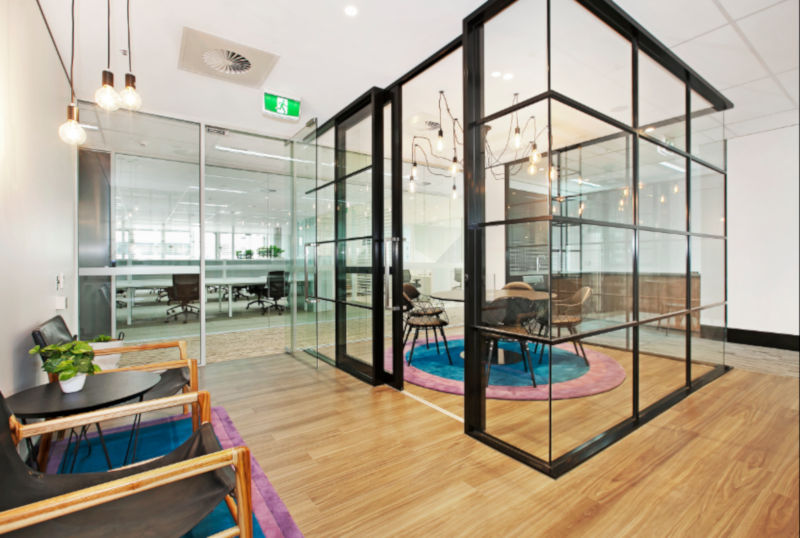 People have to wipe up after themselves in shared areas. The company provides paper towels and sanitized wipes to wipe hands and laptops.
Paper cups and wooden stirrers are in the share kitchens and people have to dispose of the paper cups in the recycle bin, rather than just leaving them there.
People should not touch the phones of others, Ms Folley said.
And gone are the days when people should be seen as heroes struggling to work when they're sick. The respectful thing for people to do now is stay at home and work from home.
LEADING WORKSPACES BY EXAMPLE
"In our workspaces – we have locations all around Australia in Brisbane, Gold Coast and Melbourne – our staff are trying to encourage clients to do this," Ms Folley told Talking Business.
"We make sure that everyone who comes into the office sign in and they do sanitize their hands and out staff make sure the common areas and our shared areas are wiped down regularly.," she said.
"We have also trained our cleaners to do the right thing and I think the clients are fantastic. They respond to this.
"They know you're trying to keep them safe and keep them in a safe environment."
Ms Folley expected this would continue for some time.
"A lot of this is things we should have been doing anyway: being respectful, especially in shared areas, the wiping down after yourself, that's just the respectful thing to do," she said.
"We are finding they (clients) are far more respectful now. I think with washing your hands, we all forgot to do that. And I think we've all learned to work from home now."
WORK TRAVEL METAMORPHOSIS
Ms Folley said one of the big permanent changes created by the pandemic will be around travelling to work, with people sometimes spending an hour to an hour-and-a-half travelling to and from work.
She said her business tries to employ people living closer to the workspace.
"What are doing is trying to create little workspace pods all around Australia so people can work closer to home and they don't have to travel," Ms Folley said.
"You can walk, you can ride your bike and working in a garden setting with open fresh air, not with shared air conditioning.
"Times are going to change and the way we work is going to change, but maybe for the better.
"So rather than just be focused in the city, which we used to be, and in big buildings, you are going to find more homes converted into offices where it's in a garden setting, where people can walk or ride their bikes," Ms Folley said.
"That will be the future. So you can work from home, or work close from home."
Hear the complete interview and catch up with other topical business news on Leon Gettler's Talking Business podcast, released every Friday at www.acast.com/talkingbusiness.
Ends
Brisbane office style: @Workspaces is seeing a surge in demand from people getting away from working at home.