Start-ups don't need money – they need customers
STEVE ARTHUR knows a lot about start-ups – successful and otherwise – and he has some unusual words of advice for those starting a new business, well informed by experience.
"You don't need money to start a new business, you need customers," Mr Arthur said.
In fact, Mr Arthur – who was involved with the launch of natural fruit blended producer Nudie and is the founder of Australia's first co-working and incubator site, Desk Space – has distilled what he calls "unusual advice for start-ups" from his observations and experiences.
"So many people think that if you don't have capital, you can't start a business," Mr Arthur said.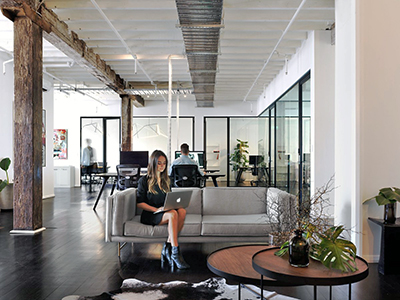 "This is incorrect. Any new idea or concept needs to be reverse engineered initially.
"If you do this and you can work out that you have a customer, you can start a company, because this is how you will generate revenue."
While being involved with five of his own start-ups, Mr Arthur has been involved with advising and overseeing more than 200 other new businesses. 
This vast spread of experience has largely come about through his involvement with Desk Space companies. He described Desk Space, founded in 2009, as "a hybrid between a co-working space and incubator". He said it operated as a "transitional space – from what you are doing now to what you could be doing next".
Today, the members of Desk Space are known to collectively turn over more than $100 million a year.
Mr Arthur said while the expression 'cash is king' was the most common catch phrase heard when starting up a new business adventure, it was "an antiquated view for anyone thinking about their first entrepreneurial steps". 
His five top tips for start-up entrepreneurs may be initially viewed as unusual, but they are borne of hard experience, covering how to save money, how to attract grants, attracting investors, offering equity partnerships and moving on to licensing.
By using the five tips, Mr Arthur believes start-ups can "cut to the chase" and more rapidly drive their businesses.
UNUSUAL TOP 5 TIPS TO START A NEW BUSINESS
Steve Arthur's unusual top five tips to start a new business are:
WHITE LABEL
"Use existing technology so there is no need to spend on web developers. White labels are pre built platforms that allow you to put your brand over the top. The hard work and the bulk of the cost is already done for you."
GOVERNMENT GRANTS
"The government wants to drive start-ups. Each State has its own way of funding and assisting start-ups, so don't miss out on these opportunities."
INVESTORS
"People believe this is the hardest way to raise money. If you are prepared, know your product and market, and you have perseverance, people will want to invest money with you." 
DEVELOPMENT PARTNERSHIPS
"Offer equity in your business to other people. They will assist with setting up the business in the areas you are weak in and at the same time provide you with a service."
LICENSING
"Look for companies abroad and offer to be their Australian arm. You can use their name, knowledge, skills. They can use your knowledge of the Australian market."
ends