WITH THE NSW Government roadmap to re-opening including some welcome changes for hairdressers across the state, 85 percent of Just Cuts stylists have had at least one vaccine dose as they prepare to welcome clients back into salons.
There are 756 Just Cuts Stylists across NSW, and 55 percent of Just Cuts stylists surveyed are fully vaccinated and 30 percent have had one dose.

About 11 percent are still waiting for their first appointment, which includes many stylists from regional NSW. About 4 percent of Stylists are unable to get the vaccine for medical or personal reasons.

Just Cuts CEO Amber Manning said teams across the state continued to do everything in their power to welcome clients back into their salons as soon as possible.

"As a close contact personal service we've always understood and appreciated the severity of the pandemic, which is why we're seeing such high vaccination rates within our network," Ms Manning said.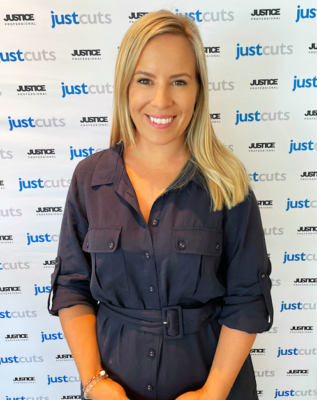 "We know from all the conversations our stylists have with their clients that there is still vaccine hesitancy in the community, when you sit in one of our salons no topic is off-limits."

"So that's why Just Cuts Stylists are cutting out the misinformation and getting vaccinated."

Once NSW reaches the 70 percent double vaccination target, the NSW roadmap to reopening states hairdressing salons can open with one person per 4sqm, capped at five clients per premises.

Unvaccinated people will continue to only be able to access critical retail, and Ms Manning hopes clients understand the extra burden this will place on salons, many of which have been shut since June.

"Our salons are no appointments, just walk in, so the five clients rule means there will be some wait times – I encourage everyone to download the Just Cuts app for contactless check in," she said.

"Some of our stylists are also concerned about how assessing the vaccination status of clients will work, as that remains unclear.

"While these measures represent a first step on our road to reopening, there is still more work to do around securing COVID rent relief from commercial landlords for our small business owners."

Ms Manning said Just Cuts encourages everyone that is eligible to book their first available vaccine dose.

"At the moment we have so many stylists from regional NSW salons who are in the difficult situation of having to wait until November for their vaccination appointments," Ms Manning said. "And as our Victorian salons know only too well, at any time hairdressers in particular areas may again be subject to harsher restrictions if COVID case numbers increase.

"So I encourage everyone to take the first available opportunity you have to get vaccinated, so we can see you again as soon as possible in our salons and fix up your at-home hair," she said.

"Vaccination is the best and fastest way to get you looking and feeling your very best again."
ends