Charity Uniting WA uses Macquarie Telecom to save 60pc on mobile costs
WESTERN AUSTRALIAN community services group, United WA, has been able to improve staff safety and significantly reduce costs with a major mobile phone systems overhaul through Macquarie Telecom, after "hitting breaking point' with two tier one telcos".

Macquarie Telecom, part of Macquarie Telecom Group (ASX: MAQ), announced it had simplified Uniting WA's mobile services, reducing costs by more than 60 percent and providing improved support at a time when the organisation was more dependent on its mobile services and data than ever before.
Uniting WA is a Western Australian not-for-profit organisation that provides a range of vital community services. These include support for mental health, disability, homelessness, housing, financial counselling, and re-entry to society for prisoners.
Following years of poor service and erratic costs from two tier one telcos, which rendered mobiles a heavy burden, Uniting WA realised it needed to reduce costs and find a new provider.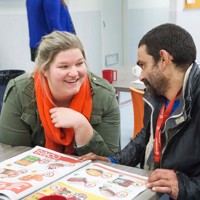 Issues for Uniting WA included mobile costs growing at an unsustainable level, poor support, outdated services and unexpected billing spikes.
The not-for-profit switched its mobility services to Macquarie Telecom, which was able to reduce mobile spend by more than 60 percent by creating a shared data pool between staff, to share data without bill spikes and provide real-time access to data and call usage to help Uniting WA more effectively manage resources.
"It became clear we had become just a number to our two former telco providers," Uniting WA principal practice lead, Luke McNiece said.
"There was zero account management and no local support, and we didn't have the resources in house to manage our mobile services," he said. "With Macquarie that all changed – the NPS score was telling and it truly exceeded expectations and almost instantly slashed our mobile costs while improving reliability and management."
MOBILES KEEP STAFF SAFER
The organisation's need to maintain a reliable mobility service is greater than most – many staff work with potentially high-risk members of the community through Uniting WA's services. Many staff use the Safe Haven app, which allows them to activate an SOS if in a dangerous situation.
"Most organisations are more reliant than ever on their mobiles in the current climate, but for us they're an essential part of how we keep our people safe, no matter what. Knowing that our mobile services are now in safe, reliable hands gives us great comfort," Mr McNiece said.
Uniting WA will also consider additional services such as network infrastructure, SD-WAN and cloud with Macquarie, following the success of the mobile overhaul. The organisation has transitioned non-essential staff to working from home due to COVID-19 restrictions and is looking at implementing long-term work-from-home (WFH) capabilities for those staff.
"Sometimes you don't realise how low down the pecking order you are with a telco until you decide to make a change," Macquarie Telecom group executive, Luke Clifton said.
"Most of these providers don't have the ability or willingness to provide any decent support to mid-sized companies and the results are telling. Our business has literally been built on doing the opposite and doing it locally, and the impact is clear in organisations like Uniting WA that can instantly gain such significant benefits."
ends