CEOs join the food harvesting global revolution
By Ellen Boonstra, Asia correspondent >>

ACCORDING TO THE UN's Food and Agriculture Organization (FAO), around 1.3 tonnes of edible food is wasted every year, at a cost of US$750 billion. Much of that wasted food could have fed the world's hungry and prevented tonnes of greenhouse gases from escaping landfills to poison the atmosphere.
This is the starting point for a revolution in food rescue. The pioneer in Australia is OzHarvest, which celebrated its annual fundraiser on March 25 at Sydney's Royal Hall of Industries. The OzHarvest CEO Cookoff brought together celebrity chefs and businesspeople to make and serve gourmet dinners for 1,500 disadvantaged and homeless people.
For this year's event, OzHarvest founder and CEO Ronni Kahn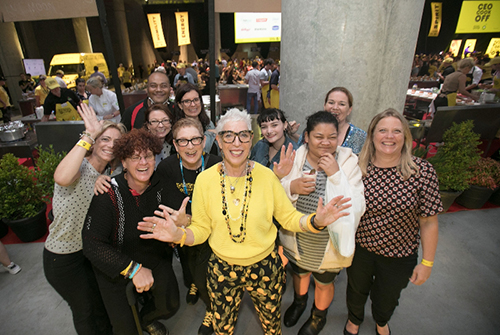 was hoping to raise another A$3 million to help the company ramp up its efforts to feed and educate the public after last year's effort broke the $2 million-dollar boundary.
Starting in 2004, OzHarvest began after Ms Khan, a veteran events planner, noticed how much food was wasted by the hospitality industry and, when combined with her own midlife crisis about creating a meaningful legacy for herself, came up with a game plan to form the first perishable food rescue organization in Australia.
From those modest beginnings, the company now works with a thousand charities across Australia, and has inspired similar foundations in the UK, South Africa and Thailand.
Since 2016, ThaiHarvest SOS has notched up some impressive stats: providing some 300,000 meals for those in need after collecting some 100 tonnes of edible food from five-star hotel buffets, mega-stores, restaurants and smaller supermarket chains.
For many people from affluent countries, the idea of not letting good sustenance go to waste is hardly new, said Abigail Smith, the chief operations officer.
"I grew up in a household where my mother told me to finish my meal because there's people starving in Africa. It's not a new concept," Ms Smith said. "It's basic and what our foundation does is one of a million things that people can do to reduce food waste on their own."
ADAPTING THE CONCEPT
In Thailand however, changing minds and winning stomachs has been more of an uphill struggle, explained Po-Tsao 'Bruce' Chen, the foundation's community engagement coordinator.
"One challenge is changing the perceptions of both donors and recipients, because the concept is pretty new here," Mr Chen said.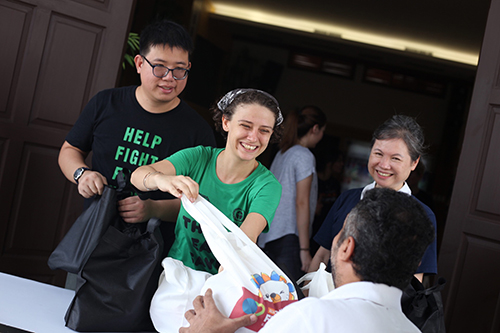 Safety is a primary concern. Some recipients fret that the foodstuffs are leftovers. In reality, said Mr Chen, these fruits, vegetables, meats and baked goods are "very clean and there are good hygiene standards in places like five-star hotels. So it's very safe".
Food safety is a major concern in other countries too. In Australia, for example, OzHarvest only rescues food from registered businesses, and any such enterprises that donate food to the charity are protected from civil liability.
Getting the business community and celebrity chefs on board has been instrumental in both raising money and allaying public health concerns. Bringing them together for the OzHarvest CEO Cookoff are the key ingredients in what has become a high-profile event.
The 2019 installment marks the first time that groups of up to five employees can now register to assist their bosses and help to raise more donations by way of sponsorship. At the event, the businesspeople work under the guidance of a chef, to help prepare food for groups of around 30 to 40 people.
For companies the event could be a kind of team-building exercise that also functions as a readymade community social responsibility (CSR) plan. Making the OzHarvest CEO Cookoff a triple-win is that participants can meet and mingle with other members of the business community.
COOKING WITH NEIL PERRY
One of the participating chefs this year is Neil Perry, who has made a name for himself through his books, TV shows, signature Sydney restaurants like Rockpool, and a personal history of philanthropy.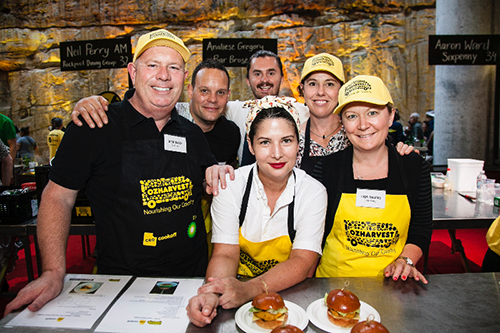 In 2013, Perry was made a member of the Order of Australia in the General Division "for significant service to the community as a benefactor of and fundraiser for charities and as a chef and restaurateur".
He is a big backer of OzHarvest.
"It's just such a genius idea, taking great food that was going into a landfill to feed hungry and disadvantaged people," Mr Perry said.
Another fixture on Australia's foodie scene, Matt Moran, is also participating again in this year's Cookoff. Brought up on a farm in New South Wales still run by his family, which supplies beef and lamb to his restaurants, Mr Moran has been asking his tens of thousands of followers on Twitter and Instagram to sponsor him.
On a recent Instagram post he wrote, "The event is to highlight the issues of food waste, hunger and homelessness around OZ! A charity very dear to my heart! I'm hoping I can hit $20,000 in a month – So, I ask you all to please dig deep and sponsor me, even $10 goes a long way!"
The success of the Australian charity's fundraiser has also generated interest among other food rescue organizations like ThaiHarvest SOS in creating a similar event.
Yet the basic premise underlining their work, and scores of likeminded foundations across the world, remains the same. Compared with other challenges facing the planet, such as climate change, socioeconomic inequalities and the wholesale slaughter of endangered species, the problems posed by food security are both easier to address and easier to comprehend.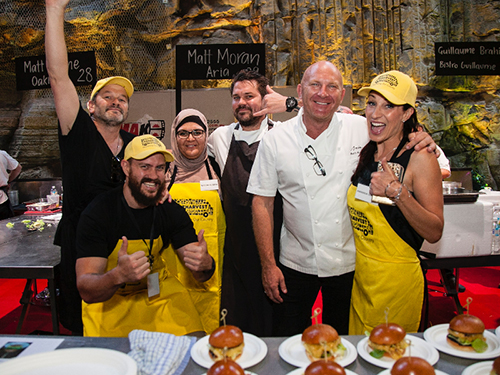 "We're not trying to come up with an alternative source for fossil fuel here," said Abigail Smith in the Bangkok office of ThaiHarvest SOS.
"This is easy. This is a no-brainer. It's in our conscience and our core. You'd be hard pressed to meet a human being who doesn't believe that everyone deserves a decent meal."
Images courtesy of OzHarvest and ThaiHarvest SOS.
ends