Unused office parking is a great parking solution
By Leon Gettler, Talking Business
ALL OVER THE WORLD, office parking is a problem. Regardless of whether you're in London or Brisbane, this is where ParkOffice is valuable.
ParkOffice uses a COVID-19 focused solution allowing employers to track which staff members require parking at the office on a given day. An algorithm then allocates available parking to those who are most vulnerable or whose need is greatest.
By leveraging the ParkOffice solution, companies are able to increase parking availability by up to 40 percent. ParkOffice is a leading parking management software solution for smart offices that optimizes employee parking by assigning and releasing parking spaces as required, reducing administrative costs, and adding value to real estate.
Company co-founder and CEO Garret Flower said sharing spots now, post-COVID, is the most efficient thing for companies to do.
"It you look at the big office buildings and residential buildings, there is so much wasted space on a daily basis, so what we have is lots of companies and people who have apartments that may not need the full use of the parking space any more on a four-week basis," Mr Flower told Talking Business.
"So what we do is allow companies and employees to release the spot when it's not being used and it goes out into a pool. Other people can then use that spot on the day that they need it, making it a lot more convenient, more efficient and just helping people to find space when they actually need it."
ParkOffice was developed as a website and app, ParkOffice.io. Users download the app and use ParkOffice, when their company is registered, to start sharing parking space.
Mr Flower said what they discovered was that big companies didn't want to rent out space to anyone. They want to trust the people that are getting the space.
So the ParkOffice business started sharing the spots with companies and employees in the same building. Once the trust was established, they started sharing the spots with companies and employees in the building next door, or in the buildings surrounding that building.
"That's where we built what we call the trust pipeline," he said. "We found it's very successful. It's generally in areas where parking is in demand."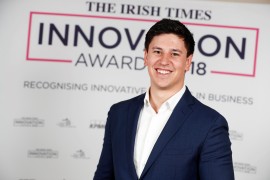 NOW IN 20 COUNTRIES
Mr Flower said ParkOffice was now located in 20 different countries – places that he had never been near – and selling the software to companies with languages he doesn't speak. Apart from New Zealand and Australia, ParkOffice can be found in Luxembourg, Belgium, and Denmark. He is also looking to expand into Canada.
This is important because, across these 20 countries, people were choosing to spend less time in the office. On days when people go to the office, they are overwhelmingly driving to work, he said. The other days, they are using their cars to head off to different places.
That requires an extra layer of flexible management for companies and residential landlords. ParkOffice provides that layer through its software.
"What's fascinating about software is that it can really help scale and solve global problems," Mr Flower said. "Parking is a global pain in the arse. We've come up with a solution to solve one segment of the market that we feel is enormous. It's one that has an enormous real estate footprint.
"If you were to take the roof off buildings in Australia and New Zealand, you would see more parking spaces in residential and office buildings than all the on-street parking combined. So that's an enormous amount of space that's probably lying idle."
Hear the complete interview and catch up with other topical business news on Leon Gettler's Talking Business podcast, released every Friday at www.acast.com/talkingbusiness.
https://play.acast.com/s/talkingbusiness/talking-business23-interview-with-garret-flower-from-parkoff