Sydney promotes to China as Australia's 'business events capital'
A CITY of Sydney-led trade and business delegation to China will showcase the city's claim as Australia's number one destination for business and tourism events, in a move to attract even more visitors.
The 100-strong delegation to Guangzhou, from May 30 to June 2, will mark the 30th anniversary of the Sydney-Guangzhou sister-city relationship, and promote Sydney as 'Australia's premier business conference city'.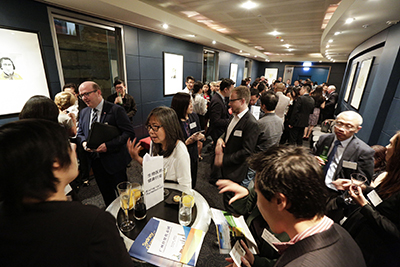 "I am leading this delegation to China to promote collaboration on major events between our two strong economies," Sydney Lord Mayor Clover Moore said.
"Sydney is now the top travel destination for all visitors from China to Australia. This is about strengthening our close ties with southern China and opening doors of opportunity for businesses and tourists from China to host and attend events in Sydney."
Business Events Sydney (BESydney) CEO, Lyn Lewis-Smith, said Asia continued to be a key driver of incentive business travel into Sydney.
"In the last three years, BESydney has secured an estimated $230 million worth of Asian incentive business, and we've seen 20 per cent year-on-year growth over the past decade in the value of events secured out of this region. Approximately 50 percent of this business is from China," Ms Lewis-Smith said.
Thanks to the City of Sydney's Chinese New Year and New Year's Eve celebrations, as well as Vivid Sydney, Sydney is now the leading travel destination for all visitors from China to Australia as reported by Tourism Research Australia.
According to new figures from Destination NSW, Chinese visitors to NSW spend 93.5 percent of their time in Sydney.
The Australia China Business Council (ACBC) is part of the Guangzhou delegation, and will lead a contingent of 30 Sydney business leaders for a trade and investment forum and business matching event during the Guangzhou visit.
ACBC NSW president, Jim Harrowell said Sydney was a "key gateway" for both business travellers and holiday makers.
"This visit to Guangzhou will forge meaningful business partnerships that will provide an extraordinary opportunity for Sydney in particular to showcase its unique events and business conference hosting services, which will help accelerate overall economic growth," Dr Harrowell said.
Other recent research shows Sydney is well-placed to further tap into lucrative event-based tourism from China:
Sydney's Chinese New Year Festival is the largest Lunar New Year celebration outside of Asia with more than a million visitors this year – an increase of 67 percent on 2015;
More than 46 percent of people travelled from overseas specifically for this year's Sydney's New Year's Eve – the most watched and one of the biggest one-night events globally, generating more than $130 million annually for NSW;
Destination New South Wales last year found more than 42 percent of international Vivid Sydney travel packages were purchased from China. The international spend contributed $63.2 million to Sydney's economy;
Sydney Airport witnessed in December 2015 a 31.4 percent increase in inbound traffic from China, majority coming from Guangzhou;
Chinese tourism numbers are expected to continue to grow with projections seeing at least two million Chinese visitors to Australia each year by 2025; and
Business Events Sydney reported 75 percent of business incentive delegates arrived from China.
Latest NSW Government figures show China remains Australia's largest market for service exports, including financial, ICT, travel and education sectors. These exports grew 20 percent in 2015 to $9.8 billion.
Sydney's events industry will receive a further boost with the opening of the International Conference Centre in late 2016. This new convention and exhibition facility will help Sydney accommodate increasingly high levels of Chinese visitation.
The City's delegation visit to Guangzhou will include:
Orchestral works performed by the Sydney Symphony Orchestra and guest performers from the Xinghai Conservatory of Music;
A sustainability forum led by the University of Sydney, the University of New South Wales and the University of Technology Sydney;
An alumni event hosted by Sydney's six leading universities;
A full-day business conference headed by the Australia China Business Council, hosting around 100 attendees from both cities; and
An arts exhibition exploring trade and migration between the two cities.
cityofsydney.nsw.gov.au/guangzhou.
https://businesseventssydney.com.au/
ends