VictoryMax is sustaining fashion
By Leon Gettler, Talking Business >>
ONE OF THE BIG ISSUES in the rag trade is the significant waste generated by online fashion returns, with many perfectly usable garments ending up in landfill.
About 100 billion garments are produced globally each year, with 33 percent going to landfill within the first year of purchase.
In Australia every year, the average person consumers 27kg of textiles and 23kg of that ends up in landfill each year.
This is a shocking statistic and VictoryMax wants to be part of the solution.
Victory Max, offers a digital answer with their virtual fitting rooms. Done in conjunction with Austrian technology company Reactive Reality, this free feature enables customers to create a virtual mannequin, in their proportions, in order to mix and match pieces to find an outfit they love.
Victory Max founder Victoria Matterson said the technology gave customers more insights into their purchases. It also provides them with greater assurance the pieces they buy will suit them and be worn time and time again.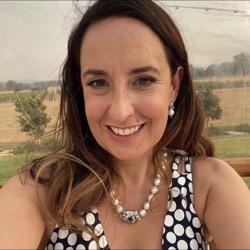 Creating the virtual fitting room
How does the virtual fitting room work? It takes a 2D or 3D image of the garment. It is photographed on a ghost mannequin.
The customer puts in their measurements and the image is overlaid on the person to show where it fits, where it might be too tight, where it might be too loose. The mannequin is made in proportion to the customer's measurements.
The mannequin is based completely on the customer.
She said this would also reduce the number of garments going into landfill.
"Depending on the website, between 30 and 40 percent of online purchases get returned," Ms Matterson told Talking Business.
Ms Matterson said she had run a focus group with her peers which told her that when they buy clothes on line, they buy in two or three sizes and send back the ones that don't fit.
"The issue with that is often with the ones that don't fit on some websites, they automatically go into landfill because it is too difficult to put them back into the chain.to be re-sold because they have to be dry-cleaned again, and have to be re-labelled. So from that point of view there is significant waste there," she said.
Customers take to virtual fittings
The virtual fitting room has only been operating for the last few weeks.
She said customers love it.
"They're liking the ease of it. It takes less than a minute to set up a profile and then it just gets saved on your browser," Ms Matterson said.
She said a lot of her male friends want her to start stocking male fashion items as they don't want to go into a store. She says that will come in time. It's another project for the company which was only set up in 2019 before the COVID madness.
She said her company focuses on Australian designers and brands. These include the Ostara Collection. Luna + Sun, Re-Love Me, Fit Bird, and Styelle Swim in clothing. There are also items in jewellery and beauty
"That ties in with our focus on increased sustainability and ethical production because that's absolutely critical," Ms Matterson said.
"We don't want anything that comes from a sweat shop overseas where we are not sure how the labour has been treated, where we are not sure people are getting their workplace entitlements" she said.
Hear the complete interview and catch up with other topical business news on Leon Gettler's Talking Business podcast, released every Friday at www.acast.com/talkingbusiness
https://play.acast.com/s/talkingbusiness/talking-business12-interview-with-victoria-matterson-from-vi
ends