EXTRA: BRAD SKELTON is a highly decorated business leader who made his name – and a great deal of money – in the international shipping and transport service industries.
In 2012 he faced a business nightmare. His bank at the time, HSBC, unexpectedly took control of his companies' accounts and placed the Skelton companies embraced under the umbrella Skelton Sherborne brand into the control of administrators, Deloitte.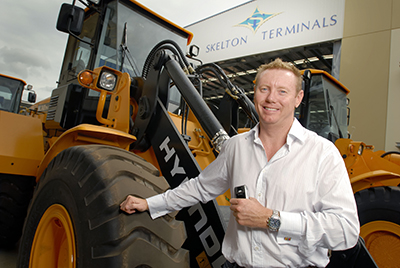 Mr Skelton's is the kind of entrepreneurial pedigree that business schools love to case study – among other things he won an Ernst & Young (now re-branded EY) Entrepreneur of the Year award, the 2004 Australian Institute of Management Owner Manager of the Year and won Lloyds List DCN Transport & Shipping Logistics Awards in 2005, 2006 and 2007 – but in late 2012, he lost the lot as a result of 'bewildering' action by his bank.
And Brad Skelton's lot was a lot … among other ventures he had created and guided Skelton Trucking, which grew into the largest road heavy haulage company in Australia; boutique agency Skelton Travel; crane hire company Skelton Vertical Transport; and Port of Brisbane cargo handling and processing facility Skelton Terminals. Skelton companies were well regarded internationally as one of the most reliable Australia-based freight forwarders.
This predicament did not start well for Mr Skelton and within months of the bank's actions it did not end well, either.
In spite of being able to regain control of the Skelton companies, for a short period, the loss of working capital to the administration process and the disruption to clients and loss of confidence mortally wounded the companies. They were placed into liquidation in early 2013.
Today, Brad Skelton may not have recovered the business that he once had, but he has soldiered on to re-create his business life, developing another innovative set of businesses under his new Depth brands. Some of those businesses are engaged in shipping, but these days Mr Skelton is a highly valued adviser to other companies on shipping and transport systems and issues.
But those few accursed months in 2012 that destroyed such valuable businesses – and the livelihoods of many staff who had been with those businesses for more than 15 years – are being put to work in their own way as Brad Skelton prefers to 'new-build' from that experience rather than rebuild.
There is enormous value in understanding what Mr Skelton and his staff went through and how they handled this crippling situation. It is best explained in his own words.
Business Acumen presents edited extracts from Brad Skelton's brutally honest weblogs, which he continues to this day as a cornerstone of his Depth group of companies.
Mr Skelton's extreme business challenges became known in his blog of Thursday, November 29, 2012:
I am sorry!
If you haven't heard the news yet, Deloitte in Brisbane have been appointed by HSBC bank as receivers to my company, Skelton Sherborne. Therefore they are currently in full control of the company, not me.
Deloitte have advised they intend to keep the business trading while offering it for sale. An advertising campaign began yesterday in various Australian newspapers.
Skelton Sherborne has truly great people who I can say without reservation are among the shipping industry's best in the world. I am extremely grateful to every one of them for the incredible professionalism they are displaying right now in very challenging circumstances.
I am so proud of them. Most of these people have given the business between 8-15+ years of their lives and I hope they think it has been an interesting, fun and personally rewarding ride with the company so far. I thank them for the dedication to company, and I, and for their hard work. I am personally doing my best not to let them or their families down.
This team has built the company's systems and procedures from the ground up and they are world class and very innovative. Skelton Sherborne's business model and processes are probably the most copied by competitors in the heavy logistics market. With some amusement, the team and I have always taken this as a compliment. 
The company would make an outstanding acquisition for someone and has a track record of good profitability and growth. If you are interested please contact Deloitte in Brisbane directly.
So what happened at Skelton Sherborne for the company to be currently in receivership?
Clearly we lost the support of our bankers, HSBC. Late on Tuesday the 20th of November, without warning or notice, they froze Skelton Sherborne's bank accounts. The company was not outside of any bank covenants or limits.
Furthermore the company was trading very profitably having just delivered the best four months results in years. The company did not have a single default or judgment against it that would give justification for our bank's action. 
Since late September this year HSBC had imposed a rapid step down of credit facilities the company relied upon. They required the business to reduce one of those facilities by $100k every Friday or they threatened receivership.
I am proud to say that with the tremendous help and support of my team, long standing clients, suppliers and friends, Skelton Sherborne met this step down – as impossible as it initially seemed. We were still trading profitably and I thought the receivership threat from the bank was removed. Increased attention was then given to reducing creditor balances as fast as we could. As a consequence of the rapid step down required by our bank our cashflow was under pressure but recovering.
HSBC's action in freezing our accounts last week paralysed us to pay customs, shipping lines and other suppliers in order to ensure smooth cargo and service delivery to our valued clients.
The company immediately engaged our lawyers to try and get this freeze lifted, seek our bank's justification for this action and to reserve our rights to claim for any losses and damages caused. As we were within all bank limits we had hoped that we could quickly resolve this with them and continue serving our clients and paying suppliers.
Unfortunately we were unable to get HSBC to lift the freeze and their lawyers informed us that all of our banking facilities had been cancelled and withdrawn. At the same time we were also given an immediate demand to pay out the full balance of the remaining facilities. The company could not meet an "immediate" demand of that magnitude and subsequently HSBC appointed Deloitte as their receivers.
I know this receivership is hurting people. I humbly, humbly apologise to my team, our clients and suppliers who have been hurt or affected by what has transpired with Skelton Sherborne over the last nine days.
I am working very hard to try and somehow regain control of the business and continue on trading after the receivers have done their job for HSBC, if I can. This situation is temporary and I am fighting like hell and determined to be one of those many companies who have successfully emerged from a bank receivership. This situation is a massive setback that will slow me down but it will not stop me.
Deloitte are making decisions that they think are in the best interest of the company and no doubt their client, HSBC. Many of these decisions and actions my team and I do not agree with nor in anyway condone.
We are sad to see some of our great clients, who have become friends as well, incurring further expenses that in our view could have and should have been avoided or at least minimised. Client and supplier relationships are being damaged and right now losses are being incurred. I am powerless to stop this at the moment.
For the company's competitors, who are nearly all former employees of mine, this situation presents an amazing opportunity. It's not every day that the biggest player in their market suffers misfortune like this. I don't blame any of them for trying to exploit it. I would seize the opportunity myself and indeed would buy the company from the receivers if I were them.
By the way, to my former employees . . . if your non-compete obligations in your contract have not expired then I strongly suggest you think very carefully. You know that we always enforce them and seek our damages. This situation will be no different.
I take my responsibilities as director very seriously and have been at the office every day. I have not run away overseas as some competitors are saying. Everything that I can do to improve the situation is being done and I know and accept the ultimate responsibility rests with me.
My team and I have at times been overwhelmed with calls and emails through this period. I am sorry if we have not been able to get back to you in a timely fashion. We have frequently been reliant on Deloitte for directions on how to respond to people.
It has been heartening to my team and I to receive so many calls and emails of support from clients and suppliers. Thank you! It is nice to know that you believe in us and the brand. Skelton Sherborne is a great company and I am determined that it will keep going somehow and hopefully with me still at helm and the team intact.
Again I am deeply sorry for any hardship, expense or inconvenience this situation is causing anybody associated with Skelton Sherborne. I am sincerely doing everything in my power to make things right.
Please stay tuned to my blog for further updates as this situation is worked through. I might even lift the lid on a few secrets on people in the coming days.
All for now – Brad Skelton. The Shipping Bloke. 
Friday, November 30, 2012
Fighting back.
Thank you for all kind messages of support since publishing my blog yesterday. I am grateful that so many clients and suppliers alike want this great Australian company to pull through this situation despite some hardship they are currently experiencing.
Our goal is to have the receivers, Deloitte, complete their task as fast as possible for HSBC, so my team and I can then take back over and try to salvage the business and take it from there. We respect that Deloitte are still running a sales process in the background for which they have received expressions of interest already.
We know getting the company back on track after this receivership is going to be a HUGE challenge as some clients have been forced to take their business elsewhere to keep their cargo flowing. We respect this and do not blame them in the slightest for taking this action and regret the inconvenience and extra costs caused to them.
While Deloitte are "trading" the business while they are trying to sell it, they are currently instructing our team not to take on new work. This is going to leave a void for us once they are gone making the recovery more challenging. Our team and I are up for it though and judging by the sentiment of most clients we hope they will come back.
If you are a client that ALREADY has delivery of your cargo but have outstanding final invoices relating to this then we would be very grateful if you could immediately make payment to us. The faster the funds come in and HSBC and Deloitte get paid out the sooner the receivership will end and we can start the recovery and return to normal.
To ensure we can keep trading and recover post the receivership we are hoping that we can pull the following things off.
1. We need a new bank! If any bankers are reading this blog and are interested in helping this company with a recovery, then please contact me urgently. In a future blog I will let you know what bank or banks were willing to support us.
2. If you are a creditor and Skelton Sherborne currently owes you money, then we are willing to consider a 'debt for equity' swap. Again I am sorry for any amounts we owe you and any hardship this is causing you and your business!
3. If you are one of our team members, overseas agents, a supplier or an investor that would like to see this company survive and are willing to invest in it then we would welcome that.
Peter Lucas of Kestrel Solutions will handle the 'debt for equity swap' and new investment process. Kestrel Solutions assist companies like mine in these types of difficult situations and can be relied upon to take a highly professional approach. Peter can be reached by calling +61 (0) 7 32325250 or by email This email address is being protected from spambots. You need JavaScript enabled to view it. 
Again my team and I are grateful for your support and well wishes. We are determined to get through this and hope that with a bit of help from everyone we can get all of our business relationships properly back on track and, receivership period aside, continue our good profitable track record.
This great Aussie company deserves to survive and my team, my clients and my suppliers will suffer far less if it does.
All for now – Brad Skelton, The Shipping Bloke.
Sunday, December 2, 2012
I'm back in control of Skelton Sherborne but ....
Just before 5pm last Friday afternoon Deloitte advised me they have been "partially" retired by HSBC as receivers to Skelton Sherborne and handed control of the business back to me. A circular was sent by Deloitte to clients and suppliers early that evening advising them of this. 
If you have read my two previous blog posts you know the team and I have been fighting hard to find a way to get the control of Skelton Sherborne back and the receivers out. I should be really happy as I am largely in control again, but I have been handed back a company that has literally had its heart ripped out as a consequence of HSBC's actions in unjustifiably freezing bank accounts and then appointing receivers who brutally carried out their task in getting the bank's money with little or no regard for our clients and our ongoing relationship with them, the future security of employment of my team and payment of other creditors who are owed money too.
I fear that these actions may have caused the company to become insolvent and as any responsible director knows it is against Australian corporations law to trade while insolvent. I am urgently seeking advice on this and the exact financial position of the company to get clarity on this.
Therefore regrettably I need to put our clients on notice that we may not be legally able to resume normal trading and cargo deliveries right away and there are the other issues raised as a consequence of a partial retirement of receivers I need to urgently find a way to overcome.
So what does "partially" retired as receivers mean?
Deloitte advise that the only areas of the business they continue to maintain control over are bank accounts, the debtor book as at the 30 November and statutory refunds. All other aspects of the business are back under my control as the director. They have pulled their people out of our office on Friday so it is just my team and I there now.
So what does this mean to the operation of the business and can it start to resume normal trading? Breaking it down ...
Bank accounts.
The HSBC bank accounts remain under their control. This effectively leaves the business without a bank account to operate and any funds contained in the existing HSBC accounts Skelton Sherborne doesn't get the benefit of to operate the business.
Debtor book
Deloitte will be collecting all amounts owed to the company as at 30 November, 2012. Therefore Skelton Sherborne will not have access to these funds to allow us to operate with either. 
Statutory refunds
The company has a stamp duty refund due of about $86,000 so Deloitte advise they will collect this as well.
Therefore, to run the business, I effectively have no banking facilities, no cash coming in from past work performed nor the benefit of a stamp duty refund. Furthermore subject to the advice I am seeking, we may now be insolvent and therefore cannot resume normal trading unless this situation can be resolved within the law.
During the receivership Deloitte kept advising clients they were "trading" the business. Well as a business owner my definition of "trading" includes taking on new work. Many of our incredible clients have tried to keep supporting us through this period. Sadly we were instructed by Deloitte to turn this new business away so Skelton Sherborne has next to nothing in its immediate pipeline to keep us going either.
I feel like we have just taken the hospital pass from hell with all of this but we are not dead yet. Anyone who really knows me will probably say I never give up on anything I believe in. I believe in Skelton Sherborne, its people and know their families are worth fighting for. If we can find a way to keep trading, as HSBC should have sensibly allowed us as a profitable company to do, then the outcome for the Skelton's crew, our clients and our suppliers will be much better. 
My team and I are grateful for the many comments on this blog, some media attention, countless emails and texts of support. The words in one email in particular I love and have kept me going and smiling despite the seriousness of the situation. 
An old acquaintance of mine in Perth who said he has been through the same thing with his former bank said, "Good luck and don't give up until the bastards have nailed you to a cross."
Well, neither Skelton Sherborne or I are on the cross yet let alone nailed. We will find a way to keep going and survive this as intact as possible.
I will keep posting a blog daily with important information for clients and suppliers and details of how this unfolds. For more immediate and frequent updates on cargo movements and the situation you can follow me on Google+ . I am sorry but unfortunately sometimes my key team and I are struggling to keep pace with the phone calls.
All for now – Brad Skelton. The Shipping Bloke. 
Tuesday, December 4, 2012
We lost our battle.
Sadly I have had to appoint a liquidator to Skelton Sherborne this afternoon.
The Deloitte receivership conducted on behalf of HSBC has been catastrophic to the company's future viability. Despite the great efforts of my amazing team to save the company post the receivership, we deemed it could not be successfully salvaged while the bank accounts, debtor book and statutory refunds were kept under the control of Deloitte.
Effectively Skelton Sherborne's cash flow was cut off and as a consequence the company became insolvent. As a director I was compelled to appoint a liquidator.
Therefore Anne Meagher and Terry Rose of SV Partners have been appointed and will proceed to wind up the company. I am no longer in charge of the company's affairs. SV Partners office phone number is +61 7 33102000. They will soon be in touch with all clients and creditors.
I know many of our clients have been hurt and inconvenienced by what has occurred with Skelton Sherborne these past two weeks. I am sorry that we were not in a position while Deloitte were in charge to achieve the right outcomes for you with your cargo. 
For any clients with cargo stored with us at our Brisbane Terminal, we ask that you make arrangements to promptly collect it. There will be a skeleton staff staying on with the company to assist you and the liquidators for a short time with this and to help clients with cargo still on the water.
To my crew. Thank you! You have been awesome and I am shattered for you and your families that this company could not survive. The loss of your jobs so close to Christmas is dreadful. I am so sorry!
I think we can honestly say we did our level best though. The professionalism and commitment you have displayed to our clients, suppliers and each other in very challenging circumstances has been truly inspirational and helped keep me going and fighting hard every day. I am deeply touched that such was your determination for this great company to survive that you all volunteered your time and expertise these past two days without pay. I could not dream of more support than this and I want everyone to know what you did. I am sorry I have let you down in the end.
I am in disbelief that such a good and profitable company with a great track record can lose the support of its bankers and end up in this position with so many innocent people hurt along the way. I am sorry to the people Skelton Sherborne owes money to and any hardship this has already caused you and may in the future as the liquidation proceeds.
Thank you for the tremendous support the team and I received from so many people.
This is a setback for my children and I. The five year plan just became a 10 year plan, I think, so the job of rebuilding starts tomorrow. I will soon be back bigger, better and even smarter so stay tuned to this blog.
I'll chalk this up to another great entrepreneurial learning experience that you can't get at any university in the world. For entrepreneurs it's not about the money. It's about the journey and the best days are still to come.
All for now – Brad Skelton. The Shipping Bloke. 
Thursday, December 27, 2012
The adversity paradox
The Christmas break has given me time for some introspection and to reflect on 2012 and its highs and lows and the lessons learned. This year's adversity has tested me on all levels like no other year has before. I have survived and am more life and business savvy than ever.
The adversity I am facing right now, while very painful and something preferable to avoid, I am certain will actually be my making. I feel more equipped and battle-hardened than ever to accomplish extraordinary things personally and professionally. Therein lies the adversity paradox.
The concept of an "adversity paradox" was something that I learned while at MIT University undertaking the Birthing of Giants (BOG) programme. BOG was founded by my friend and mentor Verne Harnish and has been responsible for developing some amazing self-made entrepreneurs over the years.
I graduated in 2004 and still regularly review my notes when I am developing ideas. I also frequently bounce things off my classmates to gain greater global perspectives.
The lecturer that spoke to our class about the adversity paradox was J. Barry Griswell. He is a man that has overcome tremendous adversity and wrote and talked about the power of it in putting many of mankind's greatest achievers on incredible success trajectories in all fields of endeavour. These people consciously chose not to be a victim but instead to use the adversity as a source of strength to fuel their pursuit of greater goals. 
So how has adversity changed me and set me up for what's next? 
For starters I will continue to do my best for the people that have been hurt by what happened to Skelton Sherborne. I acknowledge adversity I have suffered has caused adversity for others which I am sincerely sorry for.
Apart from that responsibility the slate has basically been wiped clean and I have the opportunity to rebuild my life and future business model exactly the way it needs to be. I have much more clarity how to do this, what's most important, and who I want with me and who I don't. No victims, princesses or people wanting a free lunch allowed!
I know who my friends REALLY are now by who stood by me and who didn't. I will be using the word 'No' much more in all aspects of my life to preserve my energy for my main priorities.
The perspective I have gained will be invaluable. When you have endured the adversity and pain I have there isn't anything or anybody who can deliver you more of it than you already have experienced. As a result I am more resilient, resourceful, fearless (not reckless) and tenacious than ever. All I see now is opportunity and upside. The entrepreneurial passion and spirit is starting to flow freely again for the first time in about three years. The hunger is back and I am relishing the challenge.
There is no shortage of challenges to overcome. The business environment has changed and will keep changing faster constantly.
The swing back to the East from the West is well underway even though some people in the West prefer to be in denial about it. In a truly global economy the West can no longer compete with its high labour costs and high debt compared to the East.
The internet combined with fast and modern shipping methods have enabled global competition. It's no longer a concept it's a reality and this is what is really driving change in the global economy.
The power in a sales transaction has shifted too. It now rests with the buyer, not the seller as it previously did. This is the new landscape and there is no doubt in my mind that it is here to stay and we are going to see many great companies' business models, particularly in the West, being challenged and many of them will fall by the wayside and whole industries will disappear.
I was talking to one of my Canadian BOG classmates about a week ago who pointed out to me that most people who are not business owners themselves view business like they do a game of football that you either win or lose. He said that it isn't like that at all because in a game of football there is a full time siren. In business it is never full time as the game goes on and on with no real end or respite.
You have to constantly make the best of every situation, adapt, re-invent and keep your work rate higher than the competition to stay ahead of them. He is finding his business model being challenged by the new global economy and when he looks back over the last 15 years he says 13 of them were great and only two have been bad, so the scoreboard is okay and he has received tremendous personal satisfaction in creating opportunity and prosperity for his people and all other stakeholders in his business for the risks he has taken. I''s not about the money to him either.
As we head into 2013 I can't help thinking that the number 13 is considered unlucky by some people. It's not unlucky from where I am sitting right now and I think it will be a great year of re-invention, opportunity and proving J.Barry Griswell's adversity paradox theory.
All for now – Brad Skelton, The Shipping Bloke.
BRAD SKELTON: BACKGROUND
As a child, Brad Skelton dreamed of following in his father's footsteps of owning his own business, as he had. Little did he know that playing with those Tonka trucks in the sandpit of his suburban Brisbane home would later lead to shipping the real thing all over the world in his own company.
This business was the foundation stone of an exciting and ongoing entrepreneurial journey which continues today.
In 1995, Brad Skelton took a huge gamble: With just $2,000 he started his own international freight forwarding company primarily shipping earthmoving and construction machinery. Back then, there was just Brad and his secretary and the beginnings were very humble. 
"I'd use one credit card to pay another so I could make payroll," he recalled. "Or I'd ship an excavator and use the profit to buy office furniture."
The focus was on growing the business and this company at one stage had revenues topping $140 million and 200-plus employees with offices operating in Australia, Japan, New Zealand, Hong Kong and the Netherlands shipping high and heavy cargo around the world. That's why he is known as The Shipping Bloke.
Mr Skelton is a serial entrepreneur, so using this company as the foundation stone he launched many other businesses most of which were highly awarded and recognised by Business Review Weekly magazine as in the top 100 fastest growing companies in Australia.
These included: Skelton Trucking, which grew into the largest road heavy haulage company in Australia; Skelton Travel, a boutique travel agency; Skelton Vertical Transport, a Brisbane based crane hire company; Skelton Management; Skelton Terminals, which operated a large cargo handling and processing facility at the Port of Brisbane.
Mr Skelton has undertaken many acquisitions of other businesses and competitors as one of his growth strategies. He also has made some gutsy exits from some businesses. The trucking and crane business is one example whereby he committed to an unreserved auction of the complete truck, trailer and crane fleet yielding sales of $32 million over two days.
Like most entrepreneurs Brad Skelton has had some setbacks too but these have served to provide tremendous lessons along the way and he is a better businessman for the experience.
Mr Skelton has also been involved on various levels as an investor in a retail DVD kiosk rental company, a motorcycle dealership and a meat rendering company. He has gained knowledge and experience in broad range of businesses and is sought after as a mentor, business consultant and speaker.
Developing new businesses under the Depth Industries brand in accordance with the new rules of a truly globalised and restructuring economy is his current passion. All new businesses are enjoying high growth.
The experience gained in acquisitions had led to Mr Skelton now working as an advisor to a global mergers and acquisitions (M&A) and investment banking firm specialising in deals from $100 million to $1 billion.
A firm commitment to continual self-development on all levels is one his character traits. With some of Mr Skelton's business growing at over 200 percent annually he knew he had better educate himself on handling high growth and needed to ensure his skills kept ahead of the business needs. Consequently he applied and gained entry to the prestigious 'Birthing of Giants' programme at MIT in Boston. The knowledge and contacts gained at MIT kept propelling his businesses forward.
He is an innovative challenger of the status quo and a highly competitive and astute business strategist.
Brad Skelton is a current member of the Young Presidents Organisation (YPO) and a former member and chapter chair of the Entrepreneurs Organisation (EO) in Brisbane. These organisations have been instrumental in his personal development and he enjoys participating in international business and events through his contacts in YPO and the forum he is a member of.
He has enjoyed a long involvement volunteer surf lifesaving and is a former club captain of the Tweed Heads and Coolangatta Surf Life Saving Club and looks forward to encouraging his two children into this great Australian institution.
Brad Skelton is driven by helping people and achieving outcomes for his clients, business associates, his friends and family.
ends
POSTED JULY 23, 2014.