Productivity research: ban social media, websites in workplaces
A NEW Bankwest survey of 500 small-to-medium enterprises (SMEs) has discovered clear tactics in boosting productivity include banning staff from accessing social media and content streaming websites in the work environment.
While some SMEs are actually boosting spending on productivity by more than 70 percent, as well as the online media bans, most Australian businesses appear to be taking seriously 'the task of making the boat go faster' according to Bankwest executive general manager of business banking, Sinead Taylor.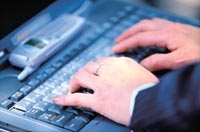 The 2016 Bankwest Business Productivity Report outlines how more than half of 500 Australian SMEs surveyed recently are blocking, or intending to block, employee access to social media sites and websites that stream entertainment or provide gaming, gambling and dating services.
Based on a survey of more than 500 senior SME managers across Australia, the report revealed that in a bid to improve productivity 54.6 percent of the country's SMEs are controlling, or have plans to restrict access to Facebook, Twitter, YouTube, eBay and other websites.
More than half of SMEs surveyed, as part of the Future of Business Series of reports, are imposing the measures on all staff but nearly a quarter exclude management from the restrictions.
Ms Taylor, said productivity could be reduced significantly if employees were distracted by activity on certain websites, and that could potentially lead to errors and impact adversely on customer service.
"These days, many sites require active engagement – much more so than in the past when people simply surfed the net," Ms Taylor said. "However, in introducing restrictions you need to ensure they don't backfire by sending a signal that you don't trust your people."
The approach is most marked in the construction sector. Businesses here are most likely (70 percent) to block or intend to block these websites, claiming they distract workers from their paid roles.
TACTICS WHICH PRODUCE
Other tactics to drive productivity include allowing flexible working hours, investing in new IT, providing education and training, allowing staff to work remotely, and providing fruit or meals in the office.
A third of SMBs plan to re-arrange seating in the office, provide gym access or subsidise gym memberships.
"Sometimes simple changes like re-arranging seating in the office can enhance the way staff work together to get things done," Ms Taylor said. "That has certainly been our experience at Bankwest." 

Three-quarters of SMEs are embracing at least one emerging technology to improve business productivity.
One in four view predictive analytics and 3D printing as important for future productivity gains and a fifth believe robotics will drive productivity.
"Medium-sized businesses are more likely than small businesses to place importance on emerging technologies," Ms Taylor said. "Construction businesses are most likely to see predictive analytics as the way of the future and manufacturing businesses are most likely to view robotics or 3D printing as key."
SPEND ON PRODUCTIVITY
The report found the average amount businesses will invest in enhancing their productivity is set to top $660,000 in the next 12 months – a 70.7 percent increase from the average of about $387,000 SMBs claim to have dedicated to productivity last year.
The additional spend is driven largely by medium-sized businesses, which, on average, plan to spend more than $1 million on productivity initiatives over the next year (up 75.5 percent). Meanwhile, small businesses intend to lift their average spend by 21.5 percent to almost $103,000 in the next year (up from almost $85,000).
The forecast productivity spend is highest for accommodation and food services businesses, at nearly $2 million, a 114.6 percent jump from almost $900,000 last year.
This despite the Bankwest Economy and Finance Report, published last August, revealing this sector was most bearish about the future. Around two in five anticipated worsening business conditions and lacked confidence in their prospects.
"The increasing productivity spend in this sector may suggest these businesses are taking proactive steps to ensure they prevail despite the challenging conditions," Ms Taylor said.
HIGHLIGHTS
 SME productivity tactics: Allowing flexible working hours (44.4 percent); investing in new IT (38.8%); providing productivity education and training (37.1%); allowing staff to work remotely (33.5%); providing fruit and/or meals in the office (31.1%); re-arranging seating in the office (33.1%); and, providing access to a gym or subsidising gym memberships (32.7%).
 SMEs intend to spend their productivity investment in areas including technology upgrades, better facilities, staff incentives for productivity improvements, staff training and education programs, and engaging external consultants.
 SMEs are increasing their productivity spend for "business growth" (45.2%), 'meeting customer demand' (41.6%) and 'lower operating costs' (39.8%).
www.bankwest.com.au
ends