Building businesses 'from the garage' up
By Leon Gettler. Talking Business >>
CHAMBERLAIN GROUP, Australia's leading manufacturer in garage door openers and accessories, has embraced change and adopted a nimble approach to the ever-evolving economic landscape created by the pandemic.
Grant Emanuel, the company's global marketing director, has navigated a new world of online-led strategy, virtual office banter and a more adaptive approach to accommodating the needs of individual markets.
With the pandemic and lockdowns, Chamberlain had been conducting meetings with its offices around the world, in the US, UK and Germany, via Microsoft Teams.
MEETINGS FOLLOW THE SUN
He said with the different time zones, it was "tough to have a loose schedule". So US updates would be in the morning and times would be allocated for the European businesses in the afternoons.
"We are fairly flexible in how we do it," Mr Emanuel told Talking Business.
"We try and do end-of-their-day in the US, which is the start of our day and the start of the European day, which is the end of our day. It comes down to a lot of planning and a bit of flexibility.
"It's a different way we interact. Some of them are short-sharp catch-ups, if they are not strategic discussions that take longer than 10 minutes and different groups in different areas prefer different contact frequencies. Some want weekly catch-ups, some want monthly, some want bi-monthly."
SALES ADAPT TO CONDITIONS
Mr Emanuel said working remotely had changed sales completely.
"It's a credit to our sales teams' relationships with a lot of our customers that we can do these things remotely – and they can do them over Skype or Teams or whatever it may be – and a lot of stuff is over the phone as well," he said.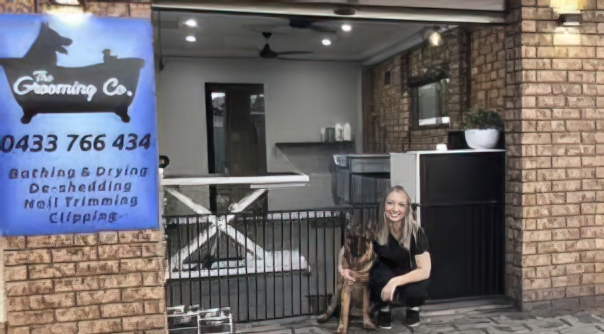 "We have even done innovative ways of meeting customers, in car parks for example, staying in our cars from a distance and talking through the windows. Certain customers wanted that contact.
"It's testament to the relationships that we have, that they understand what we need to do and can do those things without face-to-face contact."
CHAMBERLAIN PLAYS A TEAM GAME
Mr Emanuel said the mantra of the Chamberlain Group is 'the team' – and the company had worked hard to maintain this virtually.
"Before COVID, we used to do a weekly communications meeting on a Monday morning, which was not a very heavy detailed meeting," he said. "It was rather a bit more of a fun meeting. It was just to keep everyone informed of the key activities in the business."
"We've continued that over COVID and instead of me presenting it face-to-face to the group, I do it over Teams.
"We have also done – with the different departments – different virtual catch ups with our teams," Mr Emanuel said. "For example, in my group we do a virtual coffee catch up where we all get a coffee and chat around not just work stuff, but just general stuff about how we're travelling and what we're up to.
"We are trying to take that water cooler conversation from the office and make it virtual."
Mr Emanuel said this took into account the fact that people had different levels of activity going on, with some engaged in home schooling and others had no one at home so they were craving attention.
Those weekly communications sessions have been continued two to three times a week, he said.
Hear the complete interview and catch up with other topical business news on Leon Gettler's Talking Business podcast, released every Friday at www.acast.com/talkingbusiness.
https://play.acast.com/s/talkingbusiness/talking-business45-interview-with-grant-emanuel-from-the-cha