Scurr brothers drive lucky Car 13 to bring in fruit for the Flying Doctor.
QUEENSLAND fruit producers, Gavin and Stephen Scurr of Piñata Farms and their vehicle - a 1971 Holden panel van - have conquered some of the roughest outback roads in Australia to complete the 2014 Outback Car Trek in aid of the Royal Flying Doctor Service.
Piñata Farms managing director Gavin Scurr and north Queensland operations manager, Stephen Scurr, completed the rally to raise funds to support the work of the RFDS in remote and regional Australia. 
Despite Car 13 - also known as Roy the HG - losing a wheel after crossing from Tanami in the Northern Territory en route to Halls Creek in Western Australia on day two, the brothers completed the journey unscathed and inspired to enter the 2015 rally.

"We were driving over 300 kilometres of corrugated sand dunes when the front left arm broke off the wheel. We had never seen corrugation that bad for so long. At least six cars had their chassis' break or their engines blow up and were unable to complete the trek," managing director Gavin Scurr said.

"We also blew some shock absorbers that day and had to draw on all our bush mechanic skills to get our car back on the road.

"It was such an incredible event to be part of. We saw some remote and spectacular parts of Australia that very few people ever see.

"Whether it was the sheer scale and colour of the Pilbara mountain ranges to driving more than 1,000 kilometres on private roads through vast cattle stations or past old gold and copper mining towns, no two days were the same."

Gavin said there was only one moment when they took a wrong turn, deep in the heart of remote north-western Western Australia but quickly back-tracked and found their way.

"There were no signposts, very few towns and virtually no cars. In two days, we passed only five cars and for two days we had no reception whatsoever, so we had to rely on our wits. Stephen and I shared the driving and navigating and both roles were pretty challenging."

Most nights were spent camping under the stars where a bright Milky Way put on a spectacular show, he said.
Team Piñata Farms raised approximately $13,000 for the RFDS through corporate sponsorship and public donations.

The Scurrs set off from Piñata's home farm at Wamuran, south-east Queensland on May 28 to travel to Alice Springs, Northern Territory to start the 6,250 kilometre rally. In total, they drove more than 10,000 kilometres in two weeks.

Some 285 participants in 78 2WD vehicles supported by 23 4WD cars entered the 12-day rally from Alice Springs to the Margaret River region of Western Australia via Broome from June 2-13. Together they raised approximately $1.5 million to support the work of the RFDS in remote and regional Australia.

The trek has become the largest single fundraising venture for the RFDS each year and, in its history, has raised more than $22 million.

Car 13 is being transported back to Wamuran where it will be prepared for the 2015 trek from Mildura in Victoria to Byron Bay, New South Wales.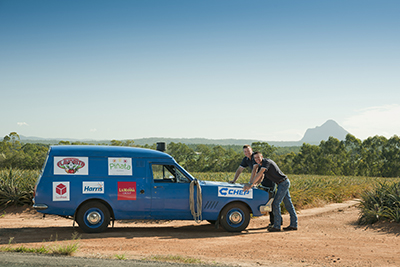 Founded by pineapple farmer Geoff Scurr at Wamuran, Piñata Farms is now operated by his sons, Gavin and Stephen Scurr.
Piñata Farms is the largest pineapple producer in Australia, one of the largest strawberry producers and founder of specialty mango, the Honey Gold, produced in every mainland state except South Australia.
ends
POSTED JUNE 20, 2014