Fast way to e-commerce developed by Australia's Holland
By Leon Gettler, Talking Business >>
MAKING A SPLASH in the American capital markets is completely different from how it works in Australia according to Domm Holland, the Sydney-born, Florida-dwelling 34-year-old who is the co-founder of Fast.
Fast is a technology that provides a single-click checkout button. With a one-time sign-up, it claims to free consumers of the need to remember passwords or re-enter personal details, making it much easier for them to utilise e-commerce.
It's a one-click checkout for every website. Fast operates as a third party loaded on to websites, providing users with a quick check out form where they put their email, name, phone, delivery address and credit card details. Once they have done it, they can do this on any website that has a Fast check out button.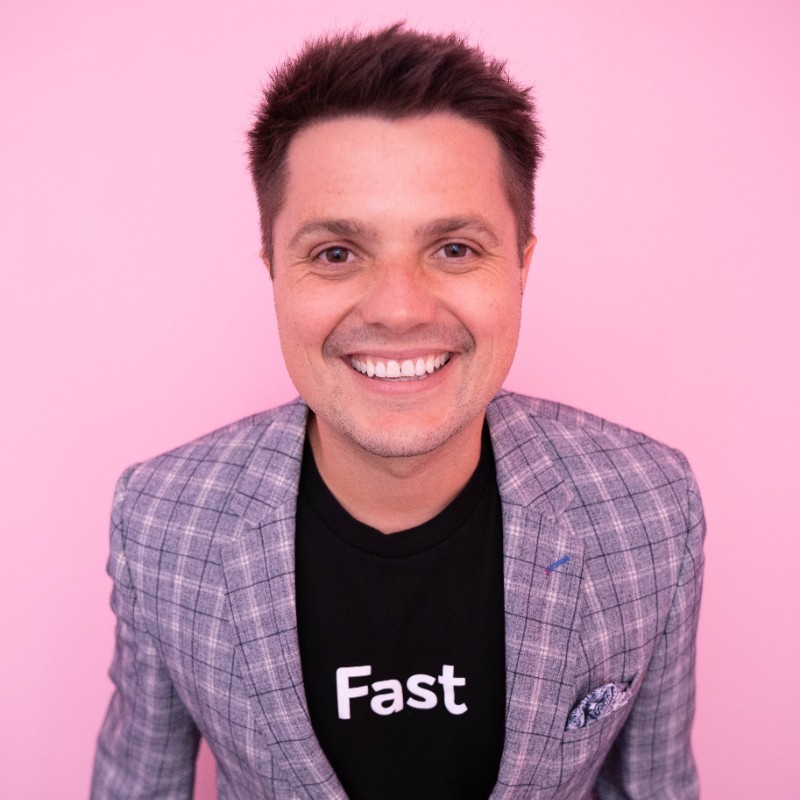 After coding the original version of Fast in 2019, Mr Holland attracted capital from Silicon Valley venture funds and has gone on to join the Australian Financial Review Young Rich List.
Mr Holland's journey began when he teamed up with former Uber operations executive Allison Barr Allen. The two are thought to remain the largest single shareholders in Fast. They actually met on Twitter.
ALLEN AND HOLLAND DEVELOP FAST IN US
Domm Holland had arrived in San Francisco in June 2019. He didn't know too many people so he connected with Allison Barr Allen on Twitter. They met for coffee and he explained to her what he was building.
This fitted in with a thesis she was writing about 'frictionless finance'. She introduced him to one of the world's leading fintech investors, Jan Hammer from Index Ventures, who invested $2.5 million.
Mr Holland then went back to Ms Allen and invited her to come on board as a partner, to build the company. Mr Holland has since gone on to raise $US125 million ($168 million) from payments platform Stripe and several Silicon Valley venture capital funds.
He said the big difference between running a tech venture in San Francisco versus Australia was that everything in the US had a larger scale and there was a better ecosystem for start-ups.
America has a population 15 to 16 times bigger than Australia's and the capital markets in the US reflect that kind of scale.
As well as that, the start-up eco-system in the US is more mature than the one in Australia.
"There's a lot more capital available and the capital is more readily available for earlier stage start-ups," Mr Holland told Talking Business. "Australia prefers to de-risk opportunity further or invest in lower risk opportunities.at an early stage."
MORE VIBRANT USA ECOSYSTEM
The second big difference is the ecosystem
"There is an incredibly dense ecosystem of talent here," Mr Holland said.
"The vast majority of the world's largest tech companies have come to a very small radius here, so all the staff of those companies all have stock in these companies and have made a lot of money. They all became angel investors or (have) founded their own companies.
"There is an incredible wealth of knowledge. It's also a really sophisticated market in terms of start-up employees," Mr Holland said.
"Typically sales people or admin managers of tech companies or office managers understand how start-ups work and the different stages that start-ups o through with different funding milestones and different revenue targets. They understand that better than a lot of Australian founders just because it's a very sophisticated start-up market here.
"This ecosystem is unparalleled, from experience. Australia just hasn't had the density or wins of large tech companies – and start-ups that have sold for billions of dollars – that you have here."
Hear the complete interview and catch up with other topical business news on Leon Gettler's Talking Business podcast, released every Friday at www.acast.com/talkingbusiness.
https://play.acast.com/s/talkingbusiness/talking-business40-interview-with-domm-holland-co-founder-of