Advantages of cloud cover unclear
MANY COMPANIES have recently discovered the consequences of how dangerously easy it is for employees to use cloud technology outside of company-sanctioned deployments.
Armed with nothing more than a credit card, employees can turn on cloud services without approval, oversight, guidance, or security. Often, the affected company's IT department is completely unaware of all these rogue cloud deployments, any one of which could open the organisation up to security risks and integration issues.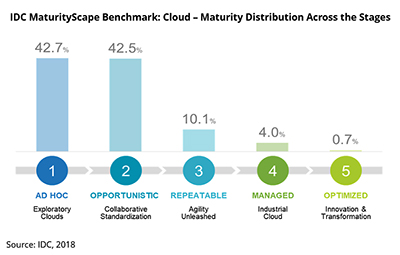 Often, organisations have multiple cloud subscriptions before any formal cloud computing policy or guidelines have been established.
To manage risk and costs appropriately, organisations need to establish a solid foundation in the cloud before integrating any business systems, according to cloud solutions group Intergen.

Intergen cloud solutions consultant, Daryl Green said, "The ease of utilisation is arguably a huge advantage of cloud technology. However, without clear policies or guidelines, this can lead to multiple user directories, inconsistent levels of security, duplication of licence expenses and administration stress as well as the proliferation of data."

Recent research by IDC showed 85 percent of organisations in the Asia Pacific region were still in the early stages of cloud maturity, which means they're not yet at the stage where their cloud offerings are managed, optimised or repeatable, according to Mr Green.
"When taking the first steps into cloud utilisation, business leaders need to ensure the action they are taking is setting the organisation up for a flexible and extensible solution," Mr Green said.
"By assessing the organisation's current on-premises landscape and existing cloud utilisation patterns, organisations can create a roadmap for their future cloud consumption and gather insights into their readiness for cloud.

"That's not to say organisations shouldn't work with employees to determine what workloads or applications could move to the cloud. On the contrary, business users are well-placed to provide direction on what cloud solutions could best serve the organisation," he said.
"So, it's important to get their input without giving them carte blanche to adopt cloud services without oversight.

"Once the investigation phase is complete, organisations can seek guidance on how to overcome any difficulties that may have been highlighted, or even to sidestep legacy systems altogether and use a cloud service in their organisation. Cloud technologies have evolved to the point where it is very desirable for many businesses to completely abandon their physical servers and bulky domains and exclusively use cloud offerings."

By establishing solid cloud foundations, Mr Green said organisations can prepare to establish a powerful, borderless, modern workplace which lets employees securely access the organisation's business systems whenever and wherever they need to.
ends