CatchData aces service industries
FINDING the right software and apps to effectively operate his air conditioning and industrial cooling services business was raising Gavin Bailey's own temperature to boiling point. So he designed and built his own.
CatchData is the resulting intelligent system that not only lifted his core business, PREH, to new levels of client service and satisfaction, it has developed into a successful platform in its own right.
Now, finding his system increasingly in demand, Gavin Bailey has created CatchData as a software system and business in its own right.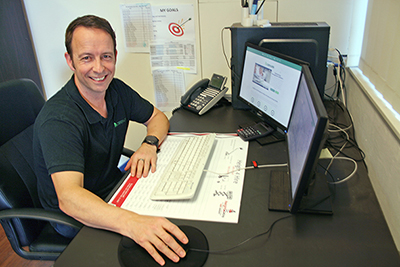 "It started in 2011, really," Mr Bailey said. "We had all these time-sheeting issues. I said to (a colleague) Francis, wouldn't it be cool if we had something the guys could use where they would hit a button at the end of the day and it would create a time sheet automatically?
"A year later we did."
For someone who has developed world-leading cooling solutions for data centres and medical magnetic resonance imaging (MRI) machines, it was the logical thing to do. As a result, Mr Bailey has taken CatchData well beyond his own business needs, developing it as a tried and tested resource for any progressive service company.
While it may have been an expensive exercise on the software development front, CatchData has paid off in terms of economies gained for PREH and the trust dividend it has drawn with major customers.
In fact, a major deal PREH struck with multi-national company Siemens largely came about because of what CatchData could do: supplying much-needed data and insights into Siemens' client maintenance programs nationwide.
And it all developed because of Mr Bailey's engineering approach to overcoming business challenges. Like many business leaders, he could not believe how poorly most business management software programs performed – and he tested many.
THE PROBLEM
Like many business leaders, Mr Bailey knew he needed to move away from paper-based systems to electronic, in order to gain greater efficiencies and accountability among his air conditioning and chiller service teams.
He asked business colleagues for advice on such software in the market and conducted his own research. The closest software he could find for the company's needs was Zora, marketed through Telstra's technology and apps portal.
However, the cracks soon appeared.
"We started on a software and app called Zora which was hosted by Telstra and supported (by phone) in India. But it just kept falling over."
That was just the beginning of that particular software's issues.
"There was no database at the back of it, so every time you raised a call it was a new call. You had to enter everything in again. It would just fall over. I actually asked Zora what happened to the data and they told me it simply 'fell off the end' after three months."
Again his engineering background kicked in: surely one of the key reasons for investing in workflow management software was to be able to collect and analyse data?
"So then I got a guy involved myself, purely to back the data up," Mr Bailey said. Things were looking up, but the Zora software was constantly throwing up inadequacies.
"We found things like, if you were going to Castlemaine, some would spell it with a capital 'C' and others a lower case, so it would turn up as a different job. To find it again you would have to search every possible spelling scenario. It was clumsy like that."
To resolve those types of problems, Mr Bailey started creating a user interface for the software. Yet it was just another patch that would not get to the core of the problem – the software was inadequate for the task and not living up to its promise.
"We would have to use this API to go through Zora," Mr Bailey said. "Zora would just fall over and we could not send a job. So then we would be back to doing it all on paper again, just to keep things going.
"That was when we decided to just make our own app."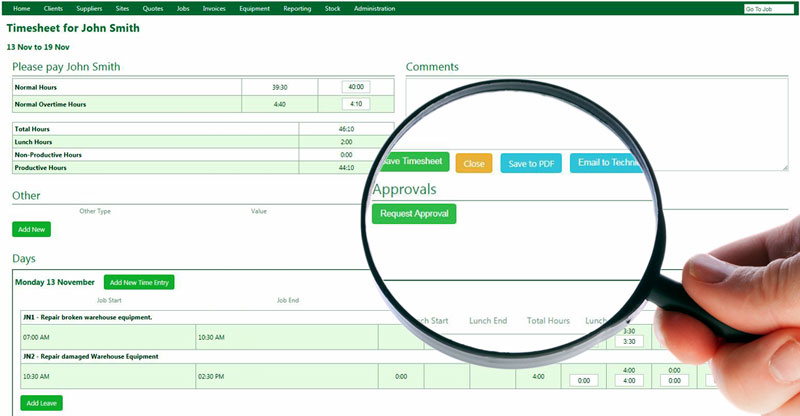 THE SOLUTION
Being an engineer in an industry which deals, every day, with making software function reliably and in harmony with complex hardware, Mr Bailey and his team were hardly daunted. They had one major advantage – they knew exactly how this software needed to work for them.
So the PREH team made their own app at a time when most other businesses would probably have stuck with their existing software, because of the sunk investment, and put up with its foibles … or make the often-as-vexed choice of going somewhere else.
"When I was making it, I said I did not want the software to have an air conditioning focus, I wanted it to have a service business focus," Mr Bailey said. "From day one, we wanted this to work just as well for any service industry as it did for us."
A rapid proving and adjustment process took place and the software was created in ways that allowed it to be flexible. Soon it was not only tracking what was going on right across the PREH client spectrum, converting administration hours into productive hours, it was providing insights to assist forward planning.
"Anything that is procedural, and if you are field based, this (CatchData) can do it, 100 percent. It tells you your cashflow management, it tells you your GP (gross profit on a job)," Mr Bailey said.
"I can see a guy's GP over the past 12 months on all of his jobs. I can export it out and order it in terms of … is that GP too high or too low? To be able to manage things at that level has made a huge difference to us for forward planning and building customer relationships."
The visibility throughout the business that CatchData has introduced has enabled PREH to focus on its core strategic approach, instead of simply managing tasks.
"We used to have Jobs and Maintenance – now we call it Planned Activity," Mr Bailey said. "That explains how CatchData has helped build clarity around our business.
"We do not see ourselves as an air conditioning company. We see ourselves as a risk management company with regard to your cooling services.
"Whether it is a data centre, a medical practice, an industrial site, we look at the risk to the business and that is how we design. We don't design to a number, we do not design to a cost, we design for the risk … and then we work it from there. It is risk plus cost, but risk is our main focus."
CatchData drove new efficiencies and became instrumental in helping PREH to win major contracts.
THE SIEMENS CHALLENGE
Siemens Australia first became aware of PREH's pioneering work in engineering chiller systems for MRIs in about 2013. It was in having PREH resolve some MRI chiller maintenance issues that Siemens found that Gavin Bailey and his teams could also provide data on the Siemens MRI unit fleet – data that had not been available previously.
Siemens got PREH to resolve two key areas. The first was to fix and maintain all existing MRI chiller units for its client base of medical clinics and hospitals. The second was consistent data reporting from that process.
"These particular chillers were falling over way too often, giving them a bad name," Mr Bailey said. "It was to the point where they (the MRI operators) were pulling their hair out.
"The chillers were breaking down weekly and causing a lot of problems. We had to bring the faults down from 100 percent to, say, 20 percent very rapidly to stabilise things.
"That was all okay. It was a lot of work but we knew our systems could achieve this," Mr Bailey said.
A complete failure of a chiller unit can result in the loss of helium stored in an MRI unit – a rare and very expensive gas to replace. The other problem for a medical practice is the loss of revenue when an MRI is not working – not to mention the impact it has on patient satisfaction. Because the sudden failure of an MRI forces many patients to go elsewhere for critical treatment, some never return.
"The other major thing they (Siemens) wanted was electronic consistent reporting which, of course, we were well equipped to do because of CatchData – and so it was CatchData that got us that job."
The visibility CatchData enabled gave Siemens new insights into this mission-critical area of its business.
"We have raised so many issues with their internal processes that are now treated almost as an internal department of Siemens, from their perspective," Mr Bailey said. "If ever we needed proof of the power of CatchData, surely this was it?
"So CatchData … it works beautifully, but no-one really knows about it," Mr Bailey said. "That is what we are working on (solving) now."
HOW CATCHDATA ENABLES
Providing performance and maintenance data to Siemens and other clients has, up until now, been a normal reporting function of CatchData.
However, Siemens has requested that data be provided direct to its own management systems for constant analysis and that functionality is being built in as a new client service.
"We are just working out how to create a CSV file of their data which they can upload to their software that can analyse all the calls," Mr Bailey said. He is hoping this can become a standard feature – which is only possible because PREH owns the CatchData software.
"It is like making quality assurance checks using our software," Mr Bailey said. "The business prospect is that other service companies Siemens uses could also utilise CatchData."
It is the visibility of what jobs are scheduled and being conducted – and the constant updating of progress throughout the day – that gives PREH one of its core business advantages.
"We are one of the only contractors in Australia that will service within two hours of the first call," Mr Bailey said. "We will have somebody on site within two hours."
That is how robust CatchData is in making that fulfilment promise possible, allocating such an urgent 'planned activity' to the correct PREH service partner within minutes of a call.
"They attend the site and they do a report through CatchData. And that report gets sent back to Siemens," Mr Bailey said.
"They are getting a two hour response time and they are getting consistent information back."
THE PROCESS
CatchData has proven so powerful for PREH because of its reliability and its intuitive nature. On site, CatchData is accessed by mobile phone or tablet as a cloud service.
"When we send (a service partner) a job, they have to fill in an electronic sheet and it changes depending on the chiller. They do the same thing every time, when they go there for maintenance or a service. So there are consistent checkpoints all the way through.
"They (the service teams) are getting the same format each time, so when you look at that over time you can see the patterns. We can turn this information into charts or graphs. So can Siemens.
"All the site details automatically apply. It will tell a service team that they have to talk to someone specifically and gives them those details. It will tell them what the password to the entry gate is. It will tell them the location of the unit, specifically, and it will make them aware of any peculiarities to the location, including safety points.
"They can see past jobs. They can see past photos and the signatures on a job. They can see quotes that are outstanding and have not been quoted on or finalised. So it gives them site information. All ready to go.
"All these details are pre-planned and booked and sent straight to them (to use on-site)."
The real-time information CatchData provides to head office is also a key part of its value.
"It is on their phone, you cannot lose it. The information comes into the system as they check their way through the job," Mr Bailey said. "I can see what percentage they are through their activities on site – whether they are 90 percent or 60 percent, say – because that is how far they are through the check sheet.
"It tells me how far they are into it, who did this particular aspect, what activities they have performed – I can see it, and so can the client. It is powerful stuff.
"The important thing for us to do now is to get the word out that this can be applied to any service industry. It is really diverse."
CatchData is being used successfully by a range of air conditioning companies in Australia and New Zealand, an underground drilling company, air duct installers and even a nature care company.
This adaptation surprised Mr Bailey when he heard CatchData was being used to record and manage animal rescues, plus flora and fauna recording. It has yielded species growth data that has not been available previously.
In the underground drilling company's case, CatchData has removed thousands of wasted hours a year transporting location drawings and maps.
"The underground drilling company used to drop road drawings and other things off to sites all around New Zealand, for example," Mr Bailey said. "Now any information can be attached to any job and seen on the spot, on the phone or tablet, to whomever needs to see it. Even if a council guy comes along and wants to know something, you can show him that particular job plan.
"And you can do this at different levels. It may be a piece of equipment selected and the operator can instantly call up a manual on how to operate that equipment. Whatever information it may be, you can do it at a job level. You can do it at a maintenance level. You can do it at a client level. You can do it at any level you want."
CATCHDATA EVOLUTION
It is still early days in terms of getting CatchData known to the wider service industry market, but the product itself is well advanced and adaptable – because Mr Bailey needs it to be for his own businesses.
In fact, one of the system's upcoming enhancements has come about because of increasing occupational health and safety (OH&S) requirements that Mr Bailey is observing on work sites and on the horizon.
"The enhancement we are about to make is to do with OH&S documentation," he said. "We have looked at all the things we are dealing with in this area and we are now incorporating it. We are calling it Take 5."
This will take the form of a mandatory OH&S questionnaire staff will engage in on site at the start of each job period. It is designed to make staff aware of particular risks on site using a checklist and different equipment and procedures will be used depending on the environment being encountered. This is the 'take five minutes' assessment that Take 5 refers to.
"It helps keep staff safer," Mr Bailey said. "It is in development now and will become an integral part of the CatchData platform."
This new system will also incorporate company procedures manuals that are currently kept as bulky paper books. Apart from the convenience, having the procedures manuals on a tablet or phone allows for immediate updates and quick search referencing, rather than time wasted on manual searching. It will also remind staff when certain documents are due for completion, rather than relying on diary notes.
"Depending on what state you are in or what country you live in, you will be able to do your own OH&S assessments. It is the same flow, but our OH&S pathways automatically put all the data on the documentation that the clients require. In our case (for PREH) it is the builders, normally.
"For example, if I am using ladders, I have to have the builder's name on it (the OH&S checklist), the site details on it, the job number on it, you have to have the service person's name on it,
"When all the data is loaded, it is mandatory to do what we call a Take 5. You literally take five minutes to check your present safety conditions. You may even have to do multiple Take 5s depending on what industry you are in. Or you can create your own.
"For example, are you likely to get abrasions? Are you working with electricity? Are you going to be working at heights? It's a set of questions. It's take-five-minutes to evaluate the safety of your job. Even when you come back to site after lunch, you should do another Take 5 because something may have changed," Mr Bailey said.
"Someone could have brought a cherry picker in and now you are working above a crane … that kind of thing. Are you safe? Do you need to wear a hard hat now? Someone could be sand blasting, so do you need to wear safety glasses now? You need to re-evaluate your safety and the conditions. That is the way things are on sites now."
The advantage of using CatchData to do this is that all relevant people are informed it has been completed.
"As soon as the Take 5 is finished, it could send it to the foreman and say there has been an update. The site foreman just gets an email. Or any main contact for that job for that matter – it could be the project manager," Mr Bailey said.
"You are making sure your guys are safe because you are giving them an update and you have the facility to make them aware of everything. That will also send the client details that your teams are doing what they should be.
"Everyone now has access to the Work Policy Manual," he said. "On their phone they can download any work policy. If they leave the business, we just take out their log number and they no longer have access."
Mr Bailey said the system also builds in expiry processes for a lot of the information, so it would be reviewed and updated on a regular basis. CatchData also provides capability for inductions and licensing checks.
"You can see how complex this is," he said. "But we are doing all of that in one package. It is just removing that paperwork."
Mr Bailey said a lot of software he looked at, before and since he created CatchData, claims to enable capabilities such as these, but in his experience they fell way short of the mark.
"I guess we have the advantage that we are developing the system to do what we need it to do, while it is mission-critical for us to use on a daily basis," Mr Bailey said.
"We know for certain that CatchData can be relied upon under all pressures and at all hours."
Mr Bailey said he has already been amazed by the innovative ways other field service companies had adapted CatchData to boost their businesses.
"I can't wait to see how others use it – we are continually finding new advantages, just from having the data in front of us in real time," he said.
ends