Brisbane hands on Asia Pacific Cities Summit torch to Daejeon
SOUTH KOREAN city, Daejeon, has received the honour of hosting the next Asia Pacific Cities Summit and Mayors' Forum in 2017 (2017APCS), following the record-breaking success of this year's summit, which attracted 95 city leaders and more than 1000 delegates, closing on July 8 after four days.
Brisbane Lord Mayor Graham Quirk said Daejeon was selected ahead of five finalist bidding cities – Busan, Kuching, Panama, Ahmedabad, and Penang Island.
"The 2017APCS attracted the most competitive and diverse range of bidding cities that we've ever seen in our 10-year history, highlighting the growing importance of this forum in bringing city leaders together to discuss, share, and help respond to city urbanisation challenges across the Asia Pacific," Cr Quirk said.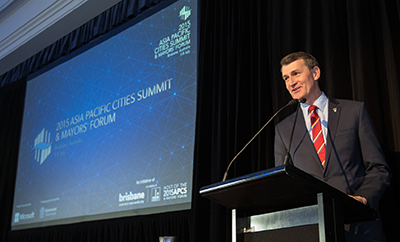 "As a (Brisbane) sister city since 2002, Daejeon's growing reputation as a leader in innovation and technology strongly aligned with our aspiration of becoming Australia's new world city.
"Being the fifth largest city in Korea and Australia's third largest export market, Daejeon has fast become the 'Silicon Valley' of Korea, with many of its large global businesses now based in Brisbane and south-east Queensland including Samsung, POSCO, CJ Nutracon, and KOGAS.
"In addition, we've further strengthened our partnership through a new memorandum of understanding signed earlier today with the Daejeon Metropolitan City Government.
"We are proud to announce it will launch an exciting internship program that will enable 20 Daejeon students to study English at International House in Brisbane.
"Congratulations to Mayor Kwon Sun-taik and his government on their hard work in delivering such an outstanding bid and we look forward to 2017 for what will be an even bigger and better summit in Daejeon."
On the final day of 2015APCS, delegates also heard from New York best-selling author, former Facebook marketing director and Zuckerberg Media founder and CEO, Randi Zuckerberg.
"Randi's unique style thoroughly entertained our delegates, presenting her favourite 10 trends businesses could use to inject more creativity into their branding and marketing, encourage a 'hacker' or entrepreneurial spirit within their employees, and generally overcome a fear of failure," Cr Quirk said.
Following her keynote, four young professionals took to the stage on behalf of more than 100 participants in the Young Professionals Program. Together they presented their cost-neutral solutions for cities on a range of urban challenges including transportation, sanitation, and energy efficiency.
"The calibre of young delegates from across the region engaged in the Young Professionals Forum continues to grow every year," Cr Quirk said.
"This time they got the unique opportunity to present in front of over 90 city leaders, who collectively impact the lives of more than 130 million citizens around the world. Congratulations to this group of emerging young talent and we look forward to seeing how our leaders empower their ideas in the future."
The Mayors' Accord was also officially announced and signed by all participating mayors today.
"Cities in the Asia Pacific will work together, with global partners, to advance common urban solutions in order to accelerate their global orientation, integration into the knowledge economy, technology uptake, governance, and liveability," Cr Quirk said.
ends