BRISBANE-HEADQUARTERED Tritium, a world leader in electric vehicle (EV) DC fast charging technology, has signed a deal to provide nine Veefil-RT 50kW DC fast chargers to Nissan, to help support the automaker's sponsorship activities ahead of and during the UEFA Champions League final in Spain.

The nine chargers – which can add 50km of range in just 10 minutes – will make up part of the Nissan and UEFA operations hub at the IFEMA event centre during the lead-up to the final, alongside 20 AC 22kW chargers.
The deal was announced by Tritium booth at the recent EVS32 Symposium in Lyon, France.
"The UEFA Champions League is a fantastic showcase for Nissan electric vehicles, and this year we will be doing more than ever to electrify the final in Madrid," Nissan Zero Emission and Ecosystem director, Brice Fabry said.
"Tritium are able to turn around a turnkey solution for charging infrastructure quickly, so we're very happy to welcome them to the team."
The Veefil-RT is said to offer the world's smallest physical footprint for a 50kW DC fast charger and can be installed within hours.
In addition, the chargers will be adapted to suit Nissan's specific branding requirements for the event.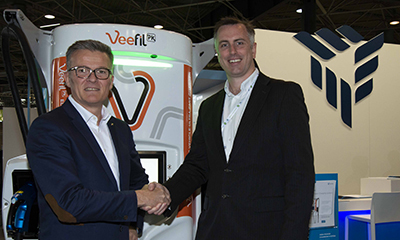 "We have dedicated staff who worked closely with Nissan's design team to develop the branding and imagery required to maximise Nissan's visibility during the event, and each charger will sport these 'skins' throughout," Tritium CEO David Finn said.
"Nissan has been synonymous with electric vehicles and the Nissan LEAF has pushed e-mobility to the forefront of the public consciousness. We look forward to helping Nissan stand out during their festivities throughout the week as they continue to drive the vision of an e-mobility future."
At least two of the chargers will remain on-site following the final, with the remaining seven to be deployed by Nissan elsewhere in Spain.
Established in 2001 to provide power-electronic systems and battery energy-storage applications, Tritium became one of Australia's fastest-growing companies with the launch of its first DC fast charger in 2014. Since then, Tritium has become a leading global DC fast charging (DCFC) supplier with installations in more than 29 countries.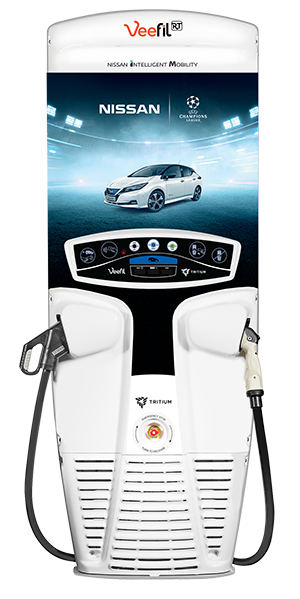 Tritium currently holds around 50 percent of the world-leading market in Norway and around 15 percent of the wider global market for 50kW fast chargers.
Tritium customers include the NRMA, Chargefox, Charge.net.nz, EDF Lumins, Fortum, Grønn Kontakt, IONITY and Stromnetz and Tritium's global headquarters and main manufacturing plant is in Brisbane.
ends