Rolls-Royce opens first Brisbane showroom with rare beasts
THE WORLD's most luxurious automotive marque, Rolls-Royce, has landed in Brisbane, capping off a year of successful expansion Australia-wide – and unveiling two unique models.
The first Rolls-Royce Motor Cars showroom in Newstead has a breathtaking luxury retail and hospitality presentation, with a bespoke full-service customer lounge and lifestyle-themed settings that feature – of course – Rolls-Royce leather, paint and wood veneer samples and a vehicle configurator system.
This showroom was launched on December 11, providing Australia's first look at a new generation Black Badge Cullinan grand luxury sports-utility vehicle (SUV) and Australia's only Phantom Extended Wheelbase with Privacy Suite.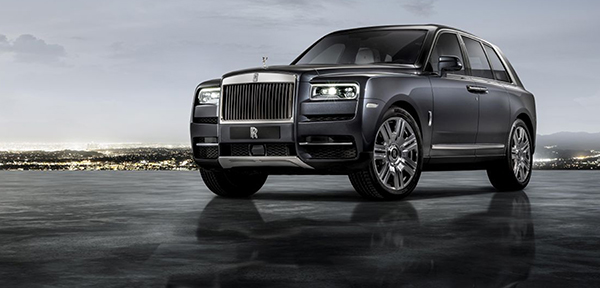 The showroom opening has capped off cap a successful year for Rolls-Royce in Australia, marked by an expansion drive that has included the company's first SUV, its Black Badge 'alter-ego' sibling and demand for its Bespoke Collection models such as Wraith Eagle VIII.
Asia Pacific regional director Paul Harris, and Asia Pacific regional sales manager for Rolls-Royce Motor Cars, Ian Grant, presided over the launch, together with dealer principal Rob Thomson and brand manager Andrew Jackson, along with the executive team from Rolls- Royce Motor Cars Brisbane.
Speaking at the press conference on the day of the unveiling Mr Harris said, "We regard Brisbane as a new luxury destination hotspot that has become an increasingly attractive residence for our customers. It now competes with some of the world's wealthiest cities as a most desirable place to live and work.
"With this new lifestyle-themed facility, and a highly contemporary and appealing range of Rolls-Royce models like Phantom, Cullinan, Wraith, Dawn and our Black Badge range, Rolls-Royce Motor Cars Brisbane is well-poised to tap on the growing demand for super- luxury goods. Brisbane provides a platform to showcase the brand to both established and new patrons while serving as a sales and service hub to the rest of Queensland."
OWNERS HUB
Queensland Rolls-Royce owners now have a new home in Brisbane with the showroom, strategically located along Breakfast Creek Rd in Newstead. This is in the heart of Brisbane's strip of luxury, exotic and sports cars brands.
Dealer principal Rob Thomson said the new Rolls-Royce Brisbane hub is housed in a purpose built, innovative space, the new facility representing "the new pinnacle of luxury retail in Brisbane". There is a ground-floor car showcase, an intimate three-car display space in a beautiful first-floor showroom, undercover customer parking as well as 15 long-term car storage spaces exclusively for customers.
He said the dealership, with 300sqm of floorspace, provided an elevated focus on the customer and features lifestyle-themed elements in the Bespoke lounge "to match the chic burgeoning sophistication of the city perfectly".
A Rolls-Royce Motor Cars Ownership Services Centre is also located nearby, where a highly experienced, Rolls-Royce trained team ensures fast, accurate servicing and maintenance with three dedicated service bays for Rolls-Royce motor cars.
The launch of the Brisbane showroom featured the first public showing of the Black Badge Cullinan in Australia, as well as the brand's flagship, Australia's only Extended Wheelbase Phantom with Privacy Suite.
"Cementing Brisbane's coming of age, particularly in the super-luxury sector, the Newstead showroom represents an exciting new chapter for Rolls-Royce Motor Cars," said sales manager Ian Grant.
"This is exactly why we chose to debut two of our most unique motor cars at the new showroom launch."
To celebrate the launch, the dealership created an evening of cocktail and canapés for customers, curated by chef Josue Lopez of hatted restaurant The Wolfe, an interactive luxury pop- up for guests to explore by luxury partner Paspaley and a unique performance with DJ duo Midnight Tango and OperaQ together.
Guests had ample opportunity to experience the latest model in the Rolls-Royce range on show. The new Brisbane showroom completes a quartet of Rolls-Royce Motor Cars' authorised showrooms in Perth, Melbourne and Sydney.
ABOUT THE RARE CARS
Guests at the launch were among the first in Australia to experience the Black Badge Cullinan.
Black Badge reflects the desires of a distinct group of Rolls-Royce clients: men and women who take risks, break rules and build success on their own terms. The new Black Badge Cullinan completes the 'family' of Rolls-Royce motor cars, defining taste patterns of a new generation of super-luxury consumer. Its 6.75-litre V12 engine delivers increased power (600PS) – instead of horsepower, Rolls-Royce today uses the equivalent term PS, which stands for Pferdestrke (literally, 'horse strength') – and torque (900Nm) over the standard model and has a re-engineered drivetrain and chassis for enhanced dynamic performance.
The company said the Black Badge Cullinan has been introduced as the "darkest, most urban expression of the range yet, representing the first time the marque's proprietary Architecture of Luxury (bespoke spaceframe aluminium chassis) has undergone the Black Badge treatment. The new model is aptly named 'King of the Night'. Created to satisfy overwhelming demand from younger, more adventurous clients, Cullinan in its silver badge guise was launched to global acclaim in 2018, immediately becoming the world's pinnacle super-luxury SUV. Combining luxury in its purest form with genuine practicality and off-road capability, Cullinan unequivocally delivered on the promise of an experience that is described by the company as 'Effortless, Everywhere'."
The Phantom Extended Wheelbase with Privacy Suite, part of the Phantom VIII range, represents a wholly new, contemporary design interpretation and is the flagship for Rolls-Royce worldwide. And it also comes with a whole lot of branded superlatives from Rolls-Royce, such as:
"It's bespoke, aluminium 'Architecture of Luxury' helps deliver a whole new level of 'Magic Carpet Ride' because it is lighter, stiffer, quieter and more technologically advanced. 'The Embrace' enhances the sense of occasion and effortlessness of entry into Phantom's 'Suite'. The super luxury cabin, 220mm longer than the standard model, re-defines Rolls-Royce comfort and refinement inside – already the benchmark for any mode of conveyance. A world's first – 'The Gallery' – is an unprecedented new concept in luxury that reinterprets the motor car's dashboard for the first time in 100 years.
"Rolls-Royce patrons are able to commission a truly individual work of art that spans the width of The Gallery in their New Phantom. The Privacy Suite, only available on the Extended Wheelbase Phantom, is an innovation that provides unrivalled levels of privacy and luxury. The 'Magic Carpet ride' is further enhanced by an effortless 6.75 litre twin-turbo V12 engine making Phantom the most silent and technologically advanced Rolls-Royce ever."
www.rolls-roycemotorcars-brisbane.com
ends