SEA ELECTRIC, the Australian all-electric commercial vehicle innovator, is collaborating with insurance giant Zurich – through its Zurich Resilience Solutions (ZRS) group – to assist global fleet transitions to sustainable technology.
SEA Electric Australia sales director, Joe Di Santo said the Zurich brand globally represented quality and integrity, with its risk engineering team of around 800 engineers set to work with SEA Electric customers to enhance their EV switch.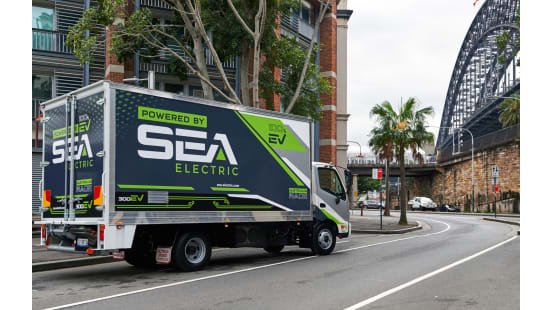 ZRS provides specialised insights and tools – above and beyond insurance – to help companies across a wide range of industries manage traditional and evolving risks to become more resilient. Services are provided across a number of domains, including climate change resilience, supply chain risk, and cyber security.
"The Zurich brand is highly respected within the industry, so to be working in combination with them moving forward has significant positive outcomes for both businesses, and, importantly, SEA Electric customers," Mr Di Santo said. "The offering Zurich brings to the partnership truly has the potential to complement, enhance and complete the purchase of SEA Electric vehicles.
"Transitioning to electric is a big commitment. Our customers look to and rely on SEA Electric for guidance around the implementation of best practice strategy when it comes to the circular economy of commercial electric vehicles. We take seriously our responsibility of connecting our customers with reputable and proven organisations such as Zurich, as we lead the country in the shift to sustainable transport.
"Zurich's risk assessment service will assist customers in understanding and identifying the many considerations, both short and long term, that come with such a purchase, ensuring they are properly prepared and set-up to scale as needed," Mr Di Santo said.
"Ultimately with Zurich, we will be able to share learnings and enhance each other's product offerings."
Mr Di Santo said SEA Electric would work to assist Zurich customers in their understanding of commercial electric vehicle operations with customer experience days and webinars, while Zurich's risk engineering department would benefit from ongoing training from SEA Electric's knowledgeable team.
For Zurich, the partnership confirms the commitment of the business in working with customers to achieve sustainability.
ZRS Australia and New Zealand chief, Mervyn Rea said, "We are delighted that Zurich's leading risk and resilience capability is supporting commercial EV uptake in Australia. Zurich and SEA Electric share a common commitment to improving the sustainability and resilience of our customers and community and this agreement presents an important opportunity to further this."
Available now from a nationwide dealer network, SEA Electric introduced the world's first comprehensive range of all-electric commercial vehicles in 2021, covering models from 4.5t through to 22.5t, which are entirely adaptable to a wide array of final applications.
www.zurich.com.au/business/services/resilience-solutions.html
ends