HONG KONG – Measurable AI, the largest transactional e-receipt alternative data company for emerging markets, has released its annual report on changes in market share and consumer behaviour within the ride-hailing industry across Asia and Americas.
The report provides a detailed overview of the changes in market share and consumer behaviour over the past four years across 11 markets: the US, Mexico, Brazil, Chile, Argentina, Colombia, Singapore, Indonesia, India, Thailand, and Vietnam.
It also tracks the performance of several major regional players: Grab, Goto, Uber, Bolt, Lyft, Didi Global, and Ola Cabs.
Insights from the report are based on Measurable AI's proprietary e-receipt panel of more than 2 million users.
Key metrics such as market share changes, demand and user consumption trends, and incentives and user loyalty shifts can be garnered from the data. It also provides a clear image of how the ride-hailing industry has been impacted by the pandemic.
"Ride-hailing is one of the most fiercely competitive and rapidly changing sectors due to new technologies, entrants, and trends emerging everyday," Measurable AI co-founder Charlie Sheng said.
"Particularly in emerging markets which are often more opaque, we are able to offer timely and actionable granular insights into this fast-growing digital sector where traditional data sources remain scarce."
Unlike credit card or web scraping data, Mr Sheng said e-receipt data offered more granularity with a longer history for deeper analysis and understanding of the sector. Specific amounts spent for each item, promotions used to incentivise, user loyalty and retention rates, different payment methods – all such metrics can be gleaned from e-receipt data.
"Knowing the amount of promotions ride-hailing companies spent throughout the changing seasons to win user adoption and the ability to calculate user overlap and retention rates has immensely helped us understand the sector," said an analyst from a leading asset management firm in East Asia.
Measurable AI previously launched its flagship Asia Food Delivery Annual Report across nine Asian markets, and has significantly broadened its coverage beyond food delivery and ride-hailing. Mr Sheng said the company now had ample coverage across e-commerce, gaming, fintech and travel sectors, with a key focus on Southeast Asia, Latin American, Middle East, Africa, and India.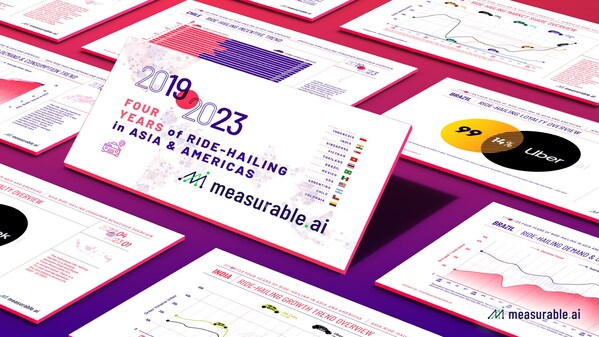 ends