HIA sees decline in new home sales 'accelerating'
HOUSING Industry Association of Australia chief economist, Tim Reardon, is highlighting the continued decline in new home sales – a 4.6 percent fall in December from November – and 42 percent lower than December 2021.
"Sales of new homes continue to decline sharply following the fastest increase in the cash rate in a generation," Mr Reardon said.
The HIA New Home Sales report – a monthly survey of the largest volume home builders in the five largest states – is a leading indicator of future detached home construction.
"Sales of new homes fell by 4.6 percent in December leaving sales in the final quarter of 2022 a remarkable 42 percent lower than at the same time in 2021," he said. "This slowing in sales will flow though to a slowdown in building activity in the second half of 2023.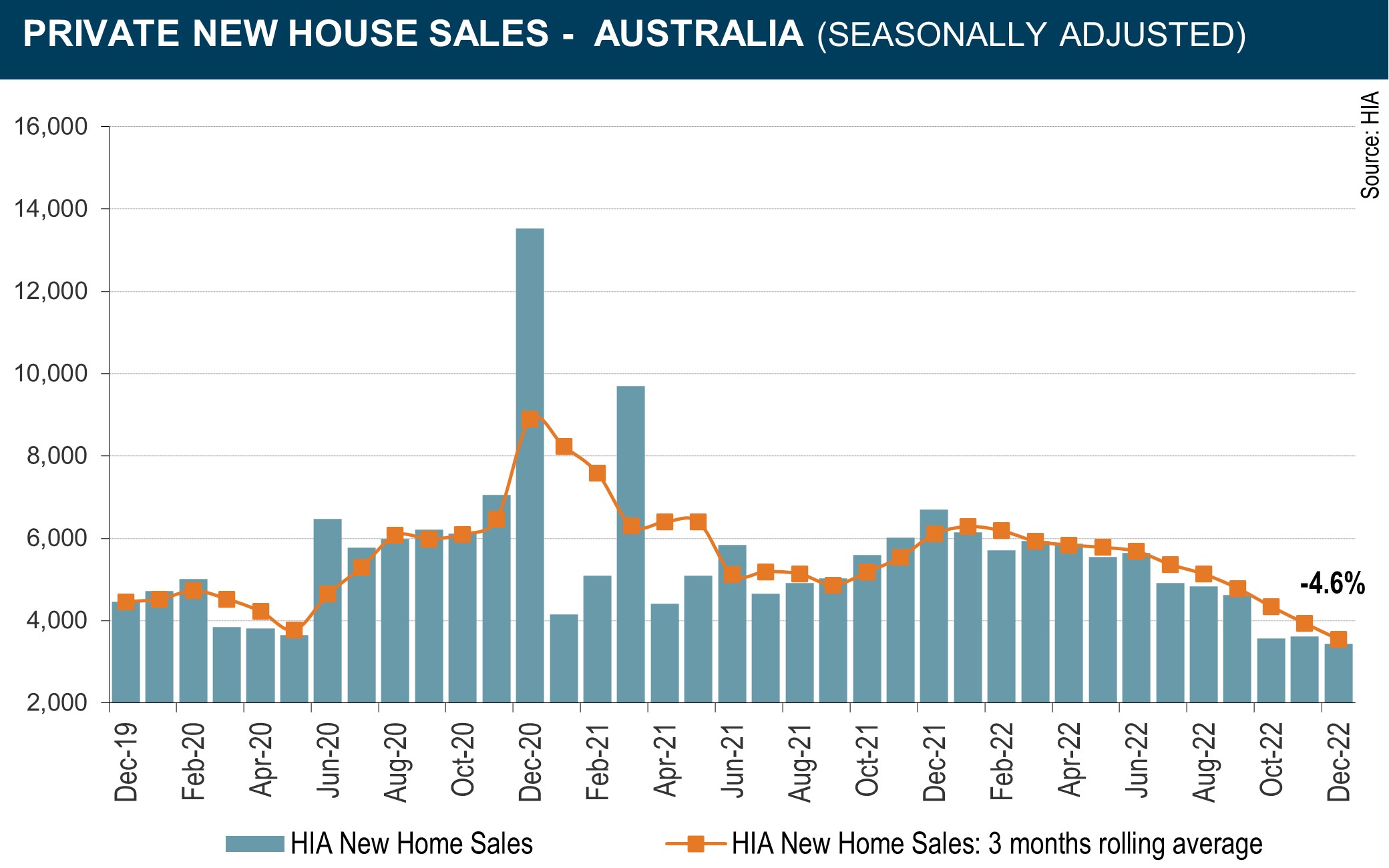 "When this hiking cycle began, there was a significant pipeline of home building work under construction, and many more projects yet to even begin construction. This has created a significant lag in the RBA's (Reserve Bank of Australia) impact on employment across the economy.
"The rise in the cash rate has also seen many recent buyers of new homes unable to finance their new project.
"This resulted in one in five recent new home buyers having to cancel their new home building contract as their access to finance was reduced by the rise in the cash rate.
"With one in five customers cancelling their new home building project each month, the pipeline of building work will be eroded quickly," Mr Reardon said.
"Once this pipeline of new home construction work is exhausted, the full impact of the RBA's rate increases will become apparent. This is expected to occur in the second half of 2023.
"A cut to the cash rate will be necessary in 2023 to avoid an unnecessarily sharp downturn in building activity.
"The RBA will not restore the economy to stable growth by putting the housing industry through boom-and-bust cycles," Mr Reardon warned.
For the three months to December 2022, compared with the same period in 2021, new home sales in New South Wales were down by 66.7 percent, followed by Queensland (-49.9%), Victoria (-36.4%), and Western Australia (-30.9%). South Australia saw the only increase, up by 13.9 percent.
ends