BRISBANE-BASED ethical food business, Food Connect – established to connect local farmers with local buyers – plans to be Australia's first community-owned food hub.
Food Connect is based at Salisbury on the south side of Brisbane's and it has become one of the first companies in Queensland to sign up to crowdfunding platform PledgeMe.
Food Connect's equity crowdfunding move has joined the fast-growing number of companies around the world giving their communities an opportunity to be their investors.
Food Connect Shed director Robert Pekin started the company in 2005 after he lost his fourth-generation dairy farm. Since then he has been on a mission to create a fairer food system for farmers and buyers.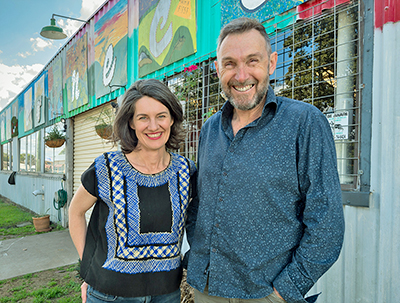 "We ethically and transparently engage local farmers to supply ecological food that is in season and super fresh and we pay them about four times the amount of the big food chains, so more of the customer's dollar goes directly to the growers," Mr Pekin said.
"Over the last 13 years, Food Connect has worked with over 80 local farmers, 40 local producers, and generated over $25 million in revenue for the local food economy.
"The warehouse we've been leasing for more than 10 years is now for sale and we've been offered the chance to buy it. We know we have the experience to run the space, we just need the funds to help make that happen."
Food Connect Shed director Emma-Kate Rose said local food hubs were a growing movement internationally.
"We want to start the first one here in Queensland," Ms Rose said.
"We want the community to come on this journey with us, we want them to be part of a fairer food system, we want them to help make a difference for our local farming community, we want the public to own the infrastructure.
"We realise we could have gone down a more traditional capital raising route but we wanted to offer the shares to a wider, more diverse group of potential investors like the community that has been supporting us for the past decade," she said.
"We have always been driven by community, it's only natural to be owned by it too."
PledgeMe recently expanded to Australia and is Queensland's first equity crowdfunding business to be based in the state, attracted by the Queensland Government's Advance Queensland HotDesq initiative.
PlegeMe is also one of only nine groups across Australia, so far, to secure one of the ground-breaking crowdfunding licences from the Australian Securities and Investments Commission early this year.
Co-founder Anna Guenther said PledgeMe has had over $28 million pledged to date in New Zealand.
"We've seen everything from a group of local citizens raise $2 million in 32 hours to buy a chocolate company in Dunedin to keep chocolate making skills and jobs in the town, through to the world's youngest equity crowdfunder, Indy Griffiths, raising $50,000 at 19 years old," Ms Guenther said.
"Equity crowdfunding is shaking up traditional funding and investment models. In 2017 there was $34 billion pledged through crowdfunding platforms internationally, but by 2025 they are estimating that to increase to over $300 billion."
The PledgeMe campaign launched on August 21 and the Food Connect Foundation was successful.
Food Connect Shed Limited is a new public unlisted company and wants to raise between $2 million and $4 million which will represent 90 percent of the company. The shares are priced at $1 per share, and the minimum investment is $500.
Public investors will be able to invest up to $10,000 each. Food Connect Shed Limited will be part owned by the Food Connect founders Robert Pekin and Emma-Kate, as well as the Food Connect Foundation Limited.
Funds raised in this round will be used to purchase the existing warehouse, and if the minimum goal is exceeded the funds will be used to refurbish and retrofit the warehouse. The new company will aim to generate revenue through rental fees and venue hire. The warehouse currently has 12 tenants, with aims of adding 30 new tenants over the next three years.
Investors will own shares in the company that owns the warehouse and manages the tenants in the space.