FluroSat raises $1.5m to 'seed' crop health
FLUROSAT, an Australian crop health monitoring startup, has raised $1.5 million to 'seed' the next phase of its expansion.
FluroSat is set to bring predictive decision support to Australian paddocks, offering insights produced by adaptive crop growth models learning from experiments on the farm. FluroSat provides thermal and multispectral data that allows farmers to differentiate water stress from nitrogen stress.
Part of the incubator muru-D's fourth round of startups in Sydney (SYD4), in just 12 months FluroSat has gone from an idea to more than $200,000 in revenue. Investors in this round include CSIRO Main Sequence Ventures, AirTree Ventures and strategic agricultural investors lead by the Cotton Research and Development Corporation (CRDC).
Alongside the equity funding, Flurosat has successfully secured several grants with the help of Cicada Innovations and its GrowLab accelerator program.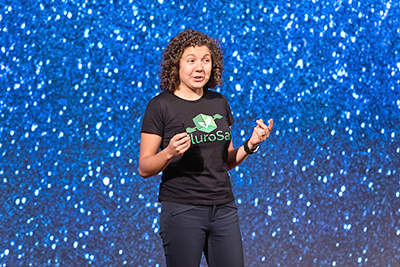 Founder and CEO Anastasia Volkova said using the FluroViewer platform, agronomists input the results from on-farm tissue testing to calibrate nitrogen maps to their paddocks. FluroSat is gathering hyperspectral image datasets, which can identify crop stress down to specific nutrient deficiencies and early signs of disease. Farmers receive specific and customised yield prediction models using real farm data.
"We are most excited about the experienced investors supporting us, each reflecting major parts of FluroSat's business: deep-tech, crop health science, data analytics, machine learning and direct connection to growers of high-value crops," Ms Volkova said.
FluroSat is planning to invest the seed funding alongside recently awarded grants, to bring its novel technologies to a wider market. The seed funding will allow the company to open the platform to a wider Australian market mid-2018 and start trials in the USA.
"Ultimately, FluroViewer will be the only tool of its kind to proactively suggest management strategies and allow users to evaluate the effect and the return of on-farm experiments at a sub-paddock level," Ms Volkova said.
FluroSat is working on the premise that the future of agriculture is in artificial intelligence (AI) assisted farming, where daily insights and suggestions gathered from satellite and weather data on a paddock level are served to farmers every morning. This should allow farmers to direct attention to impactful decisions throughout the growing season and keep them aware about long-term changes to yield sustainability.
"Australia is a world leader in innovation for the agriculture sectors, tracing all the way back to CSIRO's origins over 100 years ago," Main Sequence Ventures partner Michael Zimmerman said. "We are thrilled to be leading the investment in FluroSat, who are bringing together advances in remote sensing, machine learning and crop science to deliver a much-needed solution for industry."
AirTree Ventures partner John Henderson said, "The future of farming is precision agriculture. Identifying the perfect blend of water, fertiliser and/or herbicide on an individual plant-by-plant basis is a perfect challenge for computer vision and machine learning.
"The result will be hugely improved crop yields. We are excited to be supporting Anastasia and the Flurosat team as they build the toolset for tomorrow's farmers."
ends