Strawberries 'sweetened' by marketing innovation
WHEN accomplished Australian fruit producer, Queensland-based Pinata Farms launched its new venture BerryWorld Australia, its teams knew they were not faced an agribusiness challenge so much as a retail marketing one.
BerryWorld Australia has been established as a premium brand introducing new breeds of specialty strawberries into the Australian and New Zealand markets.
BerryWorld Australia is a joint venture between global berry breeder and marketing company, BerryWorld Group, and Piñata Farms. It was established in 2016 to grow and market proprietary BerryWorld varieties exclusively in Australia and New Zealand.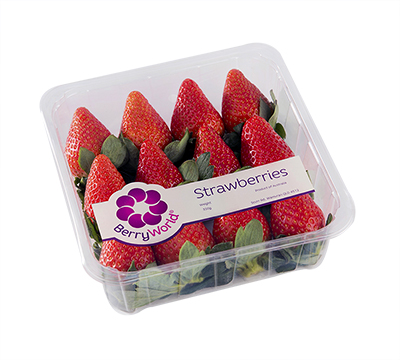 When BerryWorld strawberries landed on supermarket shelves for the first time recently – in a heat-sealed 350g punnet aimed at winning shoppers' attention, before they have even eaten a berry – they caused something of a sensation.
The square punnets, made of standard 100 percent recyclable PET (polyethylene), present BerryWorld strawberries in a single layer with the barcode at the base for easier scanning. Heat-sealed film is perforated with eight air vents to keep fruit cool and fresh in-store and after purchase.
BerryWorld Australia managing director, Gavin Scurr, said the new line achieved several significant points of difference for strawberry marketing.
"If we're launching a premium brand, we want as many points of difference as possible, from packaging and presentation, through to berry taste and appearance," Mr Scurr said.
"Australian strawberries are generally sold in 250g or 450g punnets and there are some 1kg punnets. We've decided on a 350g punnet to give Australian consumers more choice. Globally, it's already a size that is instantly associated with strawberries. We're confident Australian consumers will appreciate it as a convenient, family friendly size."
Pre-printed film was also more aesthetically pleasing than labelled lids, Mr Scurr said.
"As few Australian strawberries are consistently sold in heat-sealed punnets, this will be a positive change for strawberry consumers. Heat-sealing, which is standard in berry production throughout Europe, not only keeps fruit fresh, but it is tamper proof," he said.
PRODUCTION EFFICIENCIES
Mr Scurr said the BerryWorld Australia packaging would also deliver production and cost efficiencies and energy savings.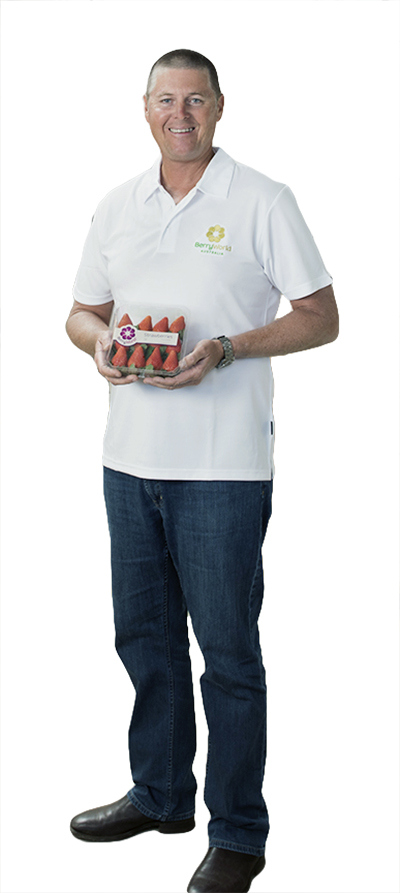 "Heat-sealing utilises approximately 30 percent less packaging materials than a punnet with a lid.
"Heat-sealing has also been shown to perform slightly better in maintaining fruit weight up to purchase. With strawberries, there's always a slight margin of weight loss after packing. To achieve the 350g weight by the time of purchase, we allow for loss by slightly overpacking, typically by about 20 grams per punnet."
Mr Scurr said automated heat-sealing would also create significant production efficiencies in the packhouse because the film could be applied faster.
Once opened, the punnets are not re-sealable. However, re-sealing is an option BerryWorld Australia would consider in the future, Mr Scurr said.
BerryWorld Australia's raw packaging materials are imported from China and manufactured to specification by Victorian-based packaging producer, Multisteps Industries.
BerryWorld strawberries are grown and packed at Queensland-based Piñata Farms, the growing arm of joint venture company, BerryWorld Australia. A customised production line has been installed at the Wamuran packhouse to pack the specialty berries.
Strawberries are sorted and hand-packed into punnets prior to heat-sealing.
RETAILING ADVANTAGE
BerryWorld Australia negotiated with retail partner, Woolworths, to display strawberries in the fridge section of supermarket outlets, rather than the lounge where other Australian strawberries are displayed.
"Berries last longer if they are chilled," Mr Scurr said. "Fridge placement is another point of difference. Other future BerryWorld Australia lines, such as raspberries and blackberries, will also be found in the fridge," Mr Scurr said.
ends