Waugh goes to bat for Onthego sportswear
AUSTRALIAN cricket champion and former Test captain Steve Waugh has teamed up with innovative sportswear company Onthego to launch a specific sportswear range for cricket clubs across the globe.
Onthego is the brainchild of Australian entrepreneur Mick Spencer, whose business made  strong headway following his appearance on the Channel Ten start-ups television program Shark Tank.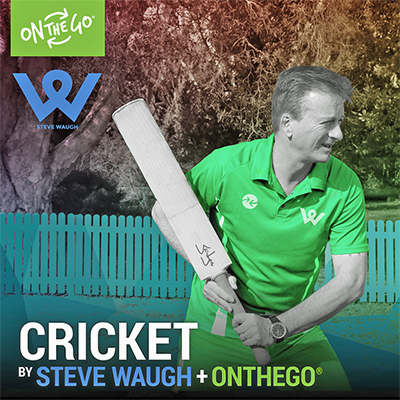 Mr Spence said he was thrilled to be able to attract the interest of Steve Waugh to develop the Onthego 'team wear' range, which is set to be worn by players across the world.
Mr Spencer, a self-confessed fan of Waugh for years, was contacted by the sporting great after his appearance on Channel Ten's Shark Tank.
When soon after the two men met face-to-face, Mr Waugh explained his charitable foundation needed an apparel partner.
"We brought together a lot of mutual passion," Mr Spencer said.
"Steve is one of the most productive, hardworking individuals. He is always available, flexible, passionate and committed.
"We reflected on the needs of the young modern cricket player, what they want to represent and what they want to wear on and off the pitch."
Cricket is the second most popular spectator sport in the world with an estimated 2.5 billion fans, many of whom have strong attachments to the game at club level. 
Key retail partners in select areas will be chosen but Mr Waugh and Mr Spencer are aiming to keep the model lean and fast and the product accessible for grassroots clubs.
The team wear includes on-field shirts and trousers as well as off-field tops, jackets, kit bags, backpacks and drink bottles.
"Steve has hand-picked and partnered with a company that can provide a solution to all the struggles surrounding the issues found by clubs and teams in every corner of the globe," Mr Spencer said. 

"And this solution will ensure the sense of distinction, pride, performance and empowerment that is felt when you put on your club's uniform."  
Mr Spencer said the Steve Waugh brand brought with it the same attributes that distinguished his career: leadership, pride, unity and passion.   
Speaking about the release of the new clothing line, Mr Waugh said, "I was privileged to represent my country Australia and wear the fabled Baggy Green 168 times.
"I loved what it stood for, tradition, history, mateship and a sense of belonging. 
"I wanted to create a range of products that looked and felt vibrant and energetic, through colour and design flexibility. 
"Every team should feel connected and united as one, and a big part of that is how you look both on and off the field and the message it sends to your opposition.
"This is an easy and fast process, to be able to order all your team wear and accessories, so you can spend more time practising for the next game.
"This range I've built with Onthego will ensure you have the platform to launch into your journey, and to be the best you can be." 
Steve Waugh, is an Officer of the Order of Australia and 2004 Australian of the Year. He scored more than 10,000 Test runs in his career.
ends