Titans brand re-boot by league titan Jarryd Hayne
THE Aquis Gold Coast Titans' signing of rugby league champion – and lately American NFL star recruit – Jarryd Hayne until the end of the 2018 season is a brand coup.
Titans CEO, Graham Annesley said Hayne's signing is the most significant in the club's 10-year history – and it paid dividends early with record crowds turning out to Hayne's first Gold Coast game, accompanied by massive media coverage.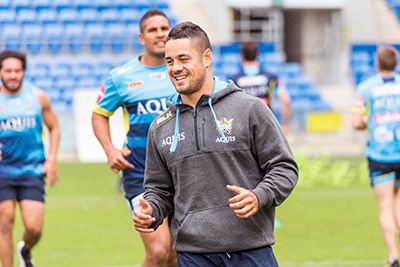 This is a monumental signing for the Titans and we are proud that Jarryd has identified our club as the best fit for him to return to the NRL," Mr Annesley said.
Hayne, 28, and two-time Dally M Player of the Year, is one of the biggest names in Australian sport and has returned to the NRL after departing the game in 2014 where he made global headlines by joining the San Francisco 49ers NFL team.
"It's also a fantastic boost for our members, fans, and corporate partners who have loyally stuck with the Titans throughout the clubs rebuilding process," Mr Annesley said.
"We wouldn't have been in a position to sign a player of Jarryd's stature without the critical support of our major sponsors, in particular Aquis as our naming rights partner, and TripADeal who have helped make this signing possible.
"We expect Jarryd's presence will significantly increase corporate and membership interest which will further boost the clubs' future commercial prospects."
Head coach Neil Henry said Hayne will be a great addition to his side and it is a credit to the Titans progress on and off the field that the club has been able to secure such a high-profile player. 
"Jarryd is a fantastic player and he will bring a wealth of experience to our team," Mr Henry said.
"We are very pleased that he has decided to join the Titans and I look forward to seeing him reproduce the exciting brand of football he is famous for in the NRL."
Current Titans sponsors, TripADeal, have assisted in securing the signature of Hayne, and are launching their new service PhoneAFlight of which Jarryd Hayne is to become the brand ambassador. 
PhoneAFlight commercial director, Luke O'Dwyer said, "This is an incredibly exciting announcement, and we are proud to be a key part in Jarryd's return to Australia, the NRL and better yet, to be playing with the Aquis Gold Coast Titans.
"Our business, PhoneAFlight, focuses on providing a quality concierge service to frequent travellers and small to medium size businesses who don't want to waste valuable time coordinating their travel needs. Having Jarryd aligned with our brand provides us with a fantastic platform to introduce this exciting new concept to Australia," Mr O'Dwyer said.
ends