Hog's Breath backs women's cycling
HOG'S BREATH Café is getting behind women's cycling, backing a new team that combines established and novice racers on a steep learning curve.
The team includes champion ironwoman Hayley Bateup, elite road cyclists Lauren Kitchen and Deborah Hennessey, and three 'young hotshots' Jena Grimsey, Sarah Mills, and Laura Renshaw.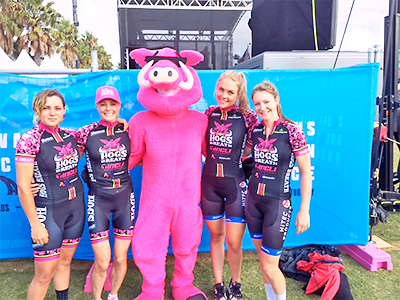 The newly-created Hog's Breath Cafe Tineli Women's Race Team is training under leading Australian cycling coach, Kurt Polock, and will compete in the 2016 Subaru National Road Series, "with the full grunt of Hog's Breath support," according to Hog's Breath general manager, Ross Worth.
Mr Worth said the Aussie steakhouse promotes and encourages an active lifestyle and over the past 25 years has been "always on the lookout for sports, teams, and community events to support".
"Team sports are one of the most enjoyable ways to stay fit so we couldn't be more excited to get the girls on board and 'hoggify' the cycling scene," Mr Worth said.
Mr Polock said, "This is a team of champions sure to bring home the bacon, with an end goal of Hog's Breath Tineli Women's Race Team becoming Australia's leading cycling team."
The girls donned their new Hog's Breath-adorned Lycra and tackled their first elite women's race of 2016, the Cadel Evans Great Ocean Road Race.  The team came in sixth overall and Lauren Kitchen finished with an individual fifth place in a field of 135.
The Cadel Evans race has UCI status, making it part of the World Tour for professional female cyclists, and points from the race go towards selection for the 2016 Rio Olympic Games.
ends
Image:
Pictured after the Cadel Evans Great Ocean Road Race are (from left) Sara Mills, Deborah Hennessey, guest rider Julie Leth and Lauren Kitchen.