Giving franchisees a sporting chance
EXTRA >>
SPORTS people – applying the discipline and high-performance principles they have learned over many years – are likely to become some of the most successful major brand franchisees in Australia.
That is one of the peak trends gleaned from the Asia-Pacific Centre for Franchising Excellence's latest Franchise Australia Report, produced in conjunction with the Franchising Council of Australia.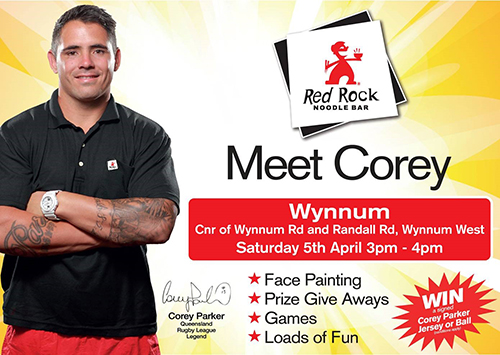 The challenge of recruiting quality franchisees is an ongoing concern for the sector and the report recommends franchisors develop a pro-active game plan that explores long-term engagement of target groups – with sports people strongly identified – to get the best possible people on board for their businesses.
The 2015 Franchise Australia Report, showed 72 percent of franchisors saw the availability of suitable franchisees as an impediment to growth.
The report outlined that the characteristics that make people excel in sport are readily transferable to franchising – and high on the agenda are those team sports that are built on a highly inclusive team culture.
The report outlined how discipline, work ethic, following systems and structures, working in teams to achieve shared goals, leadership and a never-quit attitude that were the building blocks of success on the sporting field were equally so in the world of franchising.
"Targeting professional 'team based' sportspeople who are usually highly paid and want to  invest in a business that will potentially set them up for life after their sporting career ends, makes real sense," the report outlined.
Research also showed how the 'problem' of athletes wanting to 'retire' from sport in their 30s was often an ideal era of maturity for someone entering a franchise that suited their business ambitions.
The report urges franchisors to 'think outside the square' about their recruitment targets.
"Franchisors should be looking at ways to actively target and create genuine pathways for engagement with these groups as part of their overall recruitment strategies," an Asia-Pacific Centre for Franchising Excellence spokesperson said.
"You need a recruitment game plan for the long term and you have to be on the front foot and put yourself out there to attract the most suited people to not only grow your franchise network by numbers, by also in terms of culture.
"The general appeal to franchisors of getting sportspeople on board is easy to see, given the traits this group offers."
For example, when it recently secured a former Socceroo and an NRL player to its franchisee team, Aussie Home Loans highlighted the attraction by declaring: "Sportspeople are a great fit culturally as they bring commitment, passion and dedication to our customers, like they have in their previous careers".
So far, according to the report, food, retail and finance-related franchise brands seem to have captured the most attention from former sportspeople. This is natural as their sporting careers had taught them the value of a strong brand, and how to combine their own personal brand with that of their club – or in this case franchise – for maximum public impact.
"For this reason, many sportspeople also act as brand ambassadors for the franchise brand that they will potentially join," a centre spokesperson said. "Their financial resources, relatively young age, and desire to establish a substantial business they can oversee in their post-sporting career, can also make them attractive candidates for multi-site franchise ownership."
One example is the Red Rock Noodle Bar franchise, which has formed a strong relationship with Corey Parker, a current high-profile rugby league player for the Brisbane Broncos, Queensland State Of Origin team and the Australian Kangaroos. Red Rock has 10 outlets in South East Queensland.
Corey Parker is still an active player in his 30s and, heading towards the back-end of his sporting career, has been a brand ambassador for Red Rock Noodle Bar for the past four years, featuring in the company's advertising, store promotions and product launches.
"Corey was looking to get involved in the business side of things later in his sporting career and he has been a good fit for us in boosting our public profile," Red Rock managing director Phil Colburn told the Asia-Pacific Centre for Franchising Excellence. While Mr Parker is not yet a franchisee, Mr Colburn said the promotional relationship has generated positive flow-on benefits for future franchisee recruitment.
"He does not own a franchise, but we have had discussions with him and also with people in his network if we expand into new markets. It does open doors and gives us a leg-up with networking and introductions to his club, teammates and sponsors.
"We have had many conversations, including on franchise ownership, with his friends, associates and contacts."
Mr Colburn confirmed the centre's view that sportspeople were an attractive target group for potential franchisee recruitment due to the similarities in sporting and franchise teams.
"Sporting teams are run by coaches and as franchisors we are coaches too," he said. "They are used to being in that environment, following systems and having a coach guide them, which is just like franchising.
"As sportspeople get towards the end of their sporting careers, they do start planning for the future. Most have never owned a business before, so franchising can be an attractive option to them. For franchisors, it is about getting a foot in the door and building relationships with players and teams through things like ambassadorships and sponsorships."
The report's advice to franchisors is to develop more contacts in the sporting world with a view to getting the best quality franchisees on board.
"At the end of the day, it is all about contacts and timing in getting the best people on board. As a franchisor, you have to put yourself out there and the benefits of building relationships with sportspeople are in networking and introductions to a whole new field of contacts."
ends