NIDA opens graduate school
AUSTRALIAN creative industries received another shot in the arm in December with the opening of the National Institute of Dramatic Arts (NIDA) Graduate School in Sydney.
Prime Minister Malcolm Turnbull, who is also the Arts Minister, officially opened the NIDA facility, which he described as "a much needed creative and cultural hub for mid-career and upskilling artists".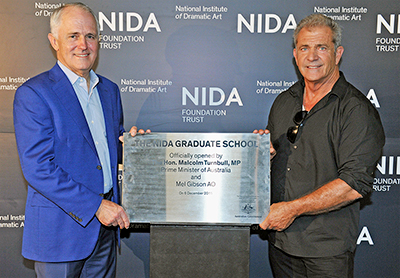 "The Graduate School will lead Australia into a new era of training in performing arts ensuring we remain productive, creative and competitive in a global market," Mr Turnbull said.
The Federal Government provided $6.8 million in capital works funding to NIDA, which included support for the Graduate School. This funding was complemented by business and philanthropic support leveraged by NIDA.
"NIDA is one of Australia's seven national elite performing arts training institutions and is regarded as one of the world's top 10 actor training schools," Mr Turnbull said.
"We expect the best of our artists and arts organisations and to help them succeed and compete internationally we must ensure they have access to the infrastructure they need. The NIDA Graduate School directly ensures Australia invests in our artistic talent and helps develop our next generation of actors, policy makers, festival and artistic directors.
"NIDA has produced some of Australia's most successful and recognised performing artists, whether on our screens and stages, or taking leading roles behind the scenes."
For more see the Creative Industries section.
ends