Aussie creatives Alt.vfx meld gaming with TV
BRISBANE-based electronic gaming group Alt.vfx is creating worldwide interest with its latest development on a hybrid action-adventure that combines gaming and television.
The Alt.vfx visual effects team, which has worked its post-production magic on the hybrid action-adventure game Quantum Break, is in the process of opening studios in Sydney and Los Angeles.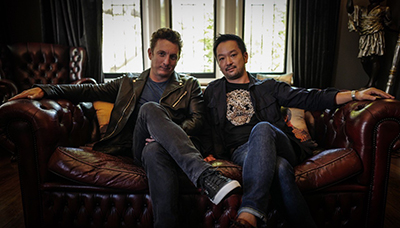 Quantum Break blurs the line between gaming and television, with players able to unlock television episodes, starring Game of Thrones, Lord of the Rings and X-Men actors at the completion of the gaming achievement levels.
The expertise that Alt.vfx team has delivered enables the digital landscape to collapse, shatter and reassemble throughout the entertainment experience.
Alt.vfx burst onto the post-production scene in 2011 with the celebrated, award-winning 'Tooheys Extra Dry Nocturnal Migration' commercial featuring night-clubbing deer, and then the follow-up 'Tongue's Quest' ad starring a runaway, beer-loving tongue.
"That put us on the map globally and the rest is history," said Alt co-founder Takeshi Takada.
"We were six friends working in Brisbane – all passionate artists. I don't think there's another visual effects company like us in Australia. At Alt.vfx we tend to be collaborative, forward-thinking and risk-taking.
"We believe creativity can change behaviour. We launched our company in Brisbane, but we were able to lure clients from Sydney, Melbourne and now overseas.
"We've won National and State Exporter of the Year awards and just returned from Adfest 2016 in Thailand with silver and bronze awards, making us undefeated over the last four years in the highly-coveted visual effects category."
Mr Takeda described Quantum Break as a "very effects-heavy" project.
"It was shot in Prague with all the scale of a feature film. Our VFX supervisor and co-founder, Colin Renshaw took a team to Prague to supervise the shoot," Mr Takeda said.
"Col engaged with the director and production company at an early stage to ensure that we captured all of the plates, elements and measurements required to create the visual effects and achieve director, Michael Spiccia's vision."
Like fellow Brisbane start-up success story Tanda – a group of QUT students whose cloud-based payroll system is taking off world-wide – Alt.vfx credits Brisbane with helping it to success.
Mr Takada said, "If we had set up this business in Tokyo or China, we might not have been as successful.
"Our home base allowed us to be a standout in the market. It allowed us to be who we are without being smothered – and we're in the hub of Asia, in a perfect time zone."
He said Brisbane's proximity to the Asia Pacific and world-renowned beaches on the Gold and Sunshine coasts made it easier for Alt.vfx to lure talent from Europe, the UK, Asia and elsewhere around the world.
"It's a constant challenge to find great talent wherever you are based," Mr Takada said. "We've got some of the best creative artists from all over the world at Alt, in part because Brisbane is such an attractive city to live and work in."
With 55 full-time staff and a number of other big visual effects projects in production to be released this year, Alt.vfx has expanded its Brisbane head office and is in negotiations to secure space in Los Angeles.
ends