Australian-made horse racing helmet to set global protection standard
IMPROVING safety for professional jockeys around the world is the impetus for the collaborative development of an Australian designed and manufactured hi-tech helmet.
A prototype of the new safety helmet – Albion's 'Coonan and Denley' racing helmet – was released at a critical time for the racing industry, in the wake of two promising young jockeys, Caitlin Forrest and Carly-Mae Pye suffering tragic and fatal falls in October and champion riders Desiree Gill and Simone Montgomerie in late 2013.
Every year nearly 500 jockeys in Australia suffer a fall, according to the National Jockeys Trust. Around 330 will have a fall which prevents them from racing for an average of five weeks, while on average 16 jockeys will suffer a career-ending injury. There have been 313 jockeys killed in race falls in Australia since the profession began. Currently, about 5000 professional jockeys ride nationally.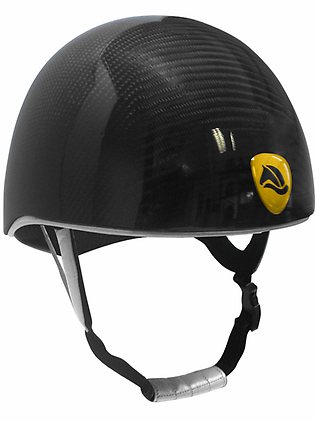 META, a collaborative network of manufacturers and researchers, in partnership with the Australian Sports Technologies Network (ASTN), local sporting goods company Albion Sports and leading researchers from RMIT, launched their first collaboration at Flemington Racecourse recently – a gold-standard safety helmet prototype, pioneering safety in the horse racing and equestrian industries.
The META and Albion collaborative prototype helmet has been designed specifically to better absorb and spread impact across the head injury spectrum, reducing the risk of injury from a fall, kick or knocks to the head. The Albion Coonan and Denley racing helmet will undergo extensive testing that will replicate speeds of up to 60 kmh, equivalent to thoroughbred racing conditions, as part of Australian Racing Board racing regulation.
Champion jockey Craig Williams said jockeys require greater protection because of the dangers associated with their sport.
"Racing is one of the most dangerous sports in the world and jockeys have sustained serious injuries through high performance competition," Mr Williams said.
"We need to ensure the safety of athletes involved in the sport and prevent the kinds of incidents we've seen recently from occurring. It's great to see an Australian company taking the lead in protecting our jockeys."
Albion CEO Brendan Denning said the helmet sets the standard for jockey safety and provides greater confidence for jockeys to focus on racing.
"The helmet is made with carbon fibre and is enhanced with additional materials, along with new foam technology which provides superior protection for jockeys," Mr Denning said.
"Early results thus far indicate the performance benefits from the helmet will significantly decrease the likelihood of serious injury at both ends of the injury spectrum, from high speed, high impact injuries, to lower speed barrier knocks which can result in concussion for riders.
"We had been working on an advanced racing helmet for about three years and progressed to the stage of manufacturing but couldn't get the manufacturing consistency from our overseas partners," Mr Denning said.
"The support from META has allowed us to partner with local suppliers and manufacturers who we were unaware of prior to our involvement in the hub. It allowed us to upgrade the technology to the point where we are well and truly industry leaders in sports safety."
META co-funded research and development of the helmet, the first project completed under the auspices of the META Sports Advanced Manufacturing Hub. Launched in July this year, the Hub connects manufacturers and the sports industry to create new and innovative products leveraging Australia's outstanding research and technical ability in manufacturing.
META chairman Albert Goller said the helmet was an example of how Australian manufacturers were pioneering collaboration between industry and research to produce global-first products.
"Australia is a leader on the sports field and we want to ensure we are also a leader in sports manufacturing and technology," Mr Goller said. "This helmet proves demonstrates the capability of manufacturers working closely with researchers to create a world-class and unique product that we can export to the world.
"Through the success of the Advanced Sports helmet, we hope to promote Australian sports manufacturers internationally and raise our profile as elite high-tech sports protection specialists."
ASTN chairman James Demetriou said a number of other Hub projects were in the pipeline.
"Australia currently imports $2 billion in manufactured sports products and exports just $286 million worth of product," Mr Demetriou said.
"The Albion helmet, designed and manufactured here in Australia, will help balance the equation, as will future projects resulting from the Sports Advanced Manufacturing Hub."
The Hub will continue to allow industry participants to identify opportunities and then enable transition to the mass sports consumer markets.
The Albion 'Coonan and Denley' racing helmet is currently with the Victorian Racing Council (VRC) for approval as the preferred choice for all VRC events.
Australian manufacturers are being invited to participate in the Sports Advanced Manufacturing Hub.