Westadium: New Perth sports precinct revealed
THE transformative Westadium project to develop the new Perth Stadium and Sports Precinct has been unveiled by the winning consortium.
Construction of the stadium will begin at the end of this year and will be completed in time for the start of the 2018 AFL season.
Representatives of Westadium, a consortium led by Brookfield Financial and John Laing, joined West Australian Premier Colin Barnett and Minister for Sport and Recreation, Terry Waldron at the new Perth Stadium site at Burswood on July 17 to explain the winning stadium and precinct design.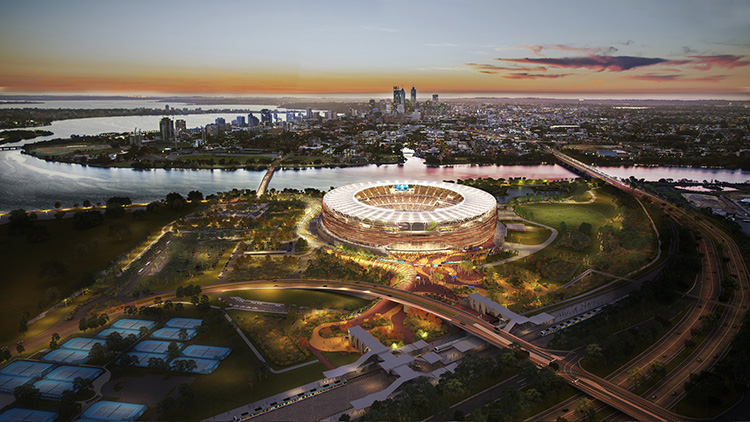 It marked the conclusion of contractual negotiations between Westadium and the WA State Government to design, build, partially finance and maintain the new Perth Stadium and Sports Precinct and the contract will be signed in the coming days.
Westadium spokesperson and Brookfield Multiplex Australasia chief executive John Flecker thanked Premier Barnett and the WA Government for the opportunity to be part of developing what he called "one of the world's  best multi-purpose  venues".
The Westadium consortium has combined to provide specialist expertise for each stage of the Stadium's life. John Laing is the investor and manager for the project.
Brookfield Multiplex is the design and construction contractor, while Brookfield Financial is the financial adviser. Brookfield Johnson Controls is to become the facilities manager for 25 years.
"The Westadium consortium also includes an award winning design team that has combined its unparalleled local knowledge and commitment to Perth with extensive international experience," Mr Flecker said.
"The team – Cox Architects, Hassell, HKS and Arup – have high profile projects of a similar nature to the new Perth Stadium to their credit, including many of Australia's and the world's best known sporting facilities," he said.
"Past projects include the recent major redevelopment of the Sydney Cricket Ground, Adelaide Oval's new western stand, USA's biggest stadium – the 100,000 capacity AT&T Stadium in Texas – and the Beijing 2008 Olympic National Aquatics Centre.
"The new Perth Stadium seating bowl will deliver unrivalled sightlines and a distinctive architectural language in the form of its lightweight fabric roof that gives the impression of hovering over the ground.
"Within the building, concourses will be generously provided with an array of food and beverage concession points, superb restaurants and bars offering stunning city views across the river and into the bowl.
"The extensive incorporation of state of the art IT, LED displays, lighting and signage will facilitate home team colours to the advantage of both players and fans."
Mr Flecker said the project would create 2600 jobs during the construction phase, delivering $2.5 billion of value to the WA economy.
ends  
POSTED JULY 18, 2014