The other Spa in motor racing
JACUZZI SPAS is using the 2018 Australian Production Cars season as a national Launchpad for its brand.
Jacuzzi Spas, based in Brisbane, took the naming rights for rounds one and two, in May and July, and as part of the sponsorship, will supply $50,000 worth of end-of-year prizes.
Owner and manager Kelli Blair said she was very pleased to be throwing her support behind Australian Production Cars (APC).
"At Jacuzzi Spas' Queensland dealership, we live and breathe Jacuzzi Spas and believe in the benefits they can offer to elite athletes such as racing car drivers," Ms Blair said.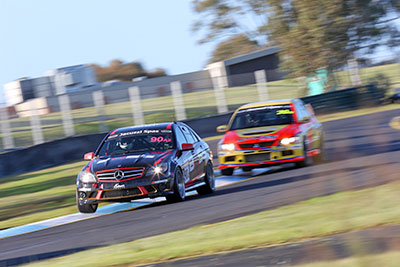 "We are very excited to partner with the Australian Production Cars and look forward to hopefully working with some of its competitors to assist them to be in the best racing form they can be through the benefits of Jacuzzi hydrotherapy.
"As part of our support of the series, we will be offering a $10,000 voucher to the outright winner of the series and $5,000 vouchers to the winners of each class which the recipients can use towards applicable Jacuzzi hot tubs and spas.
"The Australian Production Cars is growing as a real drawcard for the elite racers of both tomorrow and today, and we can't wait to see what this year's line-up has in store at the opening round at Sandown Raceway," she said at the sponsorship announcement.
Jacuzzi Spas Australian Production Cars category manager, Iain Sherrin, said he was "very pleased to welcome the prestigious brand on-board".
"Everyone at the APC is very excited to have such a well-known and respected global brand getting behind us as we get ready for our 2018 season," Mr Sherrin said.
"With an over-subscribed field for the season opener, entries flooding in for our future rounds including our own APC-run Phillip Island Six Hour Grand Final, and now this great support from Jacuzzi Spas, this season is shaping up to our best yet."
www.australianproductioncars.com.au
ends