Recon for a world champion
VERY FEW COMPANIES in the world can honestly claim they have helped make a boxing world champion. If all goes well, when Australian welterweight boxing champion Jeff Horn steps into the ring with WBO world champion Manny Pacquiao at Suncorp Stadium on July 2, Brisbane-based Recon Solutions CEO Steve Scanlan will also join a very elite group.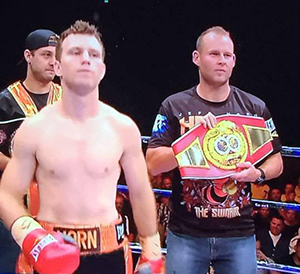 Mr Scanlan's recruitment company, Recon Solutions, has backed former school teacher Jeff 'The Hornet' Horn from a time when a shot at the world title was just a distant dream. In fact, it was Recon's support that enabled former schoolteacher Horn to box full time – and it was Mr Scanlan's insistence that Horn travel with him to see the Pacquiao v Mayweather WBO world title fight in Las Vegas in 2015 that raised an ironic possibility.
"I took him to the Mayweather v Pacquiao title fight two years ago and I remember opening with a comment like, 'one day it will be you in that ring, in front of all these people, fighting for a world title'. We laughed about it but we did not actually think it would happen, oddly enough," Mr Scanlan said.
"Now he is the guy facing Pacquiao, which is just crazy to think …"
For Jeff Horn, it was a fortuitous meeting with Mr Scanlan, he recalled.
"He said I'd love to jump on as one of your major sponsors and that is pretty much where it started. I was able to relax a little bit financially with his support," Horn said. "He ended up taking me over to see that Mayweather-Pacquiao fight and turned out to be a pretty good thing to have gone and watched a fight like that … because I have ended up fighting the guy!
"It gave me that visualisation," Horn said. "I knew where I wanted to be. My ultimate goal was to be doing what those guys were doing. To see the crowd and the atmosphere around that type of fight is what I wanted. Pretty much not long after that, it is happening.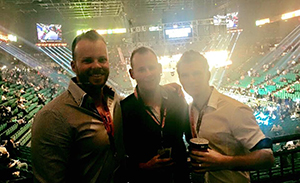 "With (sponsors) Duco Events and Recon Solutions, that was when I was able to step away from doing my teaching and focus completely on professional boxing."
For Mr Scanlan, the realisation of what his company's support has achieved, and how it has helped transform Horn's career, is still sinking in. But he admitted that he had been too excited going on the journey to have mapped out an associated marketing plan.
"I am not really good at marketing and brand awareness and stuff," Mr Scanlan laughed. "We haven't got the best out of him in that way because we haven't utilised him the best, due to our capabilities. We could have done so much more from day one, but we just weren't good at it.
"For us, though, we've learned a heck of a lot through supporting Jeff as well."
DEEPER MESSAGE
Even though he may be critical of his marketing performance so far, Steve Scanlan knows that the positive messages surrounding Jeff Horn – a 'hard-working, conscientious nice guy' – are very much in tune with Recon's brand message.
As a recruitment specialist, Recon makes it clear that the company is both a partner and a cheering supporter of clients' career quests.
For now, Jeff Horn's gaze is trained hard on the world title, but he has already had glimpses of how powerful the stories of his inspirational quest can be, well beyond winning this fight.
Horn became interested in boxing for its ethos and how it promotes self-confidence and self-reliance – and perhaps, he admits, because he experienced bullying as a child.
He regularly visits the Springwood State High School, where he most recently taught, and many of his former students keep in touch, often telling him that they have found inspiration in his story so far. In fact, he is helping to incorporate a boxing program there "to help with kids' discipline and confidence".
"I have a lot of past students that call me up and talk to me about … well, they ask questions and tell me that I am actually inspiring them to do this and that," Horn said. "So that's always great to hear that what I am doing is inspiring others."
He has also spoken at a handful of business events, so far, on behalf of sponsors including Recon Solutions. He expects to be doing a lot more of that after the fight.
"I'll be helping the sponsors out with seminars and things after the fight and I'll be straight away focusing on my next goal, which will probably be defending my world title, one, and secondly I'll be trying to unify all the world titles in boxing," Horn said.
"Boxing teaches a lot, especially to the younger teenagers. It teaches them, one, how to listen to someone, because you have to focus when someone gets in the ring and they show you how to punch …it's that purity of boxing and that discipline it gives you. And, two, that confidence boxing gives you that really helps kids to do better at school and through life."
Horn points out, from experience, that it is a total life commitment to box at top levels. So boxing can help people to understand the level of commitment they must have to succeed at whatever their chosen career, he said.
"(Boxing) gave me a heap of confidence."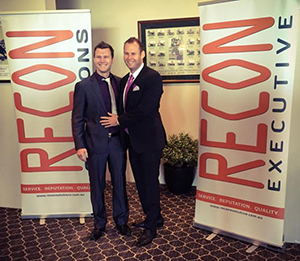 ACHIEVE-MEANT
Mr Scanlan said supporting sportspeople like Jeff Horn illustrated what Recon was all about as a business and a young brand.
"We focus on people and helping them achieve their potential," Mr Scanlan said.
"Recruitment has had a bit of a bad name and many people think recruiters are all just about ripping people off … but we actually care about people. When we don't find someone a job, we are very disappointed as well. But a lot of people don't see that side.
"Sponsorship like this is an easy way for us to show we actually do care about people. And we sponsor not just Jeff but a Fijian rugby league team, the West Fijian Dolphins – an under 16s side – and we sponsor an under nines team and the Mullumbimby Giants on the Gold Coast … the Queensland Ballet … all sorts of different things that we may not get $1 financial return on, but we get so much pride and self-satisfaction among our people from giving back to the community."
It's not the primary objective, but Mr Scanlan believes such versatile sponsorship will help the public to better understand what the Recon Solutions and Recon Executive brands really stand for over time.
"I think it will (connect) over time," he said. "We are only a fairly new company – been around for only four years. We get people commenting, now, and talking about how good it is that we have supported this kid …
"Once that brand awareness keeps on driving after the fight – I genuinely think he can win that fight – it is going to be momentous."
In a way, it is already momentous, as Recon will be hosting 310 guests at Suncorp Stadium on July 2 in celebration and as a thank you to clients "for lasting the journey with us as well".
"Jeff is such a quiet, humble guy," Mr Scanlan said. "We were his first major sponsor and now there are people coming in over the top of us offering 100s of thousands of dollars and he is sticking by us. You know, which is amazing.
"I know that he is extremely grateful. We could ask him to be somewhere tomorrow and I know he will drop everything and be there for us. It's a great relationship and partnership we've got."
SUPPORTING SPORT
Steve Scanlan is passionate about encouraging business people to get behind sport as a way of assisting communities as well as individuals.
"I think people should get 100 percent behind our sports people, or teams, or whatever it is, because it is just such a fantastic thing to see people grow. This Fijian side that we sponsor, the smile of the faces of these 16-year-old Fijian kids, who live and sleep in their jerseys – and Recon is on the front – it's amazing. It's just an amazing feeling.
"We also sponsor a young fellow named Joseph Goodall who is the favourite for the gold medal in the super heavyweight division (at the 2018 Commonwealth Games). We sponsor him as well and he is a great kid. He'll be the world champ one day too.
"Never did I think when I was growing up that I would be able to lead an organisation that is giving back to people who really need help and help them to achieve their dreams and goals."
Mr Scanlan met Jeff Horn at Dundee Boxing and Fitness at Brisbane's West End – where he and his son trained with Horn's fitness coach and gym managing director Dundee Kim – and took an interest in his quest at the time to raise $1000 "to travel to New Zealand to fight".
"I just met him that way and he just needed help … so we went to help him," Mr Scanlan said. While Recon Solutions had backed other sportspeople and teams, he had not thought about supporting an aspiring boxer until he got to know Jeff Horn personally..
"What's quite humbling as well is to think that you have been able to help this person go full time, and get there," he said. "Jeff may not have made it (without boxing full time) because he would have had to figure it out how to keep working as a teacher and keeping in with his training …
"When Jeff wins that title, I am going to be just as proud as his family and his boyhood friends and what not, even though I have only been on the scene for four years, and I feel like part of the team," Mr Scanlan said.
"And I said that to his manager (Glenn Rushton) the other day, who said right back, 'Well, you are part of the team, Steve …'"
ends