DMR spins for the win at 50th Winternationals
FOUR-time Australian Top Fuel champion Darren Morgan is poised to take the win this weekend at the 50th Winternationals international drag racing clash at Queensland Raceway, Ipswich.
 
After running his personal best at Nitro Thunder with a 4.56 second run at 329mph, Mr Morgan said he was determined to push his car to the limits for the final round of the 2017 season.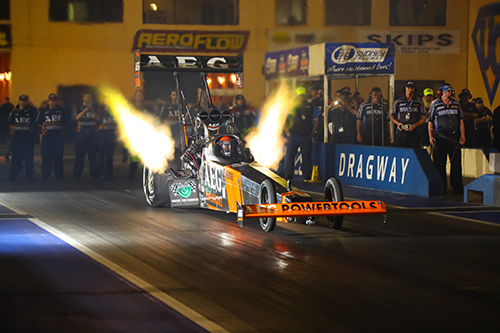 "Currently sitting in second place we are want to put on a spectacular show and give it everything we have got," Mr Morgan said.
 
"We will be competing against some of the best from both the USA and Australia so we will be pulling out all of the stops."
 
Darren Morgan said he was looking forward to competing against a full field of Top Fuel, this includes Wayne Newby, Damien Harris, Anthony Begley, Terry Sainty, Rachelle Splatt, Peter Xiberras and USA driver Larry Dixon driving for Rapisarda Autosport International.
 
"The quality of drivers this weekend is world class, expect to be blown away with some of the quickest passes Australia will have ever seen," Mr Morgan said.
 
The 50th Winternationals at Willowbank Raceway is on from Thursday June 8 to Sunday June 11.
 
Top Fuel is set to run Friday, Saturday and Sunday.
 
Mr Morgan is also set to make some noise throughout June, showcasing his AEG Powertools Top Fuel Dragster at five Bunnings Warehouses.
 
The first stop is Toowoomba this Tuesday, followed by Stafford on June 14, Alexandria on June 20, West Gosford on June 21 and Narellan on June 22.
 
Locals will get the chance to smell the nitro when the 10,000 horsepower vehicle fires up at each location.
 
"We are really looking forward to showcasing one of the quickest vehicles on the planet," Mr Morgan said.
 
"Sitting in the dragster for a start up is a once in a life time opportunity so make sure you grab some AEG Powertools to go in the chance to win."
Facebook.com/TopFuel

DMRis sponsored by AEG Powertools and Shannons Insurance, with their associate sponsors.