Infiniti Red Bull Racing F1 team partners with Chinese electronics manufacturer Hisense
HISENSE, the Chinese electronics manufacturer escalating its global reach, has announced a multi-year partnership with Formula One's Infiniti Red Bull Racing team.
The announcement was made at the Shanghai International Circuit ahead of the Chinese Formula One Grand Prix and complements Hisense's sponsorship programs in the USA with NASCAR, The Australian Open tennis tournament and Schalke 04 football team in Germany.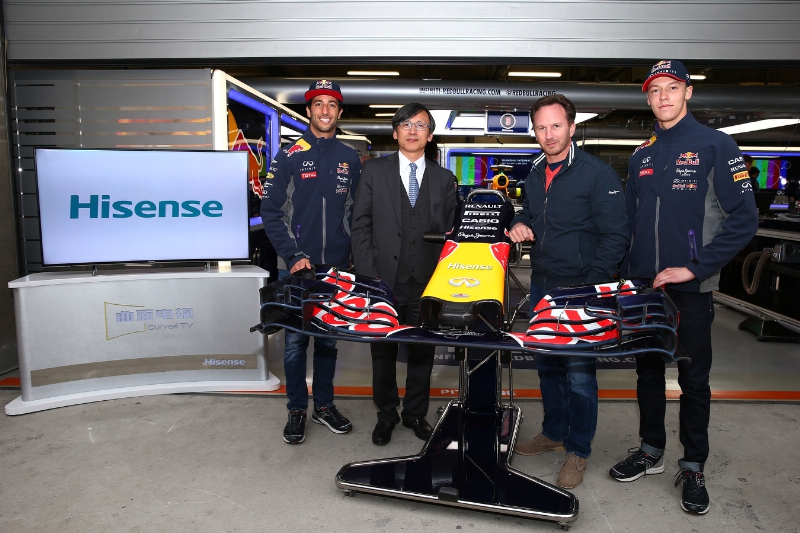 Infiniti Red Bull Racing said as part of the agreement, Hisense's logo would feature on the nose of the RB11, on the team's pit wall and driver monitors, as well as on all team partner listing areas.
"Infiniti Red Bull Racing is one of the most successful and most talked about teams in a sport renowned for technology, teamwork and competitiveness," Hisense Company Ltd executive vice president  Lan Lin said.
"Like Infiniti Red Bull Racing, we are a proud challenger brand and we continually innovate our best-in-class consumer products to stay ahead of the others.  We look forward to sharing these with the team to help them throughout the season," Dr Lin said.
Infiniti Red Bull Racing Team principal, Christian Horner said, "Everyone associated with Infiniti Red Bull Racing is delighted to welcome Hisense to our team. Their approach to innovation and technological development is impressive and we look forward to our partnership developing as the season unfolds."
Hisense is reportedly the top television manufacturer in China , a position it has maintained for 11 consecutive years. Through this new partnership Hisense announced it was looking to become the third most popular global TV brand, one place higher than last year.
In 2017, Hisense aims to reach a total revenue of US$7.5 billion internationally and the F1 partnership includes Hisense's cutting edge range of consumer electronics products will be supplied to the team both at track and in the factory. 
www.infiniti-redbullracing.com
ends