Cost of living continues to squeeze housing supply say Master Builders
THE Australian Bureau of Statistics August Building Approvals and Home Lending data is showing early signs of improvement but is still below the adequate levels required to boost much-needed housing supply, according to Master Builders Australia research.
Master Builders Australia CEO Denita Wawn said the Federal Government "must not take its foot off the accelerator" when it comes to tackling the housing crisis and supporting the building and construction workforce to deliver on targets.
"Builders and tradies have a big job ahead of them to ensure we can build enough homes to start tackling rental inflation and meeting our Housing Accord objectives," Ms Wawn said.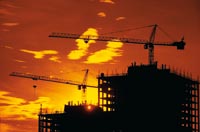 "We need to ensure tradies are spending as much time as possible on the tools without unnecessary delays and disruptions.
"The cost of building homes continues to be inflated through unnecessary delays and barriers including planning impediments, lengthy approvals processes and high developer charges.
"Worse still, the Federal Government risks magnifying costs and regulatory obstacles with its far-reaching 'Closing Loopholes' Bill.
"The IR Bill means businesses will have even more of their time absorbed by compliance and red tape issues – instead of being out there building new homes.
Master Builders Australia chief economist Shane Garrett said August 2023 saw a 7 percent increase in the volume of new home building approvals.
"Both detached houses and higher density home building approvals shared in the expansion up 6.0 and 8.8 percent respectively," Mr Garrett said.
"However, the volume of new approvals is still considerably lower than this time last year.
"Over the year to August 2022, new home building approvals are still down by 13 percent.
"Detached house approvals have suffered a sharp reversal since their peak during the COVID," he said.
"The pipeline of higher density home building activity, which is critical to ensuring adequate rental supply, has been weak since even before the pandemic.
"We still need to see a sustained improvement in the volume of higher density home building in order to relieve inflation which is at 15-year highs," Mr Garrett said.
According to Master Builders CEO Denita Wawn, "The decision by the RBA to hold interest rates for a fourth consecutive month is a welcome reprieve for mortgage holders and renters who are bearing the brunt of the cost of living crisis.
"The effect of the RBA's tightening cycle is still flowing through to the sector and dampening investment.
"Master Builders has forecast 2023-24 will see home starts decline by another 2.1 percent to around 170,100, well below the 200,000 needed per year to meet population growth."
ends