WILEY managing director Tom Wiley may have been helping to feed the world through his company's innovative food technologies for more than 20 years, but in March he will be shrewdly managing real pots and pans to cook for the less fortunate.
Tom Wiley's cooking session will raise awareness of food waste as part of Brisbane's first OzHarvest CEO CookOff on March 7.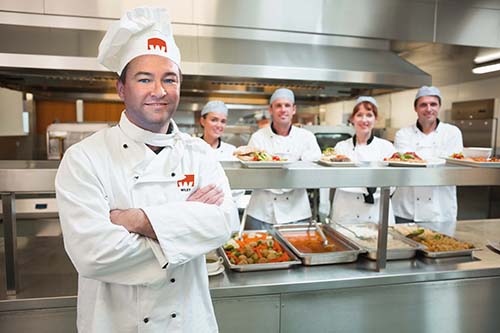 Brisbane-based Wiley, an engineering-led design solution business servicing the food industry, delivers more efficient and effective ways to produce and process food, working with clients such as Huon Aquaculture, Harvest Fresh Cuts, Primo and Heinz Golden Circle.
Mr Wiley will be slicing and dicing alongside Queensland's best chefs at the CEO CookOff, before sharing a three-course meal with 1,000 homeless and disadvantaged guests.
Confirmed 'kitchen masters' include celebrity chef Ben O'Donoghue who stars in the TV show Aussie Barbecue Heroes, Javier Codina of Brisbane's Moda, Ben Williamson the executive chef of Gerard's Bistro and the darling of Queensland's foodie scene, Dominique Rizzo of Putia Pure Food Kitchen.
Mr Wiley jumped at the chance to use his cooking skills to give back to the community in Brisbane's first CEO CookOff.
"Wiley is passionate about bringing food and people together in a better way," Mr Wiley said. "The CEO CookOff is a fantastic event because it's all about bringing food to those who need it most, but also to find a better way to address pressing food issues facing society such as food wastage.
""Wiley partners with our clients to develop innovative food manufacturing solutions and we believe every project is a new opportunity to improve global food security. Figuring out how we are going to feed the world is an issue that motivates me every day.
"The support we've already seen from the Wiley team has been outstanding and is a demonstration of our strong community values.
"My cooking skills are mostly limited to the barbecue and my pizza oven, so I'm also happy to pick up a few tips from the chefs on the night," he said.
OzHarvest's founder and CEO Ronni Kahn said the OzHarvest CEO CookOff was a great opportunity for Australia's business leaders and top chefs to connect in a very meaningful way with those who are less fortunate.
"Food is all about caring, sharing, dignity and respect. It's an equaliser and a connector and that's what this event is all about," Ms Kahn said.
Wiley's goal is to raise $20,000 to support OzHarvest's work feeding Australia's homeless and disadvantaged via food rescue programs, and reducing food waste by redistributing quality, excess food from commercial outlets to charities around the country.
www.ceocookoff.com.au/fundraisers/tomwiley
ends
ends