THE 10-YEAR commemorative 'Smiling for Smiddy' ride, dedicated to beloved mate Adam Smiddy, was a major success for cycling mates, their families and Mater Hospital's cancer research on March 14.
The ride started from Adam Smiddy Park, Park Road, Milton, in Brisbane from 5:30am and concluded many hours later in a rousing tribute and fund raising celebration at La Dolce Vita Caffé, which is opposite Adam Smiddy Park.
To support the cause, La Dolce Vita Caffe fully catered for the 10-year commemoration, donating 100 per cent of the cost of the breakfast to Smiling for Smiddy's cause: cancer research by the Mater Hospital Foundation.
The event was a significant milestone for 'Team Smiddy', his family, friends and the surrounding community to acknowledge the 10-year anniversary since the park was renamed in honour of the late Adam Smiddy.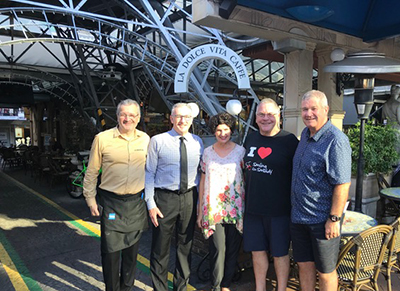 What began as a humble tribute ride to salute and farewell a close mate, has now grown into a wonderful series of challenges. A circle of close friends now join together to raise vital funds for cancer research projects for the Mater Hospital Foundation and they say they will "always keep smiling as they ride for Smiddy".
Over the past 12 years, Smiling for Smiddy participants and supporters have raised more than $9 million for cancer research at Mater Hospital. Through awareness and fundraiser events the aim is to raise an additional $1 million this year. So far, in 2019, the Smiling for Smiddy initiative has raised in excess of $66,000 and riders are on track to raise much more.
In August, Team Smiddy will hit the road for another epic, 'The Original Smiddy Challenge' but this time in reverse from Tamworth to Brisbane in a 1,600km loop. It will take them along outback highways passing through warm country towns and stunning ranges, riding in companionship with mates old and new.
"Thanks to ongoing support from fundraiser sponsors, local Milton businesses and broader community we continue to see Adam Smiddy's proud legacy recognised 12 years on," Mater Foudnation CEO Nigel Harris said. "Now that's something we should all smile about."
THE SMIDDY STORY
Adam Smiddy never had an enemy in the world. His disarming smile, one that rarely left his face even amid the gravest of circumstances, gave his family and friends a window into the soul of a gentle, kind-hearted and unassuming boy from Home Hill.
In 2006, Adam Smiddy passed away from an aggressive melanoma. He was just 26 years old, a talented triathlete and respected physiotherapist with the world at his feet. Six months earlier, Adam had discovered a small lump in his groin, and a biopsy revealed it was a malignant melanoma. He had immediate surgery to remove the lump and his lymph glands.
Gradually over a six month period, Mr Smiddy's health and fitness started to return. Sadly however, it was not to be.
During a bike ride with his close friend and triathlon coach, Mark 'Sharky' Smoothy, Adam confessed he was not feeling well. Just over three weeks later, Adam passed away. He was in hospital for only eight days. Without his knowledge, Adam's cancer had spread to his vital organs.
To honour Adam, six weeks after his passing, Sharky and two other mates, Ron Steel and Oliver Bodak, fulfilled one of Adam's unrealised dreams. They rode 1,600 km from Brisbane to Adam's hometown Home Hill, with nothing but a credit card in their back pockets, and they raised $24,000 for cancer research in the process.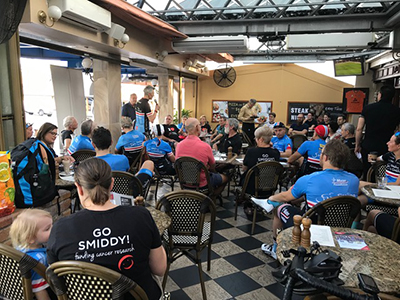 La Dolce Vita Caffé is now raising money for Smiling for Smiddy. The café is matching riders' weekly Wednesday morning post ride refreshment purchases with donations directly to the Smiling for Smiddy cause. The Cafe staff will keep a tally each week for all to see with the hopes that numbers increase as the weeks go on.
www.smiddy.org.au/page/about/meet-our-riders/
www.smiddy.org.au/page/about/Our-story/
ends